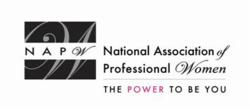 Small business owners are not aware of the resources available to them, whether it is a start-up or established business
Garden City, NY (PRWEB) April 12, 2012
The NAPW Waldorf Local Chapter met on Tuesday, March 20th at 6:30pm for a professional networking meeting at Prime Street Grille.
Tammy Wright, Waldorf Local Chapter President starting the meeting by having everyone in attendance introduce themselves and network. After networking, she and the group discussed scheduling meetings for the 2012 calendar year and asked members to verify their availability. She relayed to the group the mission statement of both NAPW and the Waldorf Local Chapter. For future meetings, Tammy encouraged everyone to invite another professional woman.
The Chapter welcomed guest speaker Marcia Keeth, Director of Economic Development Department and Eugene Lauer, Interim Economic Development Director. Marcia shared her duties with the group. "I assist existing businesses to expand and prosper in Charles County," she said.
The Economic Development Department develops and implements services for local businesses in various industry sectors to help them broaden their business base, gain access to capital, and market their services.
The Chapter discussed the importance of 'economic gardening' and Marcia relayed that economic gardening involves identifying local firms with the greatest potential to grow, providing niche services to assist them in that effort, and linking them to other available resources for the benefit of the entire community.. Marcia provided the group with an overview about programs and resources available to assist small businesses..
"Small business owners are not aware of the resources available to them, whether it is a start-up or established business," said Marcia.
Tammy shared her story about the assistance ABC Wellness & Fitness Center received from several local programs. She also discussed the business plan developed by Bill Hitte at the Small Business Development Center, which is aimed at helping small businesses in La Plata, Maryland and the Small Business Disadvantage Loan the community received in 2010.
Marcia asked members in attendance if they had any questions. Many members of the group recently started a business or are planning to start one and expressed excitement for Marcia's guidance and information.
Tammy closed the meeting by thanking the guest speakers and members for coming and told the group to check the Local Chapter Page for more information for the next meeting to be held on Tuesday, May 15th at 6:30pm.
The National Association of Professional Women (NAPW) is the largest and most recognized network of female professionals. NAPW provides a forum where women can interact, exchange ideas, educate, network, and empower. NAPW Local Chapters allow members to maximize their experience through meetings, networking opportunities, and professional events.
For additional information regarding the NAPW Waldorf Local Chapter and/or NAPW, please visit http://www.napw.com.
Follow NAPW on Facebook and Twitter.
###