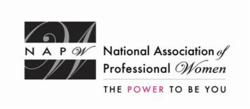 Becoming an entrepreneur was a natural success and progression. I come from a family of successful entrepreneurs.
Garden City, NY (PRWEB) May 16, 2012
The NAPW Waldorf Local Chapter gathered on Tuesday, April 17th for a professional networking meeting. The Chapter learned about finding one's purpose and the road to success with guest speaker Wanda Childs.
Tammy L.S. Wright, Local Chapter President, opened the meeting by welcoming all in attendance, followed by introductions, networking, and planning for the 2012 National Conference. Carolyn Washington and Kelley Perry wanted to formally introduce themselves to the Waldorf Local Chapter members. Debbie Garcia Sekema Rhodes, and Carol Davis were also in attendance.
Carolyn Washington is a Management Information Specialist. Her skills and areas of expertise is, business and legal services, which she attributes to her background and experience in administration. Her office is located in the Case Information and Analysis Branch of the Office of Management Information, Office of Management Programs, Civil Division, U.S. Department of Justice. The Office of Management Information provides support to Civil Division attorneys, managers, and support staff by developing and maintaining complex management information systems that are critical to the mission of the division. The function of the branch is to collect dynamic case data, establish procedures, controls, and guidance for entering and retrieving data from the system. This information is then used to provide associated user training, and produce standard and ad hoc reports for the division. It is also used to ensure the quality and timeliness of the data.
Kelley Perry is a new member to NAPW. She told the group that over the past 11 years, her business partner and she have successfully created, branded, and now manage a thriving IT consulting company. She also holds a Bachelor degree from Strayer University. Kelley has decided to start another company that provides life coaching and small business strategic planning support services as core competencies.
Kelley told the group she joined the National Association of Professional Women because she felt it would benefit her as a business woman and allow her to network with other business owners and professional women. She is actively involved with Global Institute for Empowered Women Entrepreneurs, which supports women in the growth and development of their businesses and lives.
Next, Tammy discussed the Mission Statement of both NAPW and the Waldorf Chapter.
She encouraged everyone to invite another Professional Women to join NAPW and compare the benefits of membership with NAPW versus other local business groups.
She then introduced the guest speaker for the evening Wanda Childs. Wanda is an Entrepreneur, Author, and Speaker. She is also the CEO and President of three companies: Blessed 24:7 Gift Shop, Printing Express & Designs, LLC, Blessed 24:7 Foundation, Inc.
Wanda started her presentation by telling the Chapter about herself. While working her nine to five in the offices of corporate America, for additional income, Wanda started her own printing company called Printing Express & Designs, LLC., specializing in souvenir items imprinted with one's own Logo to help promote and market their business or event.
Soon after starting the printing company, Wanda also started her own gift shop called Blessed 24:7®. The Blessed 24:7 Gift Shop started online and is now a retail gift shop inside the Kingdom Square Mall, Capitol Heights, MD. Wanda sells gift merchandise and apparel imprinted with the "now famous" Blessed 24:7 logo. Most people don't know that Wanda is the exclusive U.S. Trademark owner of the entire Blessed 24:7® brand.
Wanda was let go from her corporate America job after twenty-one years of service. Some say she was "pushed into her purpose". Wanda left that job with her unemployment benefits denied and she was not offered a severance package.
"Becoming an entrepreneur was a natural success and progression. I come from a family of successful entrepreneurs," said Wanda.
Wanda also shared a brief synopsis of her book and how it will inspire one to walk into their purpose. The book is a spiritual journey and true story to the success of God's way, in spite of the odds stacked against her. Wanda shared that her purpose is to encourage and motivate others to be obedient when finding their purpose. Often individuals do not walk into their purpose and they miss their blessings because of fear and lack of faith.
The conference room was completely silent during Wanda's presentation because prior to her speech several NAPW members shared their concerns with becoming business owners, because of the security that they believe to have at their current places of employment. Wanda instilled a sense of security for women to believe in themselves and stop ignoring their purpose before it is started.
Next on the agenda was the discussion of charitable events. Brenda Nussberger, Volunteer Coordinator for Lifestyles shared with the Chapter several volunteer opportunities that the organization has provided.
"We plan to become active in our community after the NAPW National Conference," said Tammy. "Lifestyles' has so many programs that we've decided to support the Martha's Place."
The program provides temporary housing and case management to women and children while participants transition from homelessness to self-sufficiency.
NAPW Member Kelley Perry took the floor to volunteer for the Vice President position. The Chapter was thrilled that she has decided to take on the role.
Tammy thanked all in attendance and relayed to the group that the next meeting will be held on Friday, May 11th at 6:30pm at the ABC Wellness & Fitness Center.
The National Association of Professional Women (NAPW) is the largest and most recognized network of female professionals. NAPW provides a forum where women can interact, exchange ideas, educate, network, and empower. NAPW Local Chapters allow members to maximize their experience through meetings, networking opportunities, and professional events.
For additional information regarding the NAPW Waldorf Local Chapter and/or NAPW, please visit http://www.napw.com.
Follow NAPW on Facebook and Twitter.
###