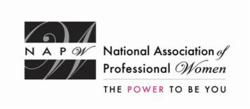 We all walked away from the Conference with a renewed energy and vigor for our future endeavors
Garden City, NY (PRWEB) July 26, 2012
The NAPW Waldorf Local Chapter held a professional networking meeting Tuesday, June 19. Members and guests gathered together to network, recap highlights of the NAPW 2012 National Conference, and discuss upcoming Chapter events. They also learned about making healthy food choices from Chapter President Tammy L. S. Wright, an Owner of ABC Wellness & Fitness Center.
The June meeting started with plenty of time for members and guests to network, exchange business cards, and get to know one another. After Tammy welcomed all who were in attendance, the floor was opened up to members who wanted to share their experiences attending the 2012 NAPW National Conference, held this May in New York City.
"The best part of the 2012 NAPW National Conference was 1,200 women under one roof loving one another," Tammy told the crowd. "And I loved hearing the success story of Sara Blakely."
One by one, members shared their stories about being a part of the Conference and all agreed it was an awesome experience.
"We all walked away from the Conference with a renewed energy and vigor for our future endeavors," said Tammy.
Although disappointed their customized shirts were not available to wear at the Conference, everyone was thrilled that the shirts were finally available. Tammy reassured everyone that the purchase of a shirt was totally optional.
A highlight of this month's Chapter meeting was the hands-on presentation on healthy living by the Chapter President. Tammy spoke to the audience about how to make healthy food choices for food cravings and the importance of reading labels. Tammy divided the audience into smaller groups and after listening to Tammy's tips on reading labels and counting calories, they created healthy meals. She discussed how to satisfy unhealthy food cravings with healthier options. Guests and members also had the opportunity to 'prepare' healthy portion plates with the aid of the Food Guide, compliments of choosemyplate.org.
"The challenges people have with eating are not understanding how to read the label and the number of calories they are consuming," said Tammy.
Tammy, who is also a certified Zumba instructor, then went on to lead members and guests in a fun and vigorous 20-minute Zumba workout. Afterwards, the group was treated to a healthy meal created by Chapter Vice President Kelley who made a chicken salad in which she substituted Greek yogurt for mayonnaise.
Other topics discussed during the networking meeting include the many upcoming Chapter events such as the November Cancer Awareness Gala, the shoe and food drives, and the Angel Tree. Tammy asked everyone to give a little bit of their time to support the events, which in turn, support the community. She reminded members and guests that Lifestyles is in need of donated food items. To help raise funds for the events, members and guests were asked to consider holding an NAPW Car Wash or Zumbathon.
Chapter Vice President Kelley reminded everyone of the Ms. NAPW contest and encouraged members to get involved. One lucky member will be chosen Ms. NAPW in December.
Contestants should be well-rounded professionals who support the vision, activities, outreach, and recruitments of other professional women; she should be an active member who gets the job done, not someone who simply attends meetings. Ms. NAPW will be awarded various gifts donated by business women within the NAPW Waldorf Local Chapter.
The Chapter President was happy to announce that in addition to the Chapter's new Vice President, the following Chapter Chair Committee positions had also been filled: Communication Coordinator, Sekema Rhodes; and Membership Liaison, Tonja Brooks. Although the Outreach Coordinator position was still open at the time of the June meeting, member Monique Gaskins stepped in to fill the slot.
Members in attendance were: Tammy L.S. Wright (President), Kelley Perry (Vice-President) Sekema Rhodes (Communications Coordinator), Tonja Brooks (Membership Liaison), Angela Johnson, and Monique Gaskins; new members included: Pamela Brown, Carmen Mitchell, and Kimberly Montague.
Guests in attendance were: Fontella Moody, Evon Bumbray, Lisa Barnes, and Nikki Lawing.
The Waldorf Chapter meets every third Tuesday of the month at 6:30pm at ABC Wellness & Fitness Center located in Waldorf, Maryland or at a designated location such as the Prime Street Grille restaurant. The location is subject to change based upon planned activities and
presentations.
The National Association of Professional Women (NAPW) is the largest and most recognized network of female professionals. NAPW provides a forum where women can interact, exchange ideas, educate, network, and empower. NAPW Local Chapters allow members to maximize their experience through meetings, networking opportunities, and professional events.
For additional information regarding the NAPW Waldorf Local Chapter and/or NAPW, please visit http://www.napw.com.
Follow NAPW on Facebook and Twitter.
# # #