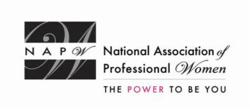 We want to ensure that we donate shoes to the Life Styles Foundation are shoes we wouldn't mind putting our feet into
Garden City, NY (PRWEB) July 26, 2012
Members and guests of the NAPW Waldorf Local Chapter gathered on July 17 for a professional networking meeting at ABC Wellness & Fitness. The Chapter announced its shoe drive for the Life Styles of Maryland Foundation, which will continue through September 30. Also during the meeting, Chapter President Tammy L. S. Wright led members and guests in an informative Speed Networking session.
The Life Styles of Maryland Foundation, Inc. is a non-profit organization that reaches out to families and individuals in need throughout the community, providing services, activities, and goods that are affordable and accessible. By donating new and gently used shoes for disadvantaged women, NAPW Waldorf Local Chapter is helping Life Styles in its mission to help those in the community who are in need of help.
At the Chapter meeting, Vice President Kelley Perry announced the start of the shoe drive to members and guests who were encouraged to collect and donate new and gently used shoes. She informed the group that the designated location for the shoes is ABC Wellness & Fitness, located at 3010 Crain Highway, Suite 100, in Waldorf.
Chapter President, Tammy L. S. Wright, an Owner of ABC Wellness & Fitness, reminded members and guests to be selective about the shoes they collect and donate.
"We want to ensure that we donate shoes to the Life Styles Foundation are shoes we wouldn't mind putting our feet into. Don't donate shoes that should be thrown in the trash. We want to make the women receiving the shoes feel good," said Tammy.
Vice President Kelley agreed and spoke about the time she has spent volunteering at Life Styles and how the donated items are looked through to make sure they are presentable and in decent shape.
Another important focus of this month's meeting was learning how to be an effective networker. The networking portion of the meeting was handled a little differently. Rather than holding the introductions in the beginning of the meeting, it was saved to coincide with an informative Speed Networking presentation by Tammy.
"During our Speed Networking session, we paired everyone up with someone they did not know and played an icebreaker game called Three Truths and a Lie. Everyone enjoyed it!" said Tammy. "This gave us the opportunity to know someone versus remembering 'just' a name."
Tammy reminded everyone how important it is to be able to share with others what they do and more importantly, how to maintain a balance when it comes to listening to others. During the presentation, she shared Ten Networking Tips with the group.
Also at the meeting, Tammy talked to members and guests about other upcoming community events the Chapter is involved with and invited everyone to volunteer where and when they can. She reminded everyone to check out the Waldorf Chapter page on the NAPW website for more information and to 'Like' the Chapter Facebook page. She also encouraged members to take photographs whenever they volunteer and post them on the Chapter's Facebook and Twitter pages.
"This would provide the opportunity for other professional women to see all of the activities we're actively involved in," said Tammy.
Tammy and Kelley also reviewed the contents of the NAPW website with members and guests and shared with them the myriad of benefits and resources NAPW affords its members.
"I didn't know about all of the different classes that were available to us through NAPW," said Tammy. "We shared the Business Resource Center under the Business & Careers drop-down of http://www.napw.com and how beneficial it can be for new business owners."
Tammy also provided an overview of the Lenovo savings opportunities available to members and reminded members once again about the Ms. NAPW contest. She reviewed contest guidelines and advised members that the award is based on the NAPW Waldorf Chapter member who meets the following criteria: supportive, positive meeting attendance, outreach participation, referral of new members, etc. She also reminded everyone of the importance of signing in at meetings to ensure accountability.
Members in attendance were Tammy L. S. Wright (President), Kelley Perry (Vice President), Carol Davis, and Monique Gaskins (Outreach Coordinator). Also in attendance were new members, Pamela Brown, Kim Montaque, and Kanika Hampton Bipat.
Pamela Brown, Palmae Enterprises, LLC, is a small minority women-owned firm launched in 2011 and based in Southern Maryland. Palmae Consulting, LLC is a subdivision of Palmae Enterprises, LLC. It is a Professional Management and Technology Consulting Firm that leverages over 25 years of business and professional management in information technology and telecommunications experience of the Founder and President, Pamela Brown, who also has extensive knowledge of industry standards and best practices in Project Management and Information Technology to deliver operational solutions to government agencies and private industries (including law firms).
Kim Montaque's skills and areas of knowledge include expertise in recruiting. Her professional title is Administrative Supervisor at Deloitte, which specializes in real estate services. She received her Master degree in Human Resource Management from Mary Mount University. She is currently involved with SHRM. Her hobbies and interests include reading and traveling. She is drawn to and passionate about charitable organizations such as The Red Cross and S.O.M.E.
Also in attendance for the first time was Kanika Hampton Bipat, CEO/Medical Director for HB Medical and Wellness Care. Kanika is board certified in Internal Medicine and Integrative Holistic Medicine. Her areas of interests are women's health and weight management. She has partnered her services with a local OB/GYN so that she can provide comprehensive healthcare for women. Kanika's work philosophy is to always remain knowledgeable in her field and to let compassion and wisdom be her guide. Kanika is a member of the American Medical Association, the American College Of Physicians, the American Association of House Call Physician, and Alpha Kappa Alpha Inc.
The next Waldorf Local Chapter meeting is to be held on Tuesday, August 21st at 6:30pm at Quality Printers located in White Plains, MD.
The National Association of Professional Women (NAPW) is the largest and most recognized network of female professionals. NAPW provides a forum where women can interact, exchange ideas, educate, network, and empower. NAPW Local Chapters allow members to maximize their experience through meetings, networking opportunities, and professional events.
For additional information regarding the NAPW Waldorf Local Chapter and/or NAPW, please visit http://www.napw.com.
Follow NAPW on Facebook and Twitter.
# # #