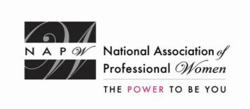 We will hold fundraisers so that members will be able to give back to the community and support various chosen organizations.
Garden City, NY (PRWEB) July 17, 2012
Members and guests of the NAPW Westchester Local Chapter came together July 12 for a women's networking meeting at one of Westchester's most popular restaurants Caffé Azzurri, 20 N. Central Avenue in Hartsdale.
Praised by The New York Times and Westchester Magazine for its outstanding food and warm, casual atmosphere, Caffé Azzurri was the perfect venue for an informal Meet and Greet event where nearly 30 NAPW Westchester Local Chapter members and guests had the opportunity to network and get to know one another during the restaurant's happy hour.
Sara O. Speicher is the Westchester County Chapter's new President. She is also a new mom, a former NCAA D1 basketball player who graduated from journalism and received MBA in marketing. She is also a Virtual Business Manager, and the Owner of VBM Pro. Sara opened the meeting by enthusiastically welcoming all of the members and their guests. She told them that they should update their profiles, check their NAPW Inboxes often, and to freely send their feedback on the evening's event and suggestions for future meetings to either her or Sara.
Sara told the crowd that while they will continue to hold informal meetings over the summer so that everyone can get acquainted and network, the Chapter will adapt a more formal structure in the fall. Her vision for the Chapter, she said, includes having members take a more active role in the meetings, inviting outside speakers to present at meetings, and getting more involved in the community through participation in charitable endeavors.
"Members will be given an opportunity to prepare various presentations and panels on certain topics and we will invite guests to join us each month," said Sara. "We will hold fundraisers so that members will be able to give back to the community and support various chosen organizations."
Mainly, Sara encouraged the members to focus on building relationships that will advance their businesses and personal lives. She also invited members to volunteer for available positions of the Chapter Board including Chapter Secretary and Chapter Treasurer. Member Regina M. Snyder graciously agreed to take on the role of Membership Chair.
NAPW Westchester County Local Chapter Vice President Crystal M. Cutler also addressed the members and guests at the meeting. After thanking Sara for taking on the important role of Chapter President, Crystal welcomed the attendees and invited members to provide feedback on the evening's event as well as suggestions for future meetings. She thanked Caffee Azzuri's management for their generosity in offering the use of the restaurant to the Chapter for all future meetings.
Crystal then kicked off the Meet & Greet portion of the meeting by speaking briefly about herself and her business, LegalShield, Inc., and then invited each member and guest to introduce themselves and their businesses to the group.
The next meeting of the Westchester County Local Chapter will be held on August 16 from 6:30 to 8pm at Caffé Azzurri. The details will be sent to the members and will also be posted on the Westchester Chapter page on the NAPW website and on the Westchester Chapter Facebook Page.
Those members in attendance included Cappy Devlin, Cappy Devlin International, Inc.; Cheryl A. Croce, Regency Heights of Stamford, LLC; Crystal M. Cutler, LegalShield, Inc.; Deborah Chmielnik, Charles Rutenberg Realty; Debora Coleman Johnson, CCOJ/CCLC; Doreen V. Leary, Kainos Asset Management; Helynn Boughner, guest of Sandra Rampersaud; Isabelle Chicoine, French American School, Janet Levitt, Met Life, guest of Sara Speicher, Janet Rodriguez, Mary Kay; Jean Swanson, You Can Do It Coach, Joanna Roses, Joanna Roses Consulting, Laura Ruben, Essential Assists, Lynn Buckmeyer, UBS Investment Bank, Maria Feola Magro, Business Development Inst.; Mary F. Palmer, CustoMary Creations® LLC; Michelle Ridlehoover, guest of Joanna Roses; Natasha S Bernardez, Clean Plate Culinary Inc.; Regina Snyder, Pearson Education; Sara O. Speicher, VBM Pro; Sandra Rampersaud, The Coughlin Group; Sher Gregory, Sheri Gregory, Inc.; Sue Seller, KidAbilities, LLC; Susan De Robertis, Venus In Transit; Thelma Jones, Options for Wellness; Tyra Cole, Take Shape For Life; Vera Halpenny, YAI; and Virginia Trunkes, Snitow Kanfer Holtzer & Millus, LLP.
The National Association of Professional Women (NAPW) is the largest and most recognized network of female professionals. NAPW provides a forum where women can interact, exchange ideas, educate, network, and empower. NAPW Local Chapters allow members to maximize their experience through meetings, networking opportunities, and professional events.
For additional information regarding the NAPW Westchester County Local Chapter and/or NAPW, please visit http://www.napw.com.
Follow NAPW on Facebook and Twitter.
###