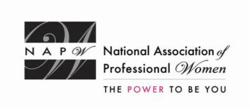 The networking is so interesting since our members come from varied background but we all have one thing in common...
Garden City, NY (PRWEB) July 17, 2012
Members and guests of the NAPW Wichita Local Chapter gathered together on June 4 for a professional networking meeting at Mead's Corner, a popular coffeehouse in Wichita. It was the third successful networking meeting for the new Chapter that now boasts nearly 30 new members.
NAPW Wichita Local Chapter President Rachell Ecklund kicked off the meeting by welcoming the members and guests who were in attendance. She praised the networking opportunities that abound at all of the meetings due to the wide range of talents, backgrounds, and careers of all Chapter members.
"The networking is so interesting since our members come from varied background but we all have one thing in common. We are professional women who are looking for resources and emotional support from other professional women," Rachelle said.
Rachelle spoke enthusiastically about her attendance at the 2012 NAPW National Conference in New York City in May. "It was an exciting trip," she told the crowd, "one where she was able to network with other Chapter Presidents and members and hear a number of fascinating professional women speak."
"There were more than 1,000 women in attendance and the event was hosted by Star Jones," said Rachelle. "There were some very powerful women who took the stage with Star such as Christie Hefner, Randi Zuckerberg, Sarah Blakely, and Judy Smith." There were many memorable discussions and information she was more than happy to pass along to the meeting attendees.
The Chapter President went on to share with members and guests some helpful advice and key points she picked up at the Conference such as: do not focus on others' perceptions but stay focused on yourself and what you can control; create an environment where people are honest with you; learn from your failures; there is a difference between failing and being a failure; you are responsible for your reactions to situations; love what you do; look for mentors; create your own elevator speech which should be clear, concise, confident, and delivered in less than a minute; develop your own personal brand, be authentic; and perhaps, most importantly, always have a plan b!
Members and guests listened intently to what Rachelle had to say and were equally impressed when member and Guest Speaker Dawn Reed took the stage. Dawn, a Training Coordinator/Administrative Assistant at Bombardier, described her career path and the struggles and triumphs she has experienced. Dawn is currently working on her Master's of Science in Organizational Development at Friends University and shared many powerful suggestions with the Local Chapter.
In addition to Rachelle and Dawn, other members in attendance at the June meeting were Rebecca Denton, Regina Miller, Tamy Niernberger, Margaret Goger-Cranston, Robin Converse, and Debbie Morris. Jamie Brown attended as a guest and is hoping to join NAPW soon. The next NAPW Wichita Local Chapter Meeting is scheduled for July 9 at 7pm. The location will be the Green Mill Restaurant at Rock Road and Kellogg in Wichita.
The National Association of Professional Women (NAPW) is the largest and most recognized network of female professionals. NAPW provides a forum where women can interact, exchange ideas, educate, network, and empower. NAPW Local Chapters allow members to maximize their experience through meetings, networking opportunities, and professional events.
For additional information regarding the NAPW Wichita Local Chapter and/or [NAPW please visit http://www.napw.com.
Follow NAPW on Facebook and Twitter.
###