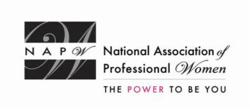 It was important that we all go through each of the five tips and discuss ways in which we can improve them or if this is something that was completely missing in our lives
(PRWEB) August 02, 2012
The NAPW Wichita Local Chapter met on July 9th for a professional networking dinner at The Green Mill. This was their 4th meeting for the Wichita Chapter. The ladies learned new professional tips that they can use to succeed in the workplace.
Rachelle Ecklund, Wichita Local Chapter President, kicked off the meeting by welcoming all members and guests. Members Rachelle Ecklund, Mary Roupp Ormerly, Dawn Reed, Melissa Wright, and Debbie Morris were all present and shared their professional backgrounds and some good laughs.
The ladies discussed the "Ezine @rticle" on 5 Professional Tips for Women in the Workplace and tied these tips back to what Star Jones discussed at the NAPW National Conference.
The article pointed out that when in the workplace you should find a successful mentor who can help you navigate through challenges, you should dress for success so that business associates will take you seriously, you should take care of yourself and relax in the evenings and on the weekends, and to assess your strengths and weaknesses.
"It was important that we all go through each of the five tips and discuss ways in which we can improve them or if this is something that was completely missing in our lives," said Rachelle.
They then discussed what they took from the 2012 NAPW Conference in relation to the article and found that it's important to always have a "plan b", to be authentic, to understand the importance of learning from your failures and knowing the difference between failing and being a failure. More importantly, you should love what you do.
The ladies talked about some of the goals that National has in mind. They currently have over 300 Local Chapters with a goal to have 400 by the end of 2012. Dawn and Melissa both talked about the new positions they landed! The Chapter members expressed how proud they are, and how they will support them in their transition.
The next NAPW Wichita Local Chapter meeting is scheduled for August 6th at 7pm. The location will be at the Green Mill Restaurant at Rock Road and Kellogg in Wichita. The meeting will be advertised in the business section of the Wichita Eagle newspaper and in the Ad Astra section of the Hutchinson News prior to the meeting. They Chapter hopes to see new faces and to make sure that current members are aware of the meeting.
The National Association of Professional Women (NAPW) is the largest and most recognized network of female professionals. NAPW provides a forum where women can interact, exchange ideas, educate, network, and empower. NAPW Local Chapters allow members to maximize their experience through meetings, networking opportunities, and professional events.
For additional information regarding the NAPW Wichita Local Chapter and/or NAPW, please visit http://www.napw.com.
Follow NAPW on Facebook and Twitter.
###