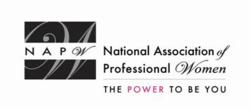 This was the sixth meeting for the Wichita, KS Chapter and it was the largest meeting so far...we are enjoying having many new members at our monthly meetings.
Garden City, NY (PRWEB) October 02, 2012
Members and guests of the NAPW Wichita, KS Local Chapter gathered on September 10th for a professional networking meeting at Green Mill Restaurant and Bar. Because of the Chapter's steady growth, elections took place and a Wichita, KS Local Chapter Board was formally established. Chapter President Rachelle Ecklund also led a discussion on volunteer opportunities for members and ways the Chapter could give back to the community.
"This was the sixth meeting for the Wichita, KS Chapter and it was the largest meeting so far," said the President. "We are enjoying having many new members at our monthly meetings!"
At the September meeting, the group decided to elect officers since the Chapter meetings have been regular, well-attended, and increasing in size. The following Wichita, KS Local Chapter Board Members are now in place: President: Rachelle Ecklund; Vice President: Dawn Reed; Secretary: Melissa Wright; Membership: Mary Roupp; Public Relations: Danya Burks; and Events Planner: Helen Miller. For the next meeting, the Officers will compose their position descriptions and we will make sure there is no overlapping of responsibilities.
"We hope to increase our membership and exposure by having more involvement from our team members!" said Rachelle.
Also discussed were a number of topics, including upcoming opportunities for volunteering and networking. Guest Helen Miller discussed volunteer opportunities for the Wichita, KS Chapter. She told the audience about a website volunteerkansas.org, which lists various opportunities. Members were asked to review the site and bring three suggestions to the October meeting. The Wichita, KS Chapter is also looking to do some charity work for the Christmas season. Rachelle will contact NAPW to find out how to purchase NAPW name tags and shirts for the women to wear during volunteer and charitable activities.
Member Mary Roupp presented information about the Women in Business Luncheon scheduled for September 27th at the Hyatt. Mary will email more details about the event to those interested in attending. Members and guests were also told about two other upcoming events: a Kansas Conference for Women in Hutchinson on October 1st and in Salina on October 2nd.
Originally, Valerie Harvey was scheduled to be the guest speaker at the September meeting but was unable to make it. She plans to be at the October Chapter meeting. Member Dawn Reed graciously stepped in, though, and presented two intriguing articles concerning businesswomen.
One article was an interview with Deborah Tannen, author of You Just Don't Understand: Women and Men in Conversation. The interview piece talked about women needing to step up and support other women in the workplace. Businesswomen must make it a point to have their voices heard in mostly male dominated industries. Women have a tendency to add disclaimers to their opinions such as 'maybe this is a good idea….' We need to avoid this type of language and be more assertive and confident in our approaches, said the author.
The group decided the second Monday of the month would work best for the regular Chapter meetings and so the next Wichita, KS Local Chapter NAPW meeting is scheduled for October 8th at 7:00pm at the Green Mill Restaurant and Bar at Rock Road and Kellogg in Wichita. The meeting will also be advertised in the business section of the Wichita Eagle newspaper and in the Ad Astra section of the Hutchinson News prior to the meeting.
"We hope to get more members to join our Chapter and make sure that current members are aware of the meeting. Hope to see everyone there!" said Chapter President Rachelle Ecklund.
The National Association of Professional Women (NAPW) is the largest and most recognized network of female professionals. NAPW provides a forum where women can interact, exchange ideas, educate, network, and empower. NAPW Local Chapters allow members to maximize their experience through meetings, networking opportunities, and professional events.
For additional information regarding the NAPW Wichita, KS Local Chapter and/or NAPW, please visit http://www.napw.com.
Follow NAPW on Facebook and Twitter.
###