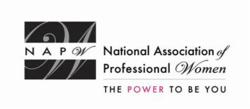 Garden City, NY (PRWEB) April 24, 2013
Members and guests of the NAPW Asheville, NC Local Chapter gathered on April 15th for a professional networking meeting at The Cantina in Biltmore Village.
After hearing from Donna Ensley of Manna Food Bank and Ann Flynn of Helpmate, the group of professional women pledged their support to both nonprofit organizations.
Asheville Local Chapter member Laurie Chandley kicked off the meeting by welcoming other members and guests to the networking meeting.
She then introduced the first of the evening's two guest speakers.
"Donna Ensley spoke regarding Manna Food Bank, the counties in Western North Carolina they support, and how they partner with other local charities in order to provide food to those in need," said the Chapter President.
"We decided to specifically concentrate on supporting the backpack program that Manna sponsors for all 16 counties in which they provide services."
Ms. Ensley told the group of professional women that one in five children go hungry every day in our area, and in some of the outlying areas of Western North Carolina, the number is even higher.
The backpack program provides staple foods to school-aged children that qualify for the free lunch program, which is based on family income of poverty level or below.
Each Friday, in order to assist families with the cost of food when children are at home each weekend, these children are given a bag of various foods, including proteins and shelf-stable foods.
"Manna Food Bank has organized volunteer days each Thursday afternoon, when volunteers pack the food for the backpack program," said Laurie.
"Our Local Chapter has decided to volunteer with Manna during the afternoon of our next Chapter meeting."
The next guest speaker is Ann Flynn who spoke about Helpmate, which is an Asheville-based women's domestic violence shelter.
"We learned that Helpmate typically houses approximately 17 women, but can house up to 25 women at once," said the Chapter President.
"Helpmate partners with Manna Food Bank in order to offer a food pantry for the women they serve."
In addition to food, Helpmate provides paper products and toiletry items. In order to ensure the safety of the women they house, a curfew of 7:00pm is in place for those with small children.
Otherwise, a curfew of 8:00pm is enforced. Our Local Chapter is working with Helpmate to determine ways we may be able to support them, either financially or by volunteering.
After thanking the guest speakers for their informative presentations, the group of professional women in attendance brainstormed about the Asheville Chapter's official launch meeting, which is planned for late summer or early fall. Theme ideas for the event included a formal gala, or a "Duck Dynasty" Camo ball.
"All were in agreement to use the launch event to raise money for either Helpmate or Manna Food Bank," said Chapter President Laurie.
"More details are to be discussed at the next monthly meeting, and hopefully a firm date for our launch event will be chosen at that time."
Jennifer Grantham offered to take the reins on establishing the Local Chapter's social media pages, including Facebook, Twitter, and LinkedIn.
Heather Banks agreed to send her the social media guidelines provided by the organization.
In attendance at the April Chapter meeting were Heather Banks, Chapter President, Laurie
Chandley, Jennifer Grantham, Kylee Frye, Donna Cook, and Cassandra Shaw.
Guests for the evening were Ann Flynn from Helpmate and Donna Ensley from Manna Food Bank.
The National Association of Professional Women (NAPW) is the largest and most recognized network of female professionals. NAPW provides a forum where women can interact, exchange ideas, educate, network, and empower. NAPW Local Chapters allow members to maximize their experience through meetings, networking opportunities, and professional events.
For additional information regarding the NAPW Asheville, NC Local Chapter and/or NAPW, please visit http://www.napw.com.
Follow NAPW on Facebook and Twitter.
###