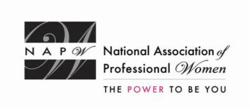 The goal of the evening was to kick off the New Year with an inspiring, world-recognized, guest speaker and Cindy Ashton was the perfect choice,
Garden City, NY (PRWEB) January 31, 2013
Members and guests of the NAPW Bakersfield, CA Local Chapter gathered on January 9th for a professional networking event at The Padre.
The meeting was in two parts: a monthly meeting during the first part of the evening for Chapter members and guests, and then, during the second half of the night, a networking workshop that was open to guests, including those from Los Angeles and Fresno Local Chapters.
During both sessions, guest speaker Cindy Ashton, CEO of Speaker Stardom, wowed the crowd with her networking tips and business acumen.
"The goal of the evening was to kick off the New Year with an inspiring, world-recognized, guest speaker and Cindy Ashton was the perfect choice," said Chapter President Janelle Capra.
The meeting began with a quick but intriguing networking exercise led by the guest speaker who invited members and guests to share which celebrity they felt most drawn to and why. Members and guests introduced themselves and the Chapter President reviewed some Chapter business such as upcoming meeting dates and topics. She then introduced the guest speaker to the crowd.
"Cindy is from Toronto, Canada and is the CEO of Speaker Stardom," said Janelle. "She has received awards from both President Obama and Queen Elizabeth for her humanitarian work."
Cindy talked to attendees about the networking exercise done at the beginning of the meeting. She explained how certain celebrities create an experience for us, and how we are drawn to them. Cindy challenged members and guests to identify the experience they can give to people. She gave examples of businesses where customers pay a premium to get an experience versus competing businesses that provide a lower price product without an experience.
"People buy experiences," Cindy said to the group of professional women.
The guest speaker also shared how her own personal health issues affected her work and passion. She talked about how she broke down barriers and then challenged members and guests to focus on love and passion instead of fear. Cindy also challenged the group to ask questions of themselves, and their family and friends, about the experience they give people, what stands out, the overall thing people receive from them, how they feel around them, what comes easily for them, what comes naturally for them, what talents they have, and what causes they can defend.
"We all have an experience and story to share and it's our responsibility to share our gifts with the world," stated Cindy.
Later that evening, the NAPW Bakersfield Local Chapter hosted a Girls' Networking Night Out with Cindy Ashton. Chapter President Janelle Capra had extended the invitation to LA and Fresno Local Chapters and the event was well-attended by Chapter members and guests.
"Members and guests from Bakersfield and beyond, even as far as Exeter, attended this interactive, hands-on workshop," said Janelle. "Cindy customized the workshop for the women in attendance, whose careers ranged from employees to entrepreneurs to business owners."
During the workshop, Cindy discussed how to mega-grow a business using superstar presentation skills and social media tools. All who attended learned how to improve their communication skills, present their best 'voice' to command attention, and to maximize marketing opportunities with social media. The workshop was video-taped and will be shared via the facebook.com/NAPWBakersfieldLocalChapter [NAPW Bakersfield Local Chapter Facebook Page] and Cindy Ashton's social media network of more than 20,000 followers.
Earlier in the meeting, upcoming meeting dates/venues/topics for the NAPW Bakersfield Local Chapter were discussed. Christina Blanton, Chapter Treasurer, talked about the Share Your Love Vendor Fair on February 13th. She presented a flyer and said she secured the Maya Cinemas for the event at no cost to the Bakersfield Chapter. The time will be 11:00am to 1:00pm, and the cost of a booth is $50.
"The event will be an opportunity for last minute Valentine Day purchases. Christina also encouraged members to distribute flyers and suggested we should each try to sell two booths. Proceeds will benefit the American Heart Association," said Janelle.
Other upcoming dates/venues/topics include: March 13th - The Padre; April 10th - Valley Achievement Center in recognition of Autism Awareness Month; May 8th –Guest speaker will be Sue Watson, Motivational Speaker, The Padre; June 12th -open; and July 10th - Nicole Dickey, Valley Bible Fellowship, Strengths Finder Presentation.
The National Association of Professional Women (NAPW) is the largest and most recognized network of female professionals. NAPW provides a forum where women can interact, exchange ideas, educate, network, and empower. NAPW Local Chapters allow members to maximize their experience through meetings, networking opportunities, and professional events.
For additional information regarding the NAPW Bakersfield, CA Local Chapter and/or NAPW, please visit http://www.napw.com.
Follow NAPW on Facebook and Twitter.
###