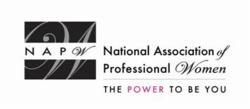 We have a purpose in life and that purpose is to empower, love and be bigger than your anger or frustration.
Garden City, NY (PRWEB) May 23, 2013
Members and guests of the Bakersfield, CA Local Chapter gathered on May 8th for a professional networking meeting at The Padre Hotel, located at 1702 18th Street in Bakersfield.
Motivational Speaker Sue Watson of Business Initiatives demonstrated to the group of professional women how the ability to forgive could help them to better focus on the important things in life such as family and professional goals.
Bakersfield Local Chapter President Janelle Capra opened the meeting by welcoming members and guests and inviting everyone to introduce themselves.
Janelle then gave an update on the 2013 National Networking Conference that she and Kelly Brown attended in New York.
The conference, which featured keynote speakers Martha Stewart and Arianna Huffington, was sold out with more than 1200 members attending. Janelle told the group of professional women that she felt attendees connected very well with the speakers and one another.
"There were opportunities for networking and sharing your business," said President Janelle Capra. "I encourage everyone to use the many benefits of the organization's membership. The conference will soon be available on a video feed."
"It was an amazing opportunity to be in New York with so many professional women," said member Kelly Brown. "We should learn from other Chapters, and our goal is to connect with each other and network."
Bakersfield Treasurer Christina Blanton then introduced the evening's guest speaker, Sue Watson from Business Initiatives.
A Motivational Speaker, Ms. Watson talked about forgiveness, purpose and inner joy. She shared a story about being angry with her husband and her resulting forgiveness. She encouraged members and guests to "forgive everybody everything" because everyone has "bigger fish to fry."
"Sue Watson told us it is our choice to get over it. Focus on goals and more important things: career, family, kids, education, a vision for the future, etc.," said Chapter President Janelle Capra. "She advised us to quit fretting over small stuff. We have a purpose in life and that purpose is to empower, love and be bigger than your anger or frustration."
Ms. Watson also told the group of professional people to not let others steal their joy. Other things that steal your joy, she told them, include perception, disappointments, comparing ourselves to others, hurts, negative self-talk, complaining, criticizing and gossiping.
"To get joy back, Sue Watson told us to consciously change the way we think about things. We have everything inside of us. The guest speaker helped us see we have a calling and we have 'bigger fish,'" said President Capra.
After the presentation, the Chapter President distributed literature to guests with information about membership and its many benefits.
She then discussed ideas for the Bakersfield Chapter, such as incentives for members who bring guests and sponsorships for lunch meetings, which would allow the sponsoring business to stand out.
Bakersfield Chapter Vice President Wendy Armijo discussed the card members received regarding the invitation to 'Join Us for Lunch' and the Chapter's 2013 calendar events. The calendar is set for the rest of the year and includes a family potluck to be held August 10th and a holiday mixer in December at The Mark.
Additional cards will be made available so that members can hand them out and invite guests.
The meeting concluded with a drawing for a door prize.
The next Bakersfield Local Chapter meeting will be held at a golf clinic at The Links at Riverlakes Ranch on June 12th.
The National Association of Professional Women (NAPW) is the largest and most recognized network of female professionals. NAPW provides a forum where women can interact, exchange ideas, educate, network, and empower. NAPW Local Chapters allow members to maximize their experience through meetings, networking opportunities, and professional events.
For additional information regarding the NAPW Bakersfield, CA Local Chapter and/or NAPW, please visit http://www.napw.com.
Follow NAPW on Facebook and Twitter.
###