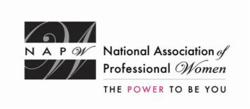 "We all wanted to do something different to get us out of our comfort zone. We definitely want to do it again!"
Garden City, NY (PRWEB) January 24, 2013
Members and guests of the NAPW Binghamton, NY Local Chapter got the New Year off to a great start when they gathered on January 15th for a professional networking event that included a women's-only martial arts class. The group of professional women met at Power of One MMA in Vestal, NY, a mixed martial arts training center, which offered the class free to Chapter members and guests.
"It was a wonderful class and we had a wonderful instructor for the evening. We learned different kicks, defensive moves, and how to throw a punch properly," said Binghamton Chapter President Domonica Creeley. "We all wanted to do something different to get us out of our comfort zone. We definitely want to do it again!"
After the class, attendees held a Chapter meeting in the front reception area. Domonica kicked off the monthly event by briefly speaking about the Chapter's meeting agenda. She then led a discussion about the latest promotions offered by NAPW and encouraged everyone to take a look at the NAPW monthly Newsletter, where they will find information about members, special announcements, member discounts, and much more. The women also spoke about the various benefits available to NAPW members and what items they have taken advantage of in the past.
Future Binghamton Local Chapter meeting topics and locations were also discussed. The Chapter is currently researching locally women-owned restaurants for upcoming meetings. A review of the local charities the Chapter is involved with was tabled since the Charity Chair was unable to attend the January meeting.
"We noted that our February meeting has been confirmed for February 21st at The Restaurant, located at the Grand Royale Hotel in Binghamton, at 6:00pm," said the Chapter President. "We will be going with the theme of a Valentine's dinner, treating ourselves, and tying it into a Red Dress Event in support of the American Heart Association's Go Red for Women."
Also discussed was the confirmation of the Chapter's March meeting location. It will be held at the Cyber Café West in Binghamton; it was agreed by all that the upstairs area will be perfect for a guest speaker. April's meeting was briefly discussed. The Chapter is thinking of hosting a joint meeting with the Ithaca Chapter in May or June, and the Chapter President passed around flyers for wine tour options for that meeting, as well. Attendees also discussed the Binghamton Chapter Facebook Page and brainstormed ways to engage other members to attend meetings.
Members in attendance were Marianne Kaufmann and Domonica Creeley.
Marianne Kaufmann is a Project Manager/Technology Consultant at DTCC-The Depository Trust & Clearing Corporation, which specializes in global finances. She is currently involved with Project Management Institute. DTCC - WINS. She is also a Guild Certified Feldenkrais Practitioner and a member of the Feldenkrais Guild of North America.
Domonica Creeley works for Groundwater Sciences Corporation as an Administrative Assistant. Groundwater Sciences Corporation's principal services include hydrogeological consulting, focusing on solving complex groundwater and soil contamination problems and development of water resources for public and private use.
The National Association of Professional Women (NAPW) is the largest and most recognized network of female professionals. NAPW provides a forum where women can interact, exchange ideas, educate, network, and empower. NAPW Local Chapters allow members to maximize their experience through meetings, networking opportunities, and professional events.
For additional information regarding the NAPW Binghamton, NY Local Chapter and/or NAPW, please visit http://www.napw.com.
Follow NAPW on Facebook and Twitter.
###