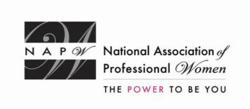 Members and guests loved the exercise classes so much that Rachel happily agreed to host a beach workout/yoga class for the NAPW Chicago Chapter this summer.
Garden City, NY (PRWEB) January 17, 2013
Members and guests of the NAPW Chicago, IL Local Chapter gathered on January 5th for a professional networking meeting at Bend Yoga & Movement Studio, which is Owned by Chapter member Rachel Ladd. Rachel, a Fitness Instructor and Massage Therapist, got the group of professional women up and moving with classes in Zumba, Yoga, and more. Chapter member and Nutrition Enthusiast Tiffany Wendt was on hand to give attendees expert tips on nutrition.
The event was such a huge success that a beach workout/yoga class for the NAPW Chicago, IL Local Chapter is planned for this summer.
Megan Wessels, President of the Chicago Chapter said, "What an amazing class by Rachel Ladd on Saturday at Bend Yoga Studio! I don't ever remember having that much FUN while working out... can't wait to go back for another class!"
During the event, Rachel energized the group of professional women and had them moving to Zumba, a Latin dance-inspired fitness program. She followed with a demonstration of Pasaloa, a dance fitness-based exercise program designed for soccer players, but now a workout for everyone, then led members and guests in a cool down with Yogalates, a fitness class that incorporates Yoga stretches and poses with core strengthening pilates positions and exercises.
"Members and guests loved the exercise classes so much that Rachel happily agreed to host a beach workout/yoga class for the NAPW Chicago Chapter this summer," said Megan. "Details will be posted as we get closer to the event."
Tiffany Wendt, a Nutrition Enthusiast, provided attendees with some great information on the danger of inflammation in our bodies and the different things that can lead to inflammation: genetics, nutrition, toxins, and stress. She showed a video with Dr. Andrew Weil with a very detailed description of inflammation: To learn more, visit YouTube. Tiffany also presented resources and websites for members and guests who would like more information, including a link to a Time magazine article about inflammation: time.com/time/covers/0,16641,20040223,00.html and a few links that can be used to research cosmetics to see if they're safe: ewg.org/skindeep and safecosmetics.org.
The NAPW Chicago Chapter has a number of exciting events scheduled for the next few months:
Tuesday, February 19th from 5:30 to 7:30pm at 200 North LaSalle Street in Chicago, the Chapter will host the workshop, 'Intellectual Property Basics for Business,' presented by Jeanne Hoffmann, Attorney and Member at Bryce Downey & Lenkov LLC. This workshop will host a viewing of the 'Miss Representation' documentary film. Members and guests will also hear more about 'Intellectual Property,' including how to protect it, trade secrets, and non-compete agreements. To sign up, check out the NAPW Chicago Chapter Page.
Thursday, March 7th at 6:30 to 8:00pm at Union Park Lounge, 228 South Racine Avenue in Chicago, the Chapter will host 'Get an Edge in Business with Sports,' a workshop presented by Monica Murphy-Vargas, Founder of SportsDivas, Inc. This workshop will show members and guests how reading the sports page can help them in business: '10 ways to use sports to boost your career as a professional woman. To sign up for March's event, please visit NAPW Chicago's Chapter Page.
The following attendees were present at the NAPW Chicago Local Chapter meeting in January: Co-hosts/Chapter members: Rachel Ladd and Tiffany Wendt; NAPW members: Megan Wessels, Robin Schaltz, Kim Walberg, Barbara Bautista, Demetra Markopoulos, Leslie Enneking, Lisa Horne, Mary Valenta, Megan Sughroue, Rebecca Corliss, Sara Buxton, and Terumi Echols; guests: Angie Bailey, Audrey Johns, Lillian Collier, Lynn Gerber Knutson, Mariko Hayashi-Hall, and Nidhi Srivastava.
The National Association of Professional Women (NAPW) is the largest and most recognized network of female professionals. NAPW provides a forum where women can interact, exchange ideas, educate, network, and empower. NAPW Local Chapters allow members to maximize their experience through meetings, networking opportunities, and professional events.