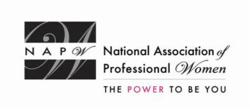 I think this is a great way to start a new Chapter. We're all new, from all walks of life, and we all have something special to offer NAPW,
Garden City, NY (PRWEB) February 12, 2013
Members and guests of the NAPW Cypress, TX Local Chapter came together for the first time on January 30th for a professional networking meeting at the Macaroni Grill near Willowbrook Mall.
It was the Chapter's pre-launch event, and to get the group of professional women geared up for the Chapter's start, Chapter President Gina Berlin set the tone with words of wisdom and a symbolic gift.
After introducing herself to the crowd, Gina introduced the theme for the Chapter's first meeting.
She gave each member a packet of seeds, which were graciously donated by the Ace Hardware located on Spring Cypress Road in Spring, TX and followed that with something the well-known actress Katherine Hepburn said in 1964:
"Each seed is unique. Each seed has a story to tell. And each seed has its own set of lessons, experiences, and perspectives."
"I think this is a great way to start a new Chapter. We're all new, from all walks of life, and we all have something special to offer NAPW," said Gina.
"The Cypress Chapter would like to thank Ace Hardware on Spring Cypress for their donation of flower seeds packets for our meeting."
Members were given information about NAPW and a discussion ensued about all that the organization has to offer its members such as online and in-person networking opportunities, business and educational resources, and much more.
Additionally, positions needed for the new Cypress Local Chapter Board were discussed and the President encouraged members to consider taking on a Board role.
"Members also had the opportunity to introduce themselves to the group and talk a bit about what they do," said the Chapter President.
Victoria Hawkins is a Real Estate Agent and spoke to the group about finding her niche in real estate after being employed by Centerpoint for 32 years. She loves working with the senior population and offering her assistance when it comes to retirement living, updating their homes, or selling. She is truly knowledgeable and has quite a bit to offer a client.
Amanda Garcia is a Certified Home Stager through HRS. She also works with her husband who happens to be a contractor. She personally brings a lot of experience to the table with homeowners and investors.
Monique Plair of Watson-Plair Events & Affairs is the Planner of the Century, offering everything under the sun for couples, from event planning to travel. Monique offers a wide range of treats.
Teresa Henderson is an Enterprising Investor with her husband. She pays attention to detail, and previously was involved in the oil and gas industry.
The evening ended with a group picture that can be found on the NAPW Cypress, TX Chapter Page.
The next meeting will be on February 20th; the venue is currently being decided upon.
The National Association of Professional Women (NAPW) is the largest and most recognized network of female professionals. NAPW provides a forum where women can interact, exchange ideas, educate, network, and empower. NAPW Local Chapters allow members to maximize their experience through meetings, networking opportunities, and professional events.
For additional information regarding the NAPW Cypress, TX Local Chapter and/or NAPW, please visit http://www.napw.com.
Follow NAPW on Facebook and Twitter.
###