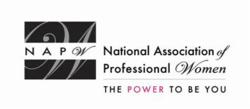 Kris Yagel is a ladder to personal and business prosperity. He believes that everyone has value and purpose...
Garden City, NY (PRWEB) January 08, 2013
Members and guests of the NAPW El Paso, TX Local Chapter gathered on December 11th for a professional networking meeting where guest speaker Kris Yagel, a U.S. Army Veteran and Corporate Leadership Expert, shared tips on how to 'Lead Like a Pro'. Members and guests also discussed the three charities the Chapter would become involved with in the New Year and how social media could be used to better market themselves and the NAPW El Paso, TX Local Chapter.
After members and guests had the chance to network and socialize, Chapter President Guadalupe Villarreal thanked everyone for taking time out of their busy schedules to attend the meeting. Guadalupe encouraged everyone in the room to introduce themselves by telling the group who they are and what they do. She briefly explained the mission of NAPW, shared some ideas for guest speakers at future meetings, and then introduced the event's guest speaker Kris Yagel and special guest Claudia Yagel.
"Kris Yagel is a ladder to personal and business prosperity. He believes that everyone has value and purpose," Guadalupe told the crowd.
Following an extraordinary course of personal development, Kris graduated from the United States Military Academy at West Point. He was commissioned as an Officer in the U.S. Army Military Police Corps and went on to receive top honors as a S.W.A.T. Team Commander, Police Chief, and Unit Commander.
After six years of commendable service to his country, Kris left the military for the corporate world, where he once more proved to be an excellent leader. He achieved much success and again received top honors in the areas of project management, medical device sales, and business development. During an intense time of self-reflection, though, Kris realized his true purpose, which is to help people in leadership, speaking, and mentoring. His motto is simple - he does whatever it takes to help others achieve greatness.
In his presentation to members and guests of the NAPW El Paso Chapter, Kris talked about how to 'Lead Like a Pro' and gave the following advice: Listen, Listen, Listen; Act like a Duck; Trust your Instincts; and Take Some Chances. He gave the professional women practical examples on how to become better listeners. Kris explained the concept of acting like a duck, pointing out how ducks swim on lakes very peacefully; however, under the water they paddle fast. The guest speaker encouraged the group to follow their instincts and offered more examples. He then opened the floor for questions, which led to a lively discussion among the group of professional women.
"Members and guests were very interested in what Kris had to say. The audience was very interactive and asked many questions and also made a number of suggestions," said Guadalupe.
At the conclusion of his presentation, the Chapter President presented the guest speaker with a certificate of appreciation. Guadalupe next spoke about the vision for the El Paso Local Chapter, including charitable endeavors and an increased use of social media. She then went on to lead the attendees in a discussion about the charities the El Paso Local Chapter would be supporting in the coming year, identifying three organizations: Shelter for Battered Women, Teen and Women Pregnancy Support Center, and deployed soldiers in Afghanistan.
Guadalupe also explained the incentives connected to becoming involved with social media sites such as Facebook, Twitter, and LinkedIn, and pointed out how using these resources benefits members themselves and the Chapter.
"All of these can be great marketing tools to make other women aware of the NAPW El Paso Local Chapter," said Guadalupe.
Additionally, it was suggested the as the Chapter grows, positions will be open that will enable members to participate and take a greater role in the Chapter through planning, marketing, and project management. The Chapter President concluded the meeting by raffling three door prizes and thanked everyone for attending. She advised that guest attendees' contact information will be provided to NAPW representative to get more information about the association and attending future meetings and events.
Attendees at the December El Paso Local Chapter networking meeting included Yvette Friday, Jackie Feliciano, Beatrice Middleton, Joy Jacobs, Claudia Yagel, Melissa Wilder, and Christine Seelig.
The National Association of Professional Women (NAPW) is the largest and most recognized network of female professionals. NAPW provides a forum where women can interact, exchange ideas, educate, network, and empower. NAPW Local Chapters allow members to maximize their experience through meetings, networking opportunities, and professional events.
For additional information regarding the NAPW El Paso, TX Local Chapter and/or NAPW, please visit http://www.napw.com.
Follow NAPW on Facebook and Twitter.
###