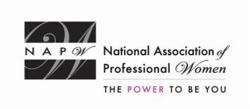 Our Homemade Cookie Drive for Troops is well underway...I hope everyone will join us in our effort to support our soldiers!
Garden City, NY (PRWEB) May 09, 2013
Members and guests of the NAPW El Paso, TX Local Chapter gathered on March 26th for a professional networking meeting.
In recognition of Women's Month, three women were honored for their professional accomplishments. The group of professional women also solidified plans for their charity event, sending homemade cookies to troops overseas.
El Paso Local Chapter President Guadalupe Villarreal kicked off the monthly networking meeting by warmly welcoming everyone to the event.
Members and guests had an opportunity to introduce themselves.
The President introduced the new Chapter Social Media Manager Margo Monreal. She added that there were still two Chapter Board positions open: Vice President and Secretary.
Guadalupe encouraged members to consider running for the open positions. The President then gave an update on the Chapter's current charity project,
"Our Homemade Cookie Drive for Troops is well underway," said Guadalupe. "The day scheduled for baking is Saturday, April 13th, the day for packaging will be Sunday, April 14th, and the day for shipment will be Monday, April 15th. I hope everyone will join us in our effort to support our soldiers!"
The Chapter President explained to the group why it is important to give. She spoke about a documentary on the study of happiness that proved giving makes people happy. She also reminded members and guests that the Chapter's charitable endeavors could help the El Paso Local Chapter win the Charitable Award. This award is given by National Headquarters to a Local Chapter in recognition of its efforts in helping others. Guadalupe then introduced the guest speaker, Ana Hernandez.
Ms. Hernandez talked to the group about personal finances including: achieving financial security, budgeting, spending plan chart, evaluation of expenditures, credit report, credit score, and debt-to-income ratio, debt elimination, and building wealth.
"Ana's presentation was very informative," said the Chapter President.
"She also provided a worksheet to members to calculate their net worth and a ballpark estimate of retirement needs."
Guadalupe thanked the guest speaker and presented her with a certificate of appreciation for her support of the El Paso Local Chapter.
In recognition of Woman's Month, the Chapter President issued a certificate of recognition to Belen Villarreal for her strong determination and commitment to reaching her goals and dreams despite challenges.
El Paso Chapter Vice President Brandy Woodley issued certificates of appreciation to Tina Jackson for her outstanding administrative skills, willingness to help others be successful and shine in their endeavors, and for her beauty inside and out as a woman.
Brandy also recognized Deborah Luevanos for her outstanding customer care, relentless ambition and growth as a businesswoman, and as a kind and giving friend and a beautiful and inspirational woman who gives her best to other women.
The President announced upcoming guest speakers and topics for future meetings, including: Ron Barnes: Career management; Adrian Madrigal: SBA Small business; and Carolyn Cobb: Equal Employment Opportunity Organization (equal pay). She closed the meeting by thanking members and guests for attending and asking them to please share their new ideas with her.
In attendance at the March El Paso Chapter meeting were: Brandy Woodley, Margo Monreal, Joy Jacobs, Deborah Luevanos, Jody Coward, Tina Jackson, Maritza Miranda, Carla Miranda, Belen Villarreal, and Rosalyn Thornton.
The National Association of Professional Women (NAPW) is the largest and most recognized network of female professionals. NAPW provides a forum where women can interact, exchange ideas, educate, network, and empower. NAPW Local Chapters allow members to maximize their experience through meetings, networking opportunities, and professional events.
For additional information regarding the NAPW El Paso, TX Local Chapter and/or NAPW, please visit http://www.napw.com.
Follow NAPW on Facebook and Twitter.
###