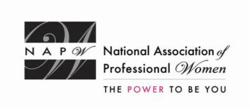 If you want to be a prominent player in the big leagues, you have to get creative with branding yourself and your business,
Garden City, NY (PRWEB) February 26, 2013
Members and guests of the NAPW Forest Hills, NY Local Chapter gathered on February 19th for a professional networking meeting at the Kew Garden Community Center in Queens.
Guest speaker Keith Muller, Founder and President of Muller Video Productions, demonstrated how the group of professional women could use video marketing to build an online presence for their businesses.
NAPW Forest Hills Local Chapter President Anjali Chugh welcomed attendees to the meeting and introduced Keith Muller to the crowd.
A video veteran, Keith Muller literally grew up in the industry, working for his parents' company on Long Island at the age of 13.
For the last three years, Keith's company has strived to provide small-to-medium businesses with cutting edge video marketing and web design services.
Mr. Muller started his presentation by sharing with the group a number of videos that his company had developed for his clients.
The members were impressed to see how a short two-to-three-minute video could do wonders for any business.
"Google ranks video content higher than images and textual content on the internet. People like to be entertained and text just isn't entertaining anymore," explained Muller.
The guest speaker went on to discuss the importance of carving a niche and being able to separate oneself from the competition.
"Sixty to 90 seconds of good video is all you need to sell your product," said Mr. Muller.
He also touched on the benefit of having testimonials as part of a business video.
"It allows for potential customers to see the diversity of your clientele in terms of age, race, ethnicity, gender, and geographic locations," said Mr. Muller.
Before ending his presentation, Mr. Muller left members with some food for thought.
"If you want to be a prominent player in the big leagues, you have to get creative with branding yourself and your business," said Mr. Muller in his closing statement.
President Anjali Chugh thanked Keith Muller for his time and for an outstanding presentation that was filled with helpful information and creative ideas that members found very useful.
"With the help of our guest speaker, members had an opportunity to understand the one key factor responsible for attracting clients and boosting business," she said.
In addition to hearing from the guest speaker, members also had plenty of time to network. New members had the opportunity to introduce themselves to the group and briefly talk about their areas of expertise.
Anjali reminded members of the Chapter's upcoming Hurricane Sandy fundraiser in April.
"I encourage everyone to come and support this very important cause," she said.
During the networking meeting, Forest Hills Chapter member Camelia Pruteanu was randomly selected to be featured in the 'Showcase' segment of the Chapter Newsletter.
The Chapter President announced the addition of two new Board Members: Karen Gerstman is Chair of Social Media and Dana Linton is Chair of Media Relations.
Members who attended the February meeting were: Donatella Horvath (Medicaid Service Coordinator), Delia Nelson (Accounting Manager) Camelia Pruteanu (Property Coordinator), Mercedes Cano (Attorney at Law, Office of Mercedes S. Cano) , Karen Booker (Managing Partner BeBe Group), Karen Gerstman (Voice Actor), Leah Chase (Owner, Excelsior You), Dana Linton (President Hogland Variety), and Anjali Chugh (Counselor).
Chapter minutes were prepared by Dana Linton, Chairperson Media Relations.
The National Association of Professional Women (NAPW) is the largest and most recognized network of female professionals. NAPW provides a forum where women can interact, exchange ideas, educate, network, and empower. NAPW Local Chapters allow members to maximize their experience through meetings, networking opportunities, and professional events.
For additional information regarding the NAPW Forest Hills, NY Local Chapter and/or NAPW, please visit http://www.napw.com.
Follow NAPW on Facebook and Twitter.
###