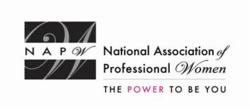 We are so thrilled with the quality and integrity of these professional women... We want to see fundraisers, events, expos, workshops, and more in 2013!
Garden City, NY (PRWEB) April 11, 2013
Members and guests of the NAPW Fresno, CA Local Chapter gathered on March 20th for a professional networking luncheon.
The group of professional women enjoyed an afternoon of networking, supporting each other's personal and professional goals, and making plans for the Chapter.
NAPW Fresno Local Chapter President Carla D. Flores kicked off the meeting by warmly welcoming members and guests to the event.
She thanked her co-leaders, Chapter members Ann Gibson of Nightingale Nurses and Marie Ferreira for their on-going help and support.
"Member Ann Gibson, of Nightingale Nurses, was our official greeter. Sharing her beautiful smile, she helped with the registration process and assisted me with running the meeting," said the Chapter President.
"Marie Ferreira, who is a Send-Out Cards Representative, is our Correspondence and Committee Coordinator. She will be reaching out to our members with personalized emails and cards to bring even more women to our meetings."
The Chapter President also announced the Chapter Committee members: Venue Chair: Cindy Galter, Natasha Uhlik-Slebiss, and possibly Rita Briggs as an alternate; Speakers: Natasha Uhlik-Slebiss and Marie Ferreira, and possibly Rita Briggs as an alternate; and Events Chair: Cindy Galter/Group decision. Treasurer: To be announced.
So that everyone could get to know one another a little better, Carla asked members and guests to briefly introduce themselves and speak about their company and career. She also invited attendees to answer two questions: Why did they join or become interested in NAPW? What would they like to gain from the experience?
Carla spoke to the group of professional women about the goals of the Fresno Chapter.
"Our group meets the third Wednesday of every month and the second Wednesday in November and December. We have more than 160 members in the Central Valley. This is our eighth chapter meeting and we are so thrilled with the quality and integrity of these professional women," she said.
"We are committed to getting more of our members here to the meetings so we can show our community what NAPW women are made of. We want to see fundraisers, events, expos, workshops, and more in 2013!"
The Chapter President discussed a number of upcoming events. She said member Cindy Galter, who is on the Events Committee, had booked a Chapter "Happy Hour" event on March 28th at 5:00pm.
She also has a Yoga Instructor who is willing to speak at an upcoming meeting, and is looking into the Chapter participating in an event at the zoo. Cindy also looked into the Central Valley Women's Conference in September and reported back to the Chapter President that she thought it was a worthwhile event for the Fresno Chapter to become involved with.
"I forwarded the information to NAPW headquarters for budget approval and I am pleased to say the Fresno Local Chapter will be at the Central California Women's Conference!" said Carla.
"It's an excellent opportunity for the Chapter to gain exposure and a wonderful venue where members and guests can network."
Chapter member Marie talked to the group of professional women about what NAPW membership offers them.
She reminded attendees that NAPW provides seminars, podcasts, webinars, keynote speakers, and educational tools, fostering critical skills that enable members to achieve personal and career success.
Through a wide-reaching network, members discover new opportunities to connect, grow, learn, and inspire. NAPW provide an exclusive online platform to showcase their businesses and gain exposure for professional endeavors.
The group would like to support and endorse a diverse syndicate of charities and nonprofit organizations focused on women's issues and child wellness.
She went on to read NAPW's Mission Statement and Brand promise: NAPW Mission: Our mission is to provide the most advanced forum for members to connect with like-minded professional women to develop innovative business and social relationships.
We continuously offer our members the resources and benefits necessary to foster professional and personal success.
NAPW Brand Promise: The National Association of Professional Women is a trusted place for professional women to Connect, Learn, Grow, and Inspire.
The Chapter President next introduced a number of members who led the group of professional women on a "tour" of napw.com.
"Members researched sections of the website and gave members and guests an excellent report. They also helped us navigate the website and utilize all the benefits of NAPW," she said.
Natasha Uhlik-Slebiss spoke about the webinars and podcasts section; Marie Ferreira spoke about the keynote speakers at this year's National Networking Conference; Cindy Galter talked about the Member Marketplace, and Ann Gibson talked about the resources and educational tools available to members.
Before concluding the meeting, the Chapter President reminded everyone of the March Mixer on March 28th at 5:00 pm at The Standard 9455 Fort Washington (Friant Road).
The next Fresno Local Chapter meeting will be on April 17th from 11:00am to 1:00pm at Dicicco's Italian Restaurant, 5251 N Blackstone, Fresno, Ca (Big Lots Shopping Center near Barstow Ave).
Hinds Hospice's "Angel Babies" program will be discussed. There will be a business card drawing, as well as a "Bring a Guest" drawing.
The National Association of Professional Women (NAPW) is the largest and most recognized network of female professionals. NAPW provides a forum where women can interact, exchange ideas, educate, network, and empower. NAPW Local Chapters allow members to maximize their experience through meetings, networking opportunities, and professional events.
For additional information regarding the NAPW Fresno, CA Local Chapter and/or NAPW, please visit http://www.napw.com.