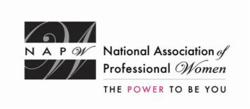 That's when Karen realized she needed balance in her life, and so started her company.. Karen then led the group through exercises to determine what contentment is and how to achieve it.
Garden City, NY (PRWEB) April 16, 2013
Members and guests of the NAPW Jacksonville, FL Local Chapter gathered on March 11th for a professional networking meeting.
Guest speaker Karen Nutter, Owner of Life Coaching by Karen, delivered a presentation that showed attendees how to "Find Contentment in a Chaotic World.
The group of professional women also focused on plans for the Jacksonville Chapter's upcoming Dress for Success Fashion Show/Fundraiser on April 18th.
Jenni Edwards, Jacksonville Local Chapter President, welcomed members and guests in attendance to the meeting.
There were a number of new faces, so those who hadn't attended a meeting before introduced themselves to the group.
Jenni thanked them for coming and reminded the group that meetings are the second Monday of each month, beginning at 6:00pm.
The Chapter President said a few heartfelt words about member Shana Herrin who is battling cancer and the members were asked to send well wishes.
"Shana Herrin, former Vice President of Charitable Acts, is still fighting cancer, and she needs the support of all Jacksonville Chapter members," Jenni told the group. "Let's all do what we can for Shana to help her get through this difficult time."
The evening's guest speaker, Karen Nutter, then took the floor. The Owner of Life Coaching by Karen greeted the group and expressed how thrilled she was to help everyone "Find Contentment in a Chaotic World."
Before beginning her presentation, Karen shared a brief history of how she came to be a Life Coach. Karen told the crowd that she was "Number Two" in a sales career in 1991, but that wasn't satisfying, so she worked tirelessly in an effort to be "Number One."
On Christmas, she "…literally couldn't get out of bed." Karen was eventually diagnosed with chronic fatigue syndrome, but after resting a while and feeling better, she went back to her fast paced lifestyle.
"Within a few months I was back in bed…and it lasted two years," she told the group of professional women.
"That's when Karen realized she needed balance in her life, and so started her company," said the President. "Karen then led the group through exercises to determine what contentment is and how to achieve it. "
Members and guests shared their own thoughts on what brings them contentment, as well as why they struggle to find it in their lives.
Karen told everyone a key element is to focus on achieving a feeling of "human doing" versus "human being" and suggested generous acts as a way to achieve that feeling.
"There are three types of generosity," the Life Coach explained. "'Basic generosity,' like buying someone's lunch, is good. 'Anonymous generosity,' when some receives a gift or donation without knowing who it is from, is better. 'Heavenly Generosity,' which is completely anonymous, is best."
Karen concluded her lesson with five minutes of meditation. She also offered a complimentary coaching session to everyone, and presented the Chapter President and Chapter member Charu Raheja with journals as a "Thank You" for arranging for her to speak to the group.
The Chapter President thanked Karen for her inspiring presentation. She then led attendees in a discussion about the details for the Chapter's upcoming Dress for Success Fashion Show fundraising event that will benefit Girls Inc. It will be held on Thursday, April 18th at 8:00pm at Suite in Towne Center.
"We still need clothes and models," Jenni told the women. "We have plenty of shoes and accessories and a flyer promoting the event is in the works."
Jenni made a number of other announcements. She told the group about an upcoming event benefiting Project S.O.S., and asked members and guests to consider attending.
The Chapter President also said that guest Trudy Pascucci of Shades of Pink Magainze, would be making a donation toward the Chapter's fundraiser for Girls Inc.
"Three members of the Jacksonville Chapter were included in the latest issue of Shades of Pink Magazine, so I will be donating $30 to the Jacksonville Chapter for the Girls Inc. benefit," announced Trudy.
Trudy expressed that she would like to double that donation for the next print run and encouraged Jacksonville Chapter members to accept her challenge.
The Jacksonville Chapter attendees were given an update on the Buzz Award; they are still in the running but need to be more active on social media to ensure they bring home the prize. Chapter members were encouraged to 'like' and 'share' posts on all social media pages.
Members were also reminded to 'share' their charitable accomplishments, to strengthen the Chapter's standing in the Charitable Acts Award. Awards are presented at the National Networking Conference in April.
Five Chapter members have confirmed their attendance at the conference; everyone was encouraged to check their schedules to see if they could attend.
Two Chapter initiatives, The Gratitude Jar and Change for Change Jar, were filling up quickly.
Members discussed some of the positive events happening recently and the Change for Change Jar brought in $20.20 at the evening's meeting.
"The total amount we raised through our Change for Change Jar for the first quarter was $55.43 and that money will be donated to K9's for Warriors," said the Chapter President.
"The Chapter will pick a new charity for the second quarter at April's meeting."
Before closing the March meeting, the President reminded everyone to check their profiles frequently so they don't miss out on announcements and messages.
Jenni once again thanked everyone for coming and asked for another round of applause for the guest speaker. The women gathered for a quick group photo and to share last minute pleasantries with one another.
The next Jacksonville Chapter meeting is Monday April 8th at 6:00pm at Coldwell Banker Commercial Offices, 4348 Southpoint Blvd. Suite 310, Jacksonville, FL 32216.
The National Association of Professional Women (NAPW) is the largest and most recognized network of female professionals. NAPW provides a forum where women can interact, exchange ideas, educate, network, and empower. NAPW Local Chapters allow members to maximize their experience through meetings, networking opportunities, and professional events.
For additional information regarding the NAPW Jacksonville, FL Local Chapter and/or NAPW, please visit http://www.napw.com.