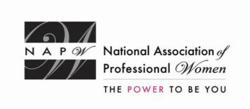 This exercise helped the women prioritize what is necessary to accomplish in a day, and relax a bit about less important items that don't get finished,
Garden City, NY (PRWEB) June 11, 2013
Members and guests of the NAPW Jacksonville, FL Local Chapter gathered on May 13th for a professional networking meeting.
Member Karen Nutter of Life Coaching by Karen, led the group of professional women in an exercise to better manage their time.
It was announced that the Chapter was recognized for its charitable endeavors at the 2013 National Networking Conference.
Attendees also discussed the success of the Chapter's Dress for Success fundraiser in April that benefited Girls, Inc.
Charu Raheja, Chapter Vice President of Finance and Vice President of Education & Inspiration, welcomed those in attendance to the meeting.
"After almost two years, Chapter President Jenni Edwards hasn't missed a meeting…until tonight! I'm happy to fill in while she's away on business," Vice President Raheja exclaimed.
Attendees discussed the National Networking Conference that was held April 26th. Five Jacksonville Chapter members were in attendance.
The Chapter Vice President talked about how all agreed the Conference was highly motivational and inspirational.
She also announced that the Jacksonville Chapter was recognized at the Conference for its work with local nonprofits.
"The Jacksonville Chapter was awarded the Charitable Acts Award and took home $5,000 to be used for growth and furthering our Chapter Mission," said Chapter Vice President Charu Raheja. "Helping our community is an important part of what we do, and to be given this award means we are doing something right!"
The Vice President, with help from Chapter Secretary Leah Zimmer, then updated the group on the status of their Jacksonville Chapter Page.
Chapter Member Bobbi Nagle generously offered her services to revamp the site and make it more functional. She has the design complete and is fine-tuning content. Bobbi expects to have the site up and running in no time.
Chapter Member Karen Nutter of Life Coaching by Karen next led the group of professional women in various exercises to determine what their struggles were with time management and how to overcome them.
The group largely pointed to 'procrastination' as a hurdle to their productivity, and cited 'fear' as the main reason for procrastinating.
Karen passed out a worksheet titled 'The ABC's of Productivity' and asked everyone to fill in six to ten items they wanted to accomplish the following day. She then instructed them to categorize them into A: Absolute Do, B: Better Do, C: Could Do and D: Don't Do, including no more than three items in each category.
"This exercise helped the women prioritize what is necessary to accomplish in a day, and relax a bit about less important items that don't get finished," said Vice President Charu Raheja. "She ended her lesson with a few minutes of meditation."
It was announced that the Change for Change Jar and Gratitude Jar were both well contributed to.
The evening's meeting resulted in $14 more for Hubbard House, which was $1 per meeting attendee!
The "Dress for Success" charity event benefiting Girls, Inc. of Jacksonville occurred since the April meeting, and it was truly a success, said the Chapter Vice President.
The Jacksonville Chapter raised $550 after expenses.
The fundraising event was a collaboration between numerous Chapter members; Chapter Member Darlene Smith, Hair by Darlene, was particularly instrumental in the success of the event.
"Thank you for all of your hard work, Darlene!" Vice President Reheja said. "The models' hair looked amazing!"
Darlene thanked the group for their hard work and support, and offered ideas from her fashion show experience as a hair dresser on how to make future events an even greater success.
Chapter Member MaryBeth Murray, of Sara Blaine for Willow House, was proud to have been a part of the event and have beautiful women modeling her jewelry on stage.
Another opportunity for the Jacksonville Chapter to raise funds for Girls, Inc. of Jacksonville is by advertising in the quarterly Women on a Mission newsletter.
Advertising rates are $30 for a half page or $15 for a quarter page, and are donated to Girls, Inc.
Advertisements should be submitted to Chapter Member Angela Brown no later than June 1st.
The June Meeting will be the first 'No-Bake Bake Sale" in which meeting attendees are asked to figure out how much money they would have spent on groceries and time to bake something, and instead donate that amount of money.
Members should bring the money in an envelope with a photo or description of the dessert it represents; including their names is optional. Meeting attendees will vote on their 'favorite' dessert, based on criteria to be determined at the meeting, and the winner will receive a $40 Aveda gift card donated by TriageLogic!
The group of professional women closed the meeting with a group photo and some last-minute networking.
Charu Raheja reminded everyone that meetings are the second Monday of each month, beginning at 6:00pm. The next Jacksonville Chapter meeting is Monday June 10th.
The National Association of Professional Women (NAPW) is the largest and most recognized network of female professionals. NAPW provides a forum where women can interact, exchange ideas, educate, network and empower. NAPW Local Chapters allow members to maximize their experience through meetings, networking opportunities and professional events.
For additional information regarding the NAPW Jacksonville, FL Local Chapter and/or NAPW, please visit http://www.napw.com.
Follow NAPW on Facebook and Twitter.
###