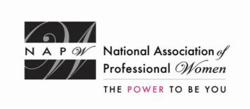 This was a fun opportunity for each woman to tell the group how she shows these characteristics each day in her place of work and how has it been beneficial,
Garden City, NY (PRWEB) June 18, 2013
Members and guests of the NAPW Joplin, MO Local Chapter gathered on May 22nd for a professional networking meeting at Logan's Roadhouse.
The group of professional women discussed their bucket lists and brainstormed ways they could support and help each other grow professionally and personally.
Shanna Heckmaster, Joplin Local Chapter President, kicked off the meeting by welcoming members and guests and having everyone go around and introduce themselves.
She also asked attendees to list what they are doing currently with their careers.
To get to know one another better, the President Heckmaster suggested attendees ask each other to list one thing on their bucket lists.
After introductions, the Chapter President read aloud the organization's Mission Statement and its commitment to the Joplin Chapter.
She then spoke about the incentives of the organization and what membership offers.
Shanna explained how to properly use the website and how to find other members and communicate online.
She then spoke about the mentorship program that is offered, the Joplin Chapter meeting agenda and upcoming opportunities and events published on the website.
"Members and guests then exchanged their business cards and gave each other referrals," said Chapter President Shanna Heckmaster. "They also shared the referrals they have gotten so far by networking with each other."
The group of professional women then discussed what they thought makes a woman stronger.
They came up with the following topics: Identify your femaleness; find a women you believe in; cut out all the drama; be proud of what you have to say; kiss the past goodbye; admit your flaws and handle insults and compliments with grace.
While discussing each tip, the Chapter President chose someone to explain to the group how she has used that tip in her life. Each woman talked about how she has taken that tip for being a strong woman and used it to her advantage to help herself grow as a person and in her career.
The Chapter President then read off the zodiac sign for each member and the strong words representing that particular woman. This was to show the women that they have a side of themselves that they may not have realized.
"This was a fun opportunity for each woman to tell the group how she shows these characteristics each day in her place of work and how has it been beneficial," said President Heckmaster.
Chapter President Heckmaster awarded pins to new members and offered a branded notepad as a welcome gift.
She invited members to join the Chapter Page on the website to communicate with one another, see photos, hear local news and provide comments.
The group discussed future speakers at Chapter meetings they thought would be beneficial and interesting.
The President reminded attendees that Joplin Chapter meetings are posted on the Joplin Chapter Page; meetings are held at 6:00pm on Wednesday evenings once a month.
The next Joplin Chapter meeting is June 12th.
Members attending the May Joplin Chapter meeting: Shanna Heckmaster, Lori Buresh, Shreni Kandhi, Barbara King, Vicki Daniels, and Barbie Bilton, Annette Munnich and new membe. Guests at the meeting: Sheila Waggoner, Stephanie Hopkins, Ashley Jones and Cindy Campbell. Shreni Kandhi
The National Association of Professional Women (NAPW) is the largest and most recognized network of female professionals. NAPW provides a forum where women can interact, exchange ideas, educate, network, and empower. NAPW Local Chapters allow members to maximize their experience through meetings, networking opportunities, and professional events.
For additional information regarding the NAPW Joplin, MO Local Chapter and/or NAPW, please visit http://www.napw.com.