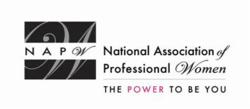 Dr. Hays was then kind enough to evaluate each attendee's musculoskeletal issues and treat them with osteopathic manipulation,
Garden City, NY (PRWEB) May 23, 2013
Members and guests of the NAPW Kalamazoo, MI Local Chapter gathered on May 15th for a professional networking meeting.
The Chapter hosted Dr. Brian Hays who shared with the group of professional women the many health benefits of acupuncture and osteopathic manipulation.
Members and guests also discussed exciting upcoming plans for the Chapter, including future guest speakers and events.
Kalamazoo Local Chapter President, Tammy Gleeson kicked off the meeting by welcoming the group of professional women to the May event, and discussing the agenda with meeting participants.
"Members and guests spent approximately 30 to 45 minutes networking," said Chapter President Gleeson. "All of the attendees introduced themselves and discussed their interests, occupations and goals."
The Chapter President then introduced the evening's guest speakers, Trish and Dr. Brian Hays.
They began their presentation by discussing how to start and maintain a practice in acupuncture and osteopathic.
Dr. Hays discussed the historical roots of osteopathic medicine and the Asian origin of acupuncture. He told members and guests that acupuncture first came to the United States in the 1970s when Richard Nixon became interested in its benefits after his visit to Asia.
Dr. Hays discussed the medical benefits for both osteopathic manipulation and acupuncture. He cited health benefits for pain control, headache relief, improvement in irritable bowel syndrome, treatment to smoking cessation, relief of postoperative pain and cardiac pain.
Dr. Hays demonstrated trigger points and showed members and guests what areas are addressed for specific health problems. He taught everyone the trigger point to address in order to prevent or treat headaches themselves.
"Dr. Hays was then kind enough to evaluate each attendee's musculoskeletal issues and treat them with osteopathic manipulation," said President Tammy Gleeson. "He offered evaluations through his office for acupuncture to those attendees who requested his information. His presentation was extremely informative."
Members and attendees were reminded of the Kalamazoo Local Chapter's new Facebook Page. Everyone was encouraged to visit the page, add information or comments, add photos, and to 'Like' the Chapter.
The Chapter President stated she would continue to send out emails to members via the message center and personal email, to keep them aware of the Facebook Page.
Chapter member Sue Brannum asked to be a guest speaker sometime in August or September, and the President is working with her on that process.
Upcoming guest speakers will also include Christine Skandis, who will discuss business development and techniques to expand a business.
Upcoming Kalamazoo Local Chapter meeting dates were provided to members and guests.
May 19th : Kalamazoo Susan G. Komen Race for the Cure- Tammy invited members and guests to be a part of the TSI Titty Committee or make donations for the run. The race starts at 2:10pm at the Arcadia Creek Festival Site downtown Kalamazoo.
June 1st: Get Your Colon Rollin' 5K run/walk- Tammy encouraged attendees to participate in colon cancer awareness. The race is in Battle Creek Linear Trail/Bailey Park, and sign up is at roadrunner.com.
June 19th : Dr. Tammy Gleeson- the meeting will be held at the Park Club in Kalamazoo starting at 6:30pm; Dr. Gleeson will be discussing private practice in today's healthcare environment. She will also be discussing risk factors for lung cancer and who should undergo lung cancer screening.
July 24th : Premier Designs, Ann Marie Frame-business development and consulting; members and guests will be able to view and purchase jewelry if they choose.
Chapter President Tammy Gleeson made members aware that all meetings begin at 6:30pm. Locations of the upcoming meetings with dates are in the Message Center.
The May meeting was adjourned at 8:30pm. Information is posted on the Kalamazoo Local Chapter Page.
Members attending this meeting included Sue Brannum, Agency Owner of Assurance Resources LLC. She is a Landstar Agent, providing supply chain solutions and complete global and domestic transportation services.
Remaining attendees were guests of Tammy and included: Caron Warnsby, General Surgeon at Oaklawn Hospital; Tina Olinyk, Wound Care Nurse at Oaklawn Hospital; Pam Price, Nurse Anesthetist through Oaklawn Hospital and Amy Francis, Billing/Coder for Thoracic Surgery Institute.
The National Association of Professional Women (NAPW) is the largest and most recognized network of female professionals. NAPW provides a forum where women can interact, exchange ideas, educate, network, and empower. NAPW Local Chapters allow members to maximize their experience through meetings, networking opportunities, and professional events.
For additional information regarding the NAPW Kalamazoo, MI Local Chapter and/or NAPW, please visit http://www.napw.com.