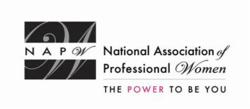 Attendees of this month's Chapter meeting brought much-needed donations for Safehome clients such as diapers, shower shoes, and health and beauty items, to name a few.
Garden City, NY (PRWEB) May 21, 2013
Members and guests of the NAPW Kansas City Metro, KS Local Chapter gathered on May 8th for a professional networking meeting at the UBS Financial Building in Kansas City.
The group of professional women welcomed new members, showcased member Jann Hasenauer, and celebrated each other's successes.
Guest speaker Audrey Cress spoke to attendees about Safehome, a domestic violence shelter in the Kansas City community, and gratefully accepted the generous donations made to the nonprofit organization by the Kansas City Metro Chapter.
Susan Freeman, President of the Kansas City Metro Chapter, welcomed members and guests to the meeting where refreshments were served.
She explained the meeting's agenda: welcome new member Brenda Ferguson and first-time attendee Cathy Lucas, spotlight member Jann Hasenauer, and hear more about Safehome from Audrey Cress.
New member Brenda Ferguson described her background as a loving wife to the late Eugene R. Morris, Founder and Operator of ER Morris Funeral Chapel until his death in 2000.
Brenda and her four sons are continuing the family tradition, growing the business from a one-room chapel to Elite Funeral Chapel Service, a 55,000-square-foot establishment.
Existing member and first-time attendee to the Kansas City Metro Chapter, Cathy Lucas, Independent Associate for LegalShield, was also welcomed by the group. Cathy handles all matters legal for a small monthly fee, with a focus primarily on preventing identity theft.
The Chapter President then introduced the guest speaker to the group of professional women.
"Safehome's mission is to break domestic violence and partner abuse for victims and their children by providing shelter, advocacy, counseling, and prevention education in the Kansas City community," she said.
"Attendees of this month's Chapter meeting brought much-needed donations for Safehome clients such as diapers, shower shoes, and health and beauty items, to name a few."
Ms. Cress told members and guests that one of the proudest achievements of Safehome recently has been the Lethality Risk Assessment provided to police, which allows them to evaluate on the spot the relative safety of the victims in a domestic violence call.
Although SafeHome offers shelter; 45 beds and growing, the majority of Safehome's work is done through counseling and their hotline: 816-HOTLINE.
Safehome is in the middle of a capital campaign to increase beds by 33%, increase the size of the children's center, and provide pet shelter too. However, Ms. Cress's passion is to work 'up-stream,' prevention through awareness, by talking with middle and high school groups.
"Audrey asked that we take information into the workplace and arrange 'lunch and learns' so employers can realize the true cost of abuse to the workplace; in lost time and productivity," said the President.
After presenting Ms. Cress with the collected donations, Chapter President Susan Freeman invited Jann Hasenauer, who is with Cherry Creek Mortgage, to take the floor as the member in the Spotlight.
Jann explained that reverse mortgages are designed to enable senior homeowners 62 and older to convert their home equity into cash. They can do this without selling their home or giving up title.
Jann first learned of this process when she helped her mother obtain a reverse mortgage a few years back, giving her mother cash, while eliminating a mortgage payment. Jann can be reached at mjhasenauer@1strmusa.com to learn more.
The group of professional women also celebrated with Jann in this month's "Pearls─Moments of Celebration" part of the meeting.
"Jann Hasenauer reached over $1,000,000 in sales in April," announced the Chapter President.
"Congratulations, Jann!"
Kansas City Metro Chapter member Charlene Herrin spoke about a powerful connection she made through the organization, giving a "shout out" to member Barbara Rogoff. Charlene's daughter, Brittany, is graduating from Brandeis University in Boston this month.
In April, Charlene put the word out through the organization, asking if anyone knew of a contact at a Boston nonprofit, Westat, or a similar company. Brittany is in data management and wanted to work with nonprofits in the area.
"Barbara Rogoff put the word out to her Boston clients, immediately making a connection with Christine Paulsen from Concord Evaluation Group, who not only knew someone at Westat, but knew everyone!" said the Chapter President.
"Christine 'adopted' Brittany, helped mentor her, and although Brittany is not going to work at Westat, she has a job waiting for her upon graduation at a similar organization. The power of connection through NAPW!"
Before concluding the networking meeting, Susan Freeman told members and guests that the Chapter's next meeting will be June 12th at 6:00pm and will be purely social. A number of venues were mentioned including: Cellar & Loft in the River Market area of KCMO or Dubliner in the Power & Light District.
Susan invited attendees to contact her at lsfreeman(at)earthlink(dot)net or mobile: 816.729.7973 if they had other venue ideas or a preference between the two.
Attendees: Susan Freeman, President of the Kansas City Metro Chapter; Paula Nix, Brandy Branstetter, Jann Hasenauer, Charlene Herrin, Barbara Rogoff, Cathy Lucas, and new member, Brenda Ferguson.
The National Association of Professional Women (NAPW) is the largest and most recognized network of female professionals. NAPW provides a forum where women can interact, exchange ideas, educate, network, and empower. NAPW Local Chapters allow members to maximize their experience through meetings, networking opportunities, and professional events.
For additional information regarding the NAPW Kansas City Metro Local Chapter and/or NAPW, please visit http://www.napw.com.