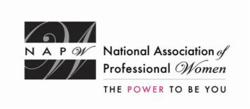 All who attended our March "Meet and Greet" are Entrepreneurs, so it is considered likely at this time that Las Cruces Chapter meetings will focus on...
Garden City, NY (PRWEB) April 11, 2013
Members and guests of the NAPW Las Cruces, NM Local Chapter gathered on March 22nd for a professional networking meeting at Wok 'n World Restaurant.
At the "Meet & Greet" event, the group of professional women had the opportunity to network, get to know one another, and make plans for upcoming Chapter meetings and events.
NAPW Las Cruces Local Chapter President Marcy Shoberg kicked off the networking event by welcoming attendees to the "Meet & Greet."
She invited each woman to introduce herself and talk about her profession.
Attendees explained how they might be able to contribute as speakers to future meetings and it was decided the Chapter President would speak about self-defense, member Monica Kekuela about using social media, and member Barbara Darrington could teach a craft project.
"All who attended our March "Meet and Greet" are Entrepreneurs, so it is considered likely at this time that Las Cruces Chapter meetings will focus on networking for leads, and other issues of interest to Entrepreneurs," said the Chapter President.
For future Chapter meetings, watching an arts film and possibly getting the art gallery to give members and guests a behind-the-scenes tour was also considered.
Attendees listed people they know who might be good speakers for future meetings including Jenny Craig, Steve Perea, and Yolanda Diaz, the creator of lcmoms.com, and a member of the Hispano Chamber of Commerce.
The Chapter President led a discussion about future meeting venues.
Members and guests decided they are not particularly interested in "lounges," and may consider meeting at Furr's Buffet, The Game, the library, inside Gold Medal Taekwondo, or at Community of Christ Church, in the future.
Wednesday lunches, or a lunch or dinner on the first or third Friday of each month, are currently believed to be the best times for Las Cruces Chapter meetings.
"To accommodate more members and guests, moving the meetings around southern New Mexico, perhaps to Alamogordo and Deming, was a popular idea as well," said Marcy. "Joint activities with the NAPW El Paso Chapter were favorably considered."
Attendees also discussed possible charities the Las Cruces Chapter could support.
A local group that throws baby showers for economically disadvantaged first-time mothers was suggested, as well as the Roadrunner Book Program.
It was tentatively planned that the April Chapter meeting will be held at The Game with a presentation by the Chapter President about personal protection; May's meeting will be in Alamogordo with a social media talk by Chapter member Monica Kekuela; and in June, members and guests will meet in Las Cruces with a craft presented by member Barbara Darrington.
The remainder of the meeting time was spent reviewing the NAPW brochure and discussing functions on napw.com that attendees have used in the past and those they wish to use more in the future.
Members attending the March "Meet & Greet" included: Barbara Darrington, retired school Teacher, pastor of a local church, and Owner of Darrington Designs Jewelry, a website-based home business; Monica Kekuela, a Graphic Designer for 25 years who is also now a Website Designer and Internet Marketer; and Marcy Shoberg, Owner of Gold Medal Taekwondo, Las Cruces Self Defense, and Author of a few forthcoming books.
Chapter members were excited to receive their NAPW Membership Pins and welcome gifts.
The National Association of Professional Women (NAPW) is the largest and most recognized network of female professionals. NAPW provides a forum where women can interact, exchange ideas, educate, network, and empower. NAPW Local Chapters allow members to maximize their experience through meetings, networking opportunities, and professional events.
For additional information regarding the NAPW Las Cruces, NM Local Chapter and/or NAPW, please visit http://www.napw.com.
Follow NAPW on Facebook and Twitter.
###