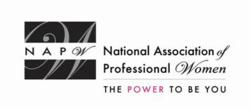 Social Networking and Marketing has grown to become vital to business, no matter the size. It's a great way to get your name out there and directly communicate with your target market!
Garden City, NY (PRWEB) June 13, 2013
Members and guests of the NAPW Los Angeles, CA Local Chapter gathered on April 17th for a professional networking meeting.
The group of professional women enjoyed an evening of getting to know one another, supporting each other's professional endeavors and networking.
Attendees also got expert tips from Chapter President Ruth Garcia-Corrales when she delivered a presentation on how to more effectively use social media.
President Ruth Garcia-Corrales kicked off the meeting with a warm welcome to members and guests.
"Social Networking and Marketing has grown to become vital to business, no matter the size. It's a great way to get your name out there and directly communicate with your target market!" said President Ruth Garcia-Corrales.
She then informed the group that according to the organization's bylaws her two-year term was up, and a new election was going to have to happen. Without one moment's hesitation, members unanimously voted her back into this office.
Ms. Garcia-Corrales began her social media presentation with a survey of how many people at the meeting had Facebook profiles. That answer was impressive; only one member did not have one.
The Chapter President asked the group if they knew that less than 16 percent (on average) of their fans see posts because of EdgeRank, which determines what pages it will show on their News Feeds.
Ms. Garcia-Corrales told the members and guests that if Facebook doesn't post all their posts to all their friends, EdgeRank is why.
There are three elements that EdgeRank reviews: affinity, weight and time decay.
Affinity is measured by the relationship of the user with person posting—this is based on frequency of contact; frequency of logins on Facebook; the number of likes, comments, shares, etc. The more interaction between the user and the person posting, the higher your affinity, she told the audience.
Weight is based on the different objects; for example, photos have more weight than links, and comments are four times "heavier" than likes.
A newer post is more likely to appear than an old one, she told the group.
"For more engagement, posts with less than 80 characters will be seen 27 percent more often than longer posts, according to a Buddy Media Study," said President Garcia-Corrales. "Asking questions double the possibilities of participation, and photos draw more likes. When planning your post, think of how to make it more interesting."
The Chapter President went on to give the group of professional women a number of examples for could be making their Facebook posts more effective.
The following attendees introduced themselves at the April Los Angeles Local Chapter meeting:
Olivia Lam: Graphic Artist/Designer; Tara Donato: Business Development and Client Services Executive, BusinessTalk; Maureen Teppedino: Home-based Business Owner in Venice; Beth Kandell is a Nutritionist and an Entrepreneur, Simply Fine Gourmet; Anita Finlay is a professional Actor; Anita showed the group her book, Dirty Words on Clean Skin which is #1 on Amazon.com in the Women-in-Politics genre; Daphne Germaine: Survival Kit Creator and Mentor; Jeannine Chanin-Penn: Creative Director and Writer at HBO; Lorri Herman, Executive Regional Vice President and Independent Consultant for Arbonne; Carol Johnson is a Professional Singer/Songwriter/Actress, who has written songs for the Jackson Five and Motown Records; Eileen Licerio: Special-Projects Liaison for Tribridge; Dr. Estie (Esther) B. Hess is a Psychotherapist at Center For the Developing Mind, where she works with children. Daisy Marks speaks passionately about her cause célèbre. She sits on the board of Achievable, a clinic that provides services to low-income families, individuals and especially children; Lisa-Catherine Cohen: Renaissance Artist, Author of "The Loaded Cufflink: Ten Ways to Survive and Forgive a Parent's Rage," and Teacher of a 15-week course called Guided Autobiography™ at a retirement home in Reseda; Marlene Granderson: CEO and Creator of Granderson IGI Holdings, Marlene is a Real Estate Investment Specialist. Daphne Chocolatier; Ruth Klein: Branding Strategist and Productivity Coach and Author of six bestsellers, titles include, The De-Stress Diva and Time Management Secrets for Working Women; Ruth Garcia-Corrales: Los Angeles Chapter President and Advertising and Marketing Manager of Curacao.
The National Association of Professional Women (NAPW) is the largest and most recognized network of female professionals. NAPW provides a forum where women can interact, exchange ideas, educate, network, and empower. NAPW Local Chapters allow members to maximize their experience through meetings, networking opportunities, and professional events.
For additional information regarding the NAPW Los Angeles, CA Local Chapter and/or NAPW, please visit http://www.napw.com.