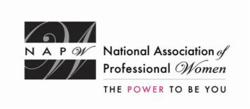 When women succeed, they function as powerful role models to show us what is possible...their successes lead to greater success for the economy as a whole and greater investment in their own communities."
Garden City, NY (PRWEB) June 13, 2013
Members and guests of the NAPW Los Angeles, CA Local Chapter gathered on May 15th for a professional networking dinner event.
The group of professional women heard from two guest speakers: Author, Actor and Speaker Anita Finlay and Lorri Herman, Executive Regional Vice President and Independent Consultant with Arbonne.
The speakers touched on the topics of women empowerment, work place bias and male-dominated businesses.
Ruth Garcia-Corrales, Los Angeles Local Chapter President, kicked off the meeting by extending a warm welcome to all of the attendees.
"We had many new Chapter members in addition to our regular members," said President Garcia-Corrales. "It was wonderful to see so many women come together who were from many different professions and businesses."
The Chapter President announced that there are now 98 members signed onto the Chapter Facebook Page, a social media site that gives members the privilege of marketing themselves and their endeavors.
After the group of professional women participated in the Chapter's routine roundtable introductions, the Chapter President introduced the guest speakers.
Anita Finlay, Radio Host, Actor, Speaker and Author of Dirty Words on Clean Skin (16 weeks at #1 on Amazon's Women in Politics books and on the curriculum at Pasadena City College) spoke first.
She spoke about how at last month's Chapter meeting, a discussion ensued about the bias many women still find in the workplace and the struggles they face to be taken seriously in what are often male-dominated businesses.
While more women are succeeding, she said, the media daily bombards them with hyper-sexualized, airbrushed, perfected female images along with expectations of doll-like behavior.
When a woman steps up to the plate politically or as a business leader, we still grade every part of her personal, physical and professional presentation. Men do not enjoy equal scrutiny.
These current realities have consequences to all of us. The way we are judged, and disrespected, by entertainment outlets, advertisers, comedians and politicians, affects the way others see us, and the way we see ourselves, Ms. Finlay told the audience.
"When women succeed, they function as powerful role models to show us what is possible. It is also a proven fact that when women have access to healthcare, education and loans for businesses, their successes lead to greater success for the economy as a whole and greater investment in our own communities," said Ms. Finlay.
In other words, Ms. Finlay went on, success breeds success for both men and women, yet the U.S. ranks 78th in the world in terms of female leadership.
"In 2008, I changed the trajectory of my life as an actor to write Dirty Words on Clean Skin and become a spokesperson for these issues," said Ms. Finlay.
The author said she saw sexist media bias directed toward not only presidential candidate Hillary Clinton, but, by extension, all women. She felt compelled to make the case for the way domestic abuse had played out on a national level.
Writing her book, she said, opened her eyes to the brainwashing that offers stereotyped images of women and the need to break past that limiting narrative once and for all.
"I am so thrilled to be a part of NAPW, an organization where women can encourage and empower themselves and their sisters," said Anita Finlay. "When we encourage our own success and that of other women, we all benefit!"
Next, Lorri Herman took the floor.
She told the group of professional women how she had created a $30 million dollar clothing business previously, but she was looking for more meaning in her life when she made the decision to adopt a child.
Now, Ms. Herman is an entrepreneur who coaches and trains people to build their own business in the health and wellness industry. She is an Executive Regional Vice President, Independent Consultant with Arbonne.
"Women need to get out of their comfort zone and understand that 'what you think about you, you bring about,'" said Ms. Herman.
In addition, the guest speaker mentioned that success only comes before work in the dictionary and it's all about keeping one's focus on their dreams and desires in order to achieve their goals.
Ms. Herman recommended several books including "Stop Self Sabotage: Get out of your Own Way…" by Pat Pearson, a practical guide from licensed psychotherapists that shows everyone how to conquer any negative beliefs that might sabotage their lives.
Whether people are feeling stuck in their job, dating the wrong person or unable to lose weight, the five-step plan outlined in the book, can help transform self-defeating thinking into a higher "Deserve Level," giving individuals the tools to stop self-sabotage and embrace the happiness and success they deserve.
Ms. Herman also recommended the book, Sell the Feeling, by Larry Pinci and Phil Grosserman, which focuses on how to attract more clients and personal relationships. It's a book that deals with the critical role of feelings in the selling and buying process and provides a six-step guide to the process of influencing people.
Women are emotional, we hear this all the time, Lorri said, so we need to eliminate negative emotions and attitudes in order to attract people to us and influence them.
She mentioned, too, "Developing the Leader Within," by John Maxwell, a book that focuses on leadership and talks about how it is not "what you do" but "who you are" – does one lead and motivate and do people want to follow.
Additionally, other books about self-empowerment Ms. Herman recommend to all the members and guests included: "The Ultimate Secret to Getting Absolutely Everything You Want" by Mike Hernacki, "The Slight Edge" by Jeff Olson, "What is Self-Worth?" by Cheryl Saban, "The Power of Positive Thinking" by Normal Vincent Peale, "Sell the Feeling" by Larry Pini and Phil Glosserman, "Stop Self-Sabotage" by Pat Pearson, "Women Want More" by Michael J. Silcerstein and Kate Sayer, "Everyone Helps, Everyone Wins" by David Levenson, "Developing the Leader Within" by John Maxwell, "What do you say when you talk to Yourself?" by Dr. Shad Helmstetter and "Think and Grow Rich" by Napoleon Hill.
The following members and guests were at the May Chapter meeting:
Ruth Garcia: Corrales, Los Angeles Chapter President. Advertising & Marketing Manager of Curacao; Raquel Vert: Architect; Anita Finlay: Author, Actor, Speaker, Blogger and Commentator; Marlene Granderson: Vice President/Marketing Executive of GranFete; Jamie Jackson: Professional Grant Writer and Nonprofit Management Consultant; Daisy Marks: Executive Secretary, Westside Regional Center; Anna Sweat; Alana Roshay: Infinity Real Estate Group – Realtor and Certified Distressed Property Expert; Caroline Kim: Certified Court Interpreter Korean/English - Simultaneous Conference Interpreter, Voice Over Talent, Korean Dialect Coach for Television and Film; Cat Lambertini: Wealth Management, Merrill Lynch, a division of the Bank of America; Daphne Germaine: Daphne's G&D survival kits; Liliya Frye: Ecommerce as her own online store from Amazon and eBay; Precious S. Hilton: Hilton Entertainment Group; Suzanne Nichols: Save the Arts Executive Director; Vivien Adar: Financial Advisement and Coaching; Kristine Hesse: National Veterans Foundation; Crystal Nichols: International Football Official; Janine Elia: Relationship Coach, Speaker and Author; Dr. Julie Zieve: Chiropractor and Physical Therapist; Ana Passase: Senior Director of Finance for Universal Music; Odile Corso: Owner and Designer of Jam on Baby; Ana Villafranco: Business Development for Closed Captioning; Beta Kalish - Psychology and Psychoanalyst; Elinor A. McNeel - P.I.W., Incorporated, Legal Document Assistant.
The National Association of Professional Women (NAPW) is the largest and most recognized network of female professionals. NAPW provides a forum where women can interact, exchange ideas, educate, network, and empower. NAPW Local Chapters allow members to maximize their experience through meetings, networking opportunities, and professional events.
For additional information regarding the NAPW Los Angeles, CA Local Chapter and/or NAPW, please visit http://www.napw.com.