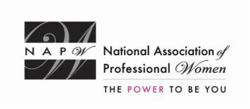 Everyone was excited to be at the meeting and all agreed that being able to network and interact with like-minded professional women was the key reason for joining the Madison Chapter,
Garden City, NY (PRWEB) April 03, 2013
Members and guests of the NAPW Madison, WI Local Chapter gathered on March 20th for a professional networking meeting.
The group of professional women enjoyed an evening of networking and giving and receiving helpful feedback about one another's business endeavors.
Attendees also discussed the Chapter's upcoming launch on April 28th, when members and guests will come together to volunteer their time at Agrace HospiceCare in Madison.
NAPW Madison Local Chapter President Lori Heffernon kicked off the networking meeting by welcoming attendees and inviting them to introduce themselves to the group, talk about how they became involved in NAPW, and what each hoped to gain from membership.
"Everyone was excited to be at the meeting and all agreed that being able to network and interact with like-minded professional women was the key reason for joining the Madison Chapter," said Lori. "Many said they had learned about NAPW on LinkedIn."
Two members, Ashley and Sara Parthasarathy, shared their business cards and asked the others to give them some feedback about their cards as well as their up-and-coming business ventures.
"The Madison Chapter helped Sara clarify some ambiguity on her business card while Ashley's seemed straightforward. Both ladies seem well on their way!" said the Chapter President.
Sara, who is starting her own Indian spices business, sought specific feedback regarding her company.
Chapter President Lori announced that the Madison Local Chapter's launch meeting in April will involve a local charity event. All interested in participating should contact Lori.
"We will be joining the Love Madison Event on April 28th, where 4000 volunteers get together to help those in need all over Madison for three hours," she said.
"The NAPW Madison Chapter will donate their time by helping out in the kitchen at Agrace HospiceCare."
Member Sara Parthasarathy graciously offered her home for the Chapter's May meeting. She will introduce members and guests to the world of Indian culture and cooking. RSVP because spots are limited.
In June, the Madison Chapter is thinking about a "Concert on the Square" theme. Please submit ideas for any other events. Additional themes/ideas discussed were a spa night and Chapter name tags/pins.
The Chapter President announced that she has a bio-mat and if anyone would like to try it, they should contact her. Lori explained that Amethyst crystals are woven into the mat and it is a detoxification treatment.
The following attendees were present at the March meeting: Amy Childers, Jo, Lori Heffernon, Sara Parthasarathy, Ashley, and June.
Amy viewed the Madison Chapter as a good opportunity to network, meet other like-minded women, and seek mentorship for professional development.
Jo was the only woman in the company in a higher position and thought this was a good idea and opportunity to seek support.
Lori Heffernon: She joined one year ago and is now the Chapter President. She would like to build relationships, create mastermind groups, and meet other leaders.
Sara Parthasarathy had something similar to this but it was based in Illinois. She was looking for something closer to home. She would like this for networking and mentoring. Sara is starting her own Indian spices business and is seeking advice and support.
Ashley is very young and just opened her own therapeutic massage business. She is looking to seek support, mentorship, and networking. Her goal is to introduce herself and her business to ten new people per day.
June would like to be surrounded by professional women and is looking for support.
The National Association of Professional Women (NAPW) is the largest and most recognized network of female professionals. NAPW provides a forum where women can interact, exchange ideas, educate, network, and empower. NAPW Local Chapters allow members to maximize their experience through meetings, networking opportunities, and professional events.
For additional information regarding the NAPW Madison, WI Local Chapter and/or NAPW, please visit http://www.napw.com.
Follow NAPW on Facebook and Twitter.
###