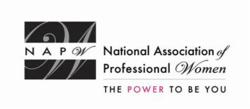 I met so many wonderful women and was inspired by the presentations of Martha Stewart, Arianna Huffington and the guest speaker panel discussion,
Garden City, NY (PRWEB) June 04, 2013
Members and guests of the NAPW Manassas, VA Local Chapter gathered on March 10th, April 21st and May 19th for professional networking meetings at three local venues: Carmello's Restaurant, Malones of Manassas Restaurant and Okra's Cajun Creole Restaurant.
The group of professional women networked and supported each other as they discussed personal and professional goals, as well as exciting plans for the Chapter.
At the May networking event, Manassas Chapter President Sandra Scott welcomed members Maureen Cummings-Spickle and Stephanie Lane.
The President provided feedback about her very positive experience at the National Networking Conference in New York in April.
"I met so many wonderful women and was inspired by the presentations of Martha Stewart, Arianna Huffington and the guest speaker panel discussion," President Sandra Scott told the group of professional women.
The Chapter President distributed copies of Martha Stewart's magazine that was provided to Conference attendees.
Sandra also told the group that she saw members Monique Gaskins and Carolyne Onkoba at the event.
The women also discussed family, job searching, retirement preparation, preparing for a second career and legal services when it comes to elder parents.
Per Sandra's request, member Maureen Cummings-Spickle provided her information on Louisiana law to assist her with upcoming family matters.
In April, members of the Manassas Chapter welcomed new member Dr. Darlett Stowers, President and CEO of Stowers Consulting, Inc. located in Woodbridge, VA.
Darlette's company offerings consist of specialties in consulting, leadership and motivational speaking.
During the networking meeting, the women spoke about personal interest and family.
The family discussion included Darlette's recent celebration of two children graduating from college. She informed the group that one of her graduating children will be attending a conference with her to provide insight into the working world.
Sandra congratulated her and the future professional success of her children.
During the March 10th networking meeting, President Sandra welcomed Shalanda Weemswere as a new participating member.
Shalanda is a licensed Clinical Social Worker specializing in mental health/psychotherapy counseling services for children, adults and families with a specialty in trauma and post traumatic stress disorder.
She received her Master degree from Howard University with an emphasis on social work as her area of study. She is involved with the Association of Play Therapy.
The Chapter President gave the new member an overview of past Manassas Chapter activities including the group's participation in the Time to Fly Foundation fundraiser, Stephanie Lane's presentation on the recent tax law changes and Esq. Bullock's presentation on Elder Law that included estate planning with an emphasis on getting powers of attorney, advanced medical directives, do not resuscitate orders, wills and trusts.
Attendees also discussed careers, family and extracurricular activities of interest.
To further her career, Shay said she would like to expand her business to include other counseling professionals with her as the business leader. As a result, she is evaluating whether to forge ahead to acquire her Ph.D. and most importantly, what should her area of study be?
The Chapter President advised her that she had considered the same path about seven years ago, looking to acquire a PhD in Business Administration with an emphasis in Psychology.
She provided Shay with the institution and specific degree information for her consideration.
The next Manassas Local Chapter meeting will be held on June 23rd, from 4:00 to 6:00pm, location TBD.
The National Association of Professional Women (NAPW) is the largest and most recognized network of female professionals. NAPW provides a forum where women can interact, exchange ideas, educate, network, and empower. NAPW Local Chapters allow members to maximize their experience through meetings, networking opportunities, and professional events.
For additional information regarding the NAPW Manassas, VA Local Chapter and/or NAPW, please visit http://www.napw.com.
Follow NAPW on Facebook and Twitter.
###