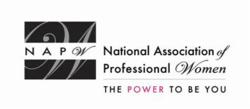 "Some found the focus for their boards quickly, while others continued to gather inspiration,"
Garden City, NY (PRWEB) June 13, 2013
Members and guests of the NAPW Mesa, AZ Local Chapter gathered on May 31st for a professional networking meeting at the City of Mesa Public Library, Downtown Branch.
The Chapter hosted Janet Love of Spiritual Intuitive Services and Chief Health Intuitive of Remnant Health Center who demonstrated to the group of professional women how they could create vision boards that inspire.
Mesa Local Chapter President Patti Oskvarek welcomed members and guests to the meeting and gave a brief talk about her goals as President.
"Our monthly networking meetings will offer presentations from NAPW Mesa members as well as professionals and business owners from the local community with the purpose of informing and educating attendees on personal and professional growth," said Mesa President Patti Oskvarek.
The Chapter President encouraged each member to showcase herself and/or her business on the Mesa Local Chapter Page, the Mesa Facebook Page and the Mesa Twitter Page.
She reminded them to check the Mesa Chapter Page regularly for updates on meeting dates, as well as other members' posts about their business events, products and services.
After President Oskvarek spoke, each Chapter member introduced herself and her business.
The Chapter's newest member, Naomi Clark, Owner of Meet Mr. Moe, gave a short presentation about her product line, Meet Mr. Moe.
Then the Chapter President introduced the guest speaker Janet Love, who shared her techniques and instructions for creating vision boards.
Ms. Love demonstrated how members and guests could create boards from intention, intuition and affirmations.
Vision boards, she said, could help you create new pathways and perspectives for personal and professional growth, as well as for issues concerning family, relationships, career, health or any focus one chooses.
The guest speaker shared the following ten steps for creating a vision board:
1. Before starting a vision board, it's important to create an intention (a specific and written focus).
2. If drawn to certain affirmations, let them guide you to write your intention.
3. Decide what kind of vision board you want to start with such as a journal with a day-by-day approach, or a poster board that you fill like a big puzzle.
4. Write your intention on the back of the board and also your goal for a date of completion.
5. Choose the focus of your vision board or journal.
6. Supplies needed: magazines, a pair of scissors and glue sticks.
7. Start going through the magazines and cut out what you are visually drawn to in pictures, words or phrases.
8. Cut these out without concern; don't analyze why you choose what you do.
9. Once you feel you have the right number of pictures, words and phrases, begin sorting them and intuitively begin positioning them on the board, securing with glue.
10. Once you have completed the board, keep it where you can look at it often to inspire you towards your vision.
"Attendees began the process of creating visions boards together, sharing magazines, scissors and glue. There was a quiet intensity as everyone gathered images and phrases!" said President Oskvarek. "Some found the focus for their boards quickly, while others continued to gather inspiration with a stack of images and phrases."
Ms. Love offered the group of professional women a 21-day challenge to complete their vision boards.
Janet Love's website also offers videos on how to create vision boards. For more information, visit janetloveintuitive.com/events-education.
For more information about Janet Love, Spiritual Intuitive Services, visit janetloveintuitive.com or contact her at janetloveintuitive(at)gmail(dot)com.
The National Association of Professional Women (NAPW) is the largest and most recognized network of female professionals. NAPW provides a forum where women can interact, exchange ideas, educate, network, and empower. NAPW Local Chapters allow members to maximize their experience through meetings, networking opportunities, and professional events.
For additional information regarding the NAPW Mesa, AZ Local Chapter and/or NAPW, please visit http://www.napw.com.
Follow NAPW on Facebook and Twitter.
###