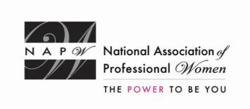 Our January meeting brought us all much-needed nourishment as we start 2013... With the help of our guest speaker Cathy Knowlton, members and guests enjoyed an ambiance reflecting balance and peace,
Garden City, NY (PRWEB) February 12, 2013
Members and guests of the NAPW Metro-East, IL Local Chapter gathered on January 10th for a professional networking meeting at The Abbey, a popular coffee shop/restaurant that recently relocated to Bellville.
Guest Speaker Cathy Knowlton showed attendees how to celebrate the New Year with nourishment for the body, and for the spirit, as well.
"Our January meeting brought us all much-needed nourishment as we start 2013," said Angela Barnes, NAPW Metro-East Local Chapter President. "With the help of our guest speaker Cathy Knowlton, members and guests enjoyed an ambiance reflecting balance and peace."
In her presentation, Ms. Knowlton provided members and guests with a wealth of insight into ways to nurture one's self. All enjoyed her words of wisdom and advice for making the New Year a successful one, both personally and professionally.
After thanking the guest speaker for her expert tips, the Chapter President reminded the group of professional women that the future direction of the Metro-East chapter will be structured as 'action planning' and 'mission building. 'One such cause and fundraiser opportunity was presented by Heart Spoken® Words, which is offering a retreat to Ottawa and the beautiful Thousand Islands.
The proceeds of this fundraiser will benefit the Janet Barnes 90-lb Heavyweight Special Needs Trust. Janet Barnes is the longest-living quadriplegic (Guinness World Records). Ms. Barnes broke just about every bone in her body when she was in a horrific car accident.
"This nine-day, eight-night tour is scheduled for July 10th to July 18th. Members are invited to support this cause as well as relax as they experience peace and tranquility," said Angela Burns.
All who are interested in this opportunity to participate in this unforgettable vacation and support this worthy cause may contact Angela Barnes at (618) 398-4357 or travel@heartspokenwords.com for more information.
During the evening, photographer Vanessa Shaw and her daughter Jennifer photographed Chapter members and all received complimentary headshots. Member Yvette Hicks presented ideas for NAPW Metro-East Local Chapter t-shirts.
The Chapter President spoke to members about volunteers needed to fill a number of Chapter Board and Committee positions. She encouraged members to consider a position where they could use their leadership skills and help the Chapter. Angela closed the meeting with an announcement about the upcoming meeting in February.
"The guest speaker for our February Chapter meeting is Jody Hart. She will lift our spirits with Yoga Laughter, a great way to relax and find balance." said Angela. "This will be a casual meeting with refreshments. Remember, the focus on 'FUN' is nourishing, too!"
The February meeting will be held on Tuesday, February 12th from 6:00pm to around 8:00pm at the High Mount School.
The Chapter's March meeting will be back at The Abbey and the Chapter President will present a program sharing her definition of true prosperity--perfect health, perfect wealth, and perfect happiness--doing work you love and having fun.
Members and guests present at the January meeting were: Ninya Ashford (second-time guest]; Michele Heck (first- time guest); Cathy Knowlton (first-time guest) and guest speaker; Kathy Roche; Kathleen Brighton (first-time guest); Becky Bodenstab (first-time guest); Angelique Jackson (first-time guest); Vanessa Shaw and Jennifer Shaw (photographers); Angela Jett (first-time guest); Erica Brooks; Yvette Hicks; and Angela Barnes.
The National Association of Professional Women (NAPW) is the largest and most recognized network of female professionals. NAPW provides a forum where women can interact, exchange ideas, educate, network, and empower. NAPW Local Chapters allow members to maximize their experience through meetings, networking opportunities, and professional events.
For additional information regarding the NAPW Metro-East, IL Local Chapter and/or NAPW, please visit http://www.napw.com.
Follow NAPW on Facebook and Twitter.
###