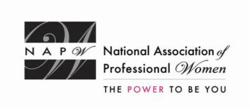 Members and guests loved the presentation. They shared together and comments were rapidly flying about how much fun the Laughter Yoga was,
Garden City, NY (PRWEB) April 02, 2013
Members and guests of the NAPW Metro-East, IL Local Chapter gathered on February 12th for a professional networking meeting at The Abbey in Belleville.
The group of professional women was introduced to the emotional, mental, and physical benefits of Yoga Laughter by guest speaker Jodi Hart, a Certified Laughter Yoga Leader.
NAPW Metro-East Local Chapter President Angela Barnes kicked off the meeting by welcoming members and guests to the monthly networking event. She then introduced the evening's guest speaker.
"Jodi Hart facilitated this health initiative and considers yoga laughter one of the best forms of medicine," said the Chapter President.
With Jodi's help, members and guests had the opportunity to experience firsthand how the body's endorphins convince the body and mind to automatically feel better as well as increase daily productivity through the stimulation of laughter, even if faking it.
She explained to members that as professionals, most tend to use their right brain (thinking sphere) a great deal of the time, which in turn, produces stress.
"She told us that with the understanding that when you laugh you cannot think or analyze you should laugh as much as possible in an effort to promote a healthy body and mind," said Angela.
"She shared with members and guests her ten reasons to laugh for no reason."
Top Ten Reasons to Laugh For No Reason
1. Laughter is a stress buster.
2. Laughter supports the immune system.
3. Laughter promotes relaxation.
4. Laughter reduces anxiety and depression.
5. Laughter exercises the diaphragm and abdominal muscles.
6. Laughter helps control blood pressure.
7. Laughter increases lung capacity and oxygen intake.
8. Laughter helps detoxify the body.
9. Laughter improves concentration and creativity.
10. Laughter is fun and makes you feel good!
"Members and guests loved the presentation. They shared together and comments were rapidly flying about how much fun the Laughter Yoga was," said Chapter President Angela Barnes.
"Everyone had a smile on their face and a lighter heart."
After the presentation, Angela discussed the 2013 NAPW National Networking Conference on April 26th in New York.
"Members discussed their past experiences at last year's conference and the benefits of this year's event as it relates to personal and professional growth," said the Chapter President.
It was announced that at the Chapter's March 14th meeting, the Chapter President will be the featured speaker and will address Prosperity--perfect health, wealth, and happiness.
Angela is a trained Prosperity Instructor and will share a wealth of information with members and guests. She will also entice attendees to sample a variety of images, poetry, books, and whatever it takes to spark their desire and acceptance to know that there is always enough and hoarding is counterproductive. There will be a special activity and all are encouraged to RSVP early to participate.
Member Yvette Hicks discussed community initiatives with State's Attorney Brendan Kelley, encouraging members to support through networking of connecting potential initiatives that they may like to partnership with in an effort to decrease truancy and bullying in schools.
Angela also announced that the Metro-East Local Chapter was featured in the Belleville News Democrat.
"The article was circulated during the meeting and many guests said they actually attended tonight's meeting due to the article," said the Angela.
The Chapter President reminded members that The Abbey will be the tentative meeting location for upcoming meetings. Meetings are scheduled for the second Thursday of each month.
Members and Guest Present included: Ninya Ashford (guest), Karen Meyer, Stacey Swancult, Shirley Love (guest), Vanessa Shaw (guest), Jennifer Shaw (guest), Yvette Hicks, Angela Barnes, and Jodi Hart (presenter).
The next meeting is to be held on Thursday, March 12th, at 6:00 to 8:00pm at The Abbey on 5801 W Main St, Belleville, IL 62226.
The National Association of Professional Women (NAPW) is the largest and most recognized network of female professionals. NAPW provides a forum where women can interact, exchange ideas, educate, network, and empower. NAPW Local Chapters allow members to maximize their experience through meetings, networking opportunities, and professional events.
For additional information regarding the NAPW Metro-East, IL Local Chapter and/or NAPW, please visit http://www.napw.com.
Follow NAPW on Facebook and Twitter.
###