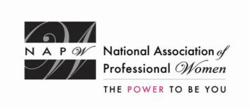 Once a charity is chosen, quarterly activities will be held to work with that organization.
Garden City, NY (PRWEB) April 11, 2013
Members and guests of the NAPW Midlothian, VA Local Chapter gathered on March 20th for a professional networking meeting at A Taste of Italy restaurant in Midlothian.
The group of professional women enjoyed an evening of dining and networking. Attendees also discussed the Chapter's support of charitable groups.
NAPW Midlothian Local Chapter President Mary Rose Lemons kicked off the meeting by welcoming members and guests and briefly speaking about the Midlothian Chapter meeting agenda.
"The scheduled agenda for this meeting is the establishment of a Chapter Vice President and a Social Chair," she told attendees.
"We'd also like to choose a charity and decide on topics and guest speakers for future meetings."
A discussion was held about the role of the Chapter Vice President and Chapter Social Chair and what would be needed from each of these posts.
Member Lisa Brown volunteered to take on the duties of Social Chair and the group accepted Lisa's nomination unanimously.
The Vice President position remained open.
Attention was then turned to charitable groups the Midlothian Chapter could support.
Chapter member Pam Perkins suggested St. Joseph's Villa and Boys and Girls Club and handouts on these organizations were provided.
Member Dee Lucombe suggested Freedom House, Conrad Center, and Hospitality House while member Julie Stepp recommended Jr. Achievement.
Mary Rose Lemons distributed information on Safe Harbor Richmond.
"Members were asked to review all of the information provided and to check out the recommended organizations online. We will hold a vote at the April meeting," said the Chapter President.
"Once a charity is chosen, quarterly activities will be held to work with that organization."
The President reminded everyone of the upcoming NAPW National Networking Conference on April 26th.
Chapter members Dee Lucombe and Julie Stepp will be attending and were asked to bring back information and present it to members and guests at the May Chapter meeting.
"Julie and Dee also had some questions about NAPW's National Seminars Group/Star 12 Program that offers members access to live seminars and on-demand learning," said the President.
"I promised to contact NAPW headquarters for more information on this great benefit!"
The group of professional women continued to discuss ways the Chapter could get involved in the surrounding community.
Lisa recommended the Chapter volunteer for community contributions.
Other recommendations provided by the group were a financial literacy workshop for teens, empowerment programs for girls, and college grant workshops for high school seniors.
"These activities would be in addition to charity work and the vote was unanimous to plan and hold one function per quarter," said Mary Rose.
"The first Chapter event is anticipated for June 2013 with a planning deadline by the Chapter meeting in May."
Julie recommended a person from Toastmasters attend a Chapter meeting to help members and guests with their personal development in hosting these community events. Julie volunteered to check with someone from the organization.
Increasing Midlothian Chapter membership was also discussed. Mary Rose noted that though it is not the duty of the Chapter to get new people to join NAPW, members are welcome to invite guests who may want to be a part of the organization and the Chapter.
Mary Rose is going to reach out by phone to those who RSVP'd as interested in attending the last two meeting announcements but still have not attended a meeting.
Location suggestions were requested for places in the Midlothian area that do not revolve around food. Attending members were comfortable with this decision.
Dee offered to check on a room at DSS Southside but this is in Richmond City. Mary Rose will check with the library at Charter Colony and post information on the Chapter Page.
Before closing the meeting, the Chapter President reviewed the agenda for next month's networking meeting, which will include nominations for the Chapter Vice President, a final discussion on the charities presented and a vote on the charity, and community contribution suggestions for June 2013.
The next Midlothian Chapter meeting will be held on April 17th at 6:30pm at a location to be determined.
The National Association of Professional Women (NAPW) is the largest and most recognized network of female professionals. NAPW provides a forum where women can interact, exchange ideas, educate, network, and empower. NAPW Local Chapters allow members to maximize their experience through meetings, networking opportunities, and professional events.
For additional information regarding the NAPW Midlothian, VA Local Chapter and/or NAPW, please visit http://www.napw.com.