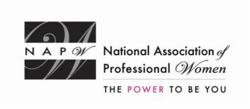 We have adopted a female military member from each of the branches of the Armed Forces...and will mail them a 'Ladies Care package' every quarter,
Garden City, NY (PRWEB) May 15, 2013
Members and guests of the NAPW Minneapolis-St. Paul, MN Local Chapter gathered on the afternoon of April 16th for a professional networking meeting at Keller Williams Lakes Integrity Realty in Minneapolis.
The focus of the meeting was the Chapter's ongoing support of female military members and the local Dress for Success.
The group of professional women also discussed exciting upcoming Chapter events planned, including a Women's Career Fair.
Sabra Brown, the Minneapolis-St. Paul Chapter President, kicked off the meeting by warmly welcoming members and guests to the Chapter's monthly meeting.
She thanked member Kris Pearson, a Realtor with Keller Williams, for hosting the meeting.
Sabra encouraged all attendees to introduce themselves to each other.
The Chapter President led a discussion about the Chapter's ongoing support of the military. They will continue to collect DVDs and magazines to send to deployed military personnel in Southwest Asia at every meeting. Sabra noted that the Chapter is using an internet resource to secure the military members' addresses.
"We have adopted a female military member from each of the branches of the Armed Forces (Army, Navy, Air Force, and Marines) and will mail them a 'Ladies Care package' every quarter," said Sabra.
In addition to the Chapter's work on behalf of the military, the group of professional women has also been supporting the local Dress for Success. So far, members and guests have donated more than 250 items to the nonprofit organization.
Attendees then focused their attention on the Women's Career Fair the Chapter is planning and discussed possible venues. A location that Kris Pearson and Sabra Brown will look into is Augsburg College. The proposed fair date would be in early October, so Kris and Sabra will meet with Augsburg staff members to discuss the event.
"While the event will be open to any woman in the community, we will specifically invite women from local colleges, high schools, and vocational/technical schools," said the Chapter President.
"In addition to business booths, the fair will host an array of ten-minute guest speakers, a speed networking event, a cocktail hour, and a business card corner."
As soon as the Chapter establishes a venue and date, postcards will be created and mailed, giving participants at least two months' notice. The presenters, booth participants, and speakers will all be strictly members. The Minneapolis-St. Paul Chapter will open this opportunity up to other Chapter members.
President Sabra gave members and guests an overview of the networking and continuing education opportunities the organization offers. She also discussed the various membership benefits such as free or discounted seminars and training courses throughout the Twin Cities.
Chapter members are encouraged to use the Chapter Facebook and Twitter pages to inform other members about upcoming events and promotions. Many members expressed interest in providing discounts for other members by posting coupons on the social media sites.
At the end of the Chapter meeting, Sabra Brown thanked everyone for attending and encouraged the women to bring a friend to the next meeting or Simply Networking event.
Guest Char Dobbs won the drawing this month, which was a beautiful vase filled with spring flowers.
The next Minneapolis-St. Paul Chapter Simply Networking events will be April 30th at Eat Shop in Plymouth at 6:00pm and May 11th at Buca di Beppo in Burnsville at 11:30am.
The next general Chapter meeting will be May 21st at Charlie's Restaurant and Irish Pub at Water Street in Stillwater, MN, from 4:30 to 5:30pm.
Members attending were: Sabra Brown, Chapter President, Chief Process Manager for the 934th Airlift Wing. Her unit is the only Air Force Reserve wing in the state and is host to approximately 5,000 Army, Navy, Air Force, and Marine Reservists as well as Air National Guard.
Kris Pearson, Realtor Senior Advisor for Keller Williams Integrity Realty Lakes. Her specialty is helping seniors sell their homes when they have to move to a senior living community.
Amy Blake, Wellness Consultant for Isotonix, is a mother of five who wanted to "meet some new women and help them with their wellness goals and to grow their businesses." Isotonix is an advanced nutraceuticals company that specializes in healthy living.
Marianne Badar, Communications Strategist with Creative Connections. She works with small companies and nonprofit agencies to get projects accomplished with their teams. She leads staffs, teams, and boards through group planning processes and specializes in marketing project management.
Sue Marshall, Real Estate Broker with Marshall and Koopman Real Estate. Sue was looking for opportunities to encourage women to be involved in community development and to help make their communities better.
Guests attending were: Char Dobbs, Style and Image Specialist with Char Style and Image. Char is an Image Consultant who ran a marathon in Hawaii and is looking to build her networking group in the Twin Cities area.
The National Association of Professional Women (NAPW) is the largest and most recognized network of female professionals. NAPW provides a forum where women can interact, exchange ideas, educate, network, and empower. NAPW Local Chapters allow members to maximize their experience through meetings, networking opportunities, and professional events.
For additional information regarding the NAPW Minneapolis-St. Paul, MN Local Chapter and/or NAPW, please visit http://www.napw.com.
Follow NAPW on Facebook and Twitter.
###