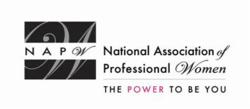 The purpose was to help them take a look at their own life from a more holistic perspective,
(PRWEB) April 11, 2013
Members and guests of the NAPW New River Valley, VA Local Chapter got together for the first time on March 27th for a professional networking meeting at Christiansburg Virginia Public Library.
The group of professional women enjoyed an evening of networking, getting to know one another, and making plans for the Chapter.
D. Takara Shelor, NAPW New River Valley Local Chapter President, kicked off the meeting by welcoming everyone to the new Chapter.
She discussed NAPW and the focus of the New River Valley Chapter. She explained that she has been receiving training and support from NAPW National Headquarters New York and Ivory Morgan-Burton, NAPW Norfolk Local Chapter President.
She shared that there are 44 NAPW members in the New River Valley and Roanoke Valley areas that have been invited to participate in the New River Valley Local Chapter.
"Our first meeting was a huge success," said the Chapter President.
"Members and guests enjoyed healthy, light refreshments and were given the opportunity to share their business cards and other marketing materials on the networking table."
All Chapter members present participated in a pinning ceremony to receive their NAPW pin and be formally welcomed to the New River Valley Chapter.
Takara asked the group of professional women if they had spent any time on the NAPW website and wanted to know who had joined the Chapter online.
She also quizzed them about who was from the New River Valley and who was from the Roanoke Salem area.
Attendees were given the opportunity to briefly introduce themselves, speak about what they do, and tell the others the name of their company.
"Members and guests were also asked to share what they hoped to gain by being a member of NAPW," said Takara.
"Most of the women agreed that they joined NAPW and our Chapter to interact and network with like-minded professional women."
Other answers included: "See what can be done to expand my knowledge of what other women want concerning my area of expertise."
"Change careers and gain full-time employment."
"Meet and learn from other women, crawl out from rock I've been hiding under and find interesting people."
"I want to see other people who are like me because I don't get a lot of women contact in my profession and I can't hang out with my customers."
"Networking and expanding my reach to help others because I love connecting people with people who can help each other."
The Chapter President then gave members and guests a Life Assessment Quiz that she had developed to assist each person to see visually where their life is working and where there is dissatisfaction.
She then asked each of them to share what they need most right now in business or in life.
Several participants offered contacts and suggestions to others based on the need they had requested.
"The purpose was to help them take a look at their own life from a more holistic perspective," she said.
Announcements were made about the NAPW National Networking Conference on April 26th in New York City.
Takara explained that if members had not already registered for the conference and are interested in attending, they should get on the waiting list.
She encouraged members to check out the Conference site for more information.
The group of professional women embarked on a discussion about potential charities the New River Valley will support.
Two suggestions were The Girl Effect and purchasing a goat for a poor family in a developing country. Other ideas will be discussed at future meetings.
The President also mentioned other possible networking events in the New River Valley Area including the Women's Lifestyle Expo; New River Valley Mall April 6th, 10:00am to 2:00pm, hosted by Carilion Hospital and Body Mind Spirit Fest; Unity in Roanoke, May 4th; Chapter President Takara Shelor is speaking at this event.
Takara asked those present if they would help distribute invitations to join the New River Valley Chapter at these and other networking opportunities. Many present agreed to help.
"To symbolically represent the dreams and goals of members and guests, attendees were asked to write their biggest dream on a card and 'plant it' in a pot with a Gladiola bulb," said the Chapter President.
"A beautiful card with butterflies or dragonflies, symbols of transformation, was placed in each pot as a reminder of the dream that resides there."
A small pot of baby roses was won by Angi King, Owner of Occupational Health Services. There was a discussion of how members can offer products or other gifts related to their business as prizes for future meetings.
The next meeting of the New River Valley Chapter will be held in Salem, Virginia; venue still to be decided.
The following members were in attendance: Aida Farough, Doctorate Student and Research Teaching Assistant at the Department of Geosciences at Virginia Tech, which specializes in higher education.
Angelee (Angi) King, Owner/Member at NRV Occupational Health Services L.L.C., which specializes in drug and alcohol testing including Department of Transportation drug and alcohol testing, and Occupational Hearing Conservation and Occupational Pulmonary Function testing.
Brittany Sharpe, Senior Account Services Representative at National Bank of Blacksburg. Brittany also sells Pampered Chef and Origami Owl products.
Michelle Rose, C.O.O. at City Space, which specializes in commercial and residential real estate and historic preservation. Michelle's areas of expertise include relationship building, all aspects of safety training and building management, marketing, and product knowledge.
D. Takara Shelor, Bestselling Author, Speaker, Engineer, Forchianna L.L.C., Creator of Dancing Dolphin Energy Healing Oils and Mists, Head Instructor at Magnificent U.
Susan Parkhurst, Yvonne Parkhurst Photography, took professional photos for the meeting.
Heather Boyd-Brown, American Resume Inc., prepared minutes for the meeting.
The National Association of Professional Women (NAPW) is the largest and most recognized network of female professionals. NAPW provides a forum where women can interact, exchange ideas, educate, network, and empower. NAPW Local Chapters allow members to maximize their experience through meetings, networking opportunities, and professional events.
For additional information regarding the NAPW Local Chapter and/or NAPW, please visit http://www.napw.com.
Follow NAPW on Facebook and Twitter.
###