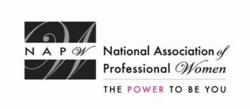 Kathy covered three major points about communication: speaking to be heard, non-verbal communication, and listening.
Garden City, NY (PRWEB) May 21, 2013
Members and guests of the NAPW New River Valley, VA Local Chapter gathered on April 23rd for a professional networking meeting at The Patrick Henry in downtown Roanoke.
Guest speaker Kathy Reynolds, Agent for AFLAC and a Trainer and Presenter, shared her expert tips, including the three points of effective communication, with the group of professional women.
Takara Shelor, New River Valley Local Chapter President welcomes members and guests to the Chapter's second meeting.
She thanked member Michelle Rose for offering the venue as a meeting place. Michelle Rose is the Chief Operations Officer for Cityspace, a local Roanoke company dedicated to the restoration and operation of special properties in the Roanoke area.
"We are very grateful to Michelle Rose for offering us such an amazing space," said the Chapter President.
"The beauty of the space combined with the excitement of our group made the perfect recipe for a wonderful evening. The renovated building, full of history and sophistication, provided such a wonderful example of what Michelle Rose's company is capable of."
Takara introduced herself and the New River Valley Chapter Leadership Team: Vice President, Angi King; Secretary, Heather Boyd Browne; and Social Media, Melanie Bock.
She announced that two open positions remained: PR/Marketing-helps get Chapter coverage into print publications and listed on event calendars online and Charities and Outreach-develop/coordinate events and support for charities.
Members were encouraged to think about volunteering for these positions.
The speaker for the evening was Kathy Reynolds, an Agent for AFLAC and a Trainer and Presenter. In her presentation, "Communication Isn't Optional," she told the group that communicating effectively is a science that anyone can learn; you don't have to be born with it, but it takes practice.
"Kathy covered three major points about communication: speaking to be heard, non-verbal communication, and listening," said the Chapter President. "She gave us a wonderful presentation."
Concerning "speaking to be heard," Ms. Reynolds discussed the importance of finding your own personality, having a passion for what you do, and the projection of your voice, as well as how to organize your message with a clear opening and closing of your points.
"Non-verbal communication" emphasized attention to body language aligning with the vocal recognition. She gave examples of how one could probably tell what people were talking about from afar just by studying their body language.
When she covered "Active Listening," she showed the group how they thought they were paying attention when they actually weren't, by using the time-tested example of the telephone game.
"Wanting to listen and making sure that whoever is speaking is the most important person at that time were suggested areas we should work on," said Takara.
"In addition to the telephone game, there were many tips and other fun exercises. Kathy's closing message was that we need to practice to make our communication skills great."
The Chapter President made a number of announcements. The New River Valley Chapter was invited to come to Atlanta for the NAPW Atlanta Local Chapter's Expo on October 26th from 9:00am to 4:00pm. They are offering booth space. Takara has additional information about the event for those who are interested.
Members were encouraged to explore the website and learn more about the valuable benefits of membership available to them such as online networking, educational resources, marketing tools, and more.
"It's also a good idea to learn from other NAPW Local Chapters, specifically the Norfolk, VA Chapter, whose president is Ivory Morgan-Burton.," said Takara.
"It's important to learn from other Chapters in order to be successful in our own."
Before the conclusion of the meeting, the Chapter President extended a special thank you gift to each of the attending members of the Leadership Team, as well as a few goodies to all who attended. The door prize winner this month was Heather Boyd-Browne, who won a $50 gift certificate to Silpada Jewelry.
Upcoming New River Valley and nearby Chapter meetings/events include: May 28th, New River Valley; June 18th, Roanoke; July 16th, New River Valley; August 20th, Roanoke; September, New River Valley Mini Health Expo NRV Official Launch Meeting; October 26th, 9:00am to 4:00pm, Fourth Annual NAPW Georgia Local Chapters EXPO, Atlanta Georgia.
Members attending: Aida Farough, Doctorate Student and Research/Teaching Assistant at Department of Geosciences at Virginia Tech, received her Master degree in Geophysics from Virginia Tech; Michelle Rose, Chief Operations Officer of Cityspace Roanoke, VA, yourcityspace.com; Heather Boyd-Browne, Owner/President of American Résumé, Inc., heatherboydbrowne.com; Takara Shelor, Bestselling Author, Speaker, Engineer, Forchianna L.L.C., Creator of Dancing Dolphin Energy Healing Oils and Mists, Head Instructor at Magnificent U., MagnificentU.com; Melanie Bach, Manager of Accounting and Finance at Ace Private Risk Services, acegroup.com.
The National Association of Professional Women (NAPW) is the largest and most recognized network of female professionals. NAPW provides a forum where women can interact, exchange ideas, educate, network, and empower. NAPW Local Chapters allow members to maximize their experience through meetings, networking opportunities, and professional events.
For additional information regarding the NAPW New River Valley, VA Local Chapter and/or NAPW, please visit http://www.napw.com.
Follow NAPW on Facebook and Twitter.
###