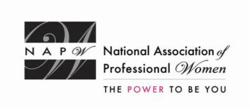 Our meeting was quite different this time as we wanted to focus on our members and ways we can provide them with the best opportunities off line within our Chapter,
Garden City, NY (PRWEB) June 11, 2013
Members and guests of the NAPW New River Valley Chapter, VA Local Chapter gathered on May 28th for a professional networking meeting at the Blackstone Grill, 420 Ferry Road NW, Christiansburg, VA.
The group of professional women got together to network, support one another's business endeavors and brainstorm ideas for ways the Chapter could partner with the community and increase its presence.
NAPW New River Valley Chapter President D. Takara Shelor kicked off the networking meeting with a warm welcome to members and guests.
"Our meeting was quite different this time as we wanted to focus on our members and ways we can provide them with the best opportunities off line within our Chapter," said President Shelor.
"NAPW has a wonderful plethora of opportunities to take advantage of on line. We also wanted to explore how we could continue to connect with each other at our meetings and interact more with community."
The meeting was held at Blackstone Grill, which was the perfect venue for the meeting. The wonderful host for the evening was General Manager Ashish Malothra. The food and ambiance were exceptional and members and guests greatly appreciated the restaurant's accommodation of the group.
"Our server at Blackstone Grill is a student at Radford University. She wanted to know more about the group and she asked if we had other female students who participate," said New River Valley Chapter President Shelor.
"We were happy to tell her about NAPW, our Local Chapter and about other female student members. We encourage you to do the same for anyone who is curious about what NAPW has to offer."
The Chapter President announced that the following positions were available on the Chapter's Leadership Team: Photography/Historian, PR/Marketing and Charities and Outreach. She encouraged members to consider taking on one of these key roles.
President Shelor also asked about suggestions for meeting locations and speakers for future meetings in both the New River and Roanoke Valleys.
"Also, if you have any ideas about fun things our Chapter members could do together, please let me know, and let us know about any events you are participating in or that we may be interested in knowing about," the President told the crowd.
The group of professional women was also asked if they would be interested in attending lunch meetings in addition to the monthly Chapter meetings in order to get to know one another on a more personal level. This would also offer an opportunity for members who are busy in the evening to get a chance to enjoy their membership in an off-line environment. Suggestions for luncheon venues were also requested.
The Chapter President then discussed featuring members on the Chapter's Facebook Page. Each member could post a five-to-ten minute video all about them and what they do on the Facebook page that they will also be able to post onto their own website or other social media platforms. Or, they could opt for posting a photo and a story about themselves instead of a video.
''Our pleasure is in helping our members gain the success they need no matter what area of life it is in," said President Shelor. "The five- or ten-minute profile video could promote their business, company, hobby/passion, or just let people know something important that's in their heart about what they do or participate in."
In order to grow the New River Valley Chapter, the group would like to meet the professional women in the community online or in person and offer them an invitation to attend one of the Chapter's upcoming meetings. The Chapter President suggested the group work together as partners on this by attending local events together and handing out fliers about NAPW New River Valley. Or this could be done individually as members are out and about in the community, on the phone or exchanging email with female friends.
The Chapter President asked who would like to pair up with a few other members to meet professional women in the community. She also mentioned that some members may feel more comfortable helping with research and gathering contact information about local professional women.
"Making your NAPW Pin a part of your everyday wardrobe is a great way to advertise and if you make a commitment to wear it every day for 30 days, that would be very beneficial for our Chapter," President Shelor added. "People will ask you about it and it will not only give NAPW an opportunity to get noticed, but it will give you a chance to talk about yourself and your profession. We could also have larger buttons made that offer a bit more information."
The President asked members if they had an NAPW Pin. Only members who have selected online to be New River Valley Chapter members can receive pins from the Chapter, she reminded them. Local Chapter members who do not have pins should contact Takara by e-mail or private message her on Facebook.
New River Valley Chapter President Takara Shelor concluded the meeting by telling members and guests that she had created a comprehensive list of benefits of NAPW membership. She said she would be happy to send anyone a copy so she could take advantage of all that NAPW membership has to offer. She will also have these available at future Chapter meetings.
Important NAPW New River Valley Local Chapter upcoming events: June 18th, Roanoke Meeting TBA; July 16th, New River Valley TBA; August 20th, Roanoke TBA; September, New River Valley – Mini Health Expo NRV Official Launch meeting TBA and October 26th, Annual NAPW Georgia Local Chapters EXPO, Atlanta Georgia.
The meeting was held at the elegant Blackstone Grill, 420 Peppers Ferry Road NW, Christiansburg, VA, 24073, 540.381.0303, blackstonegrillva.com/index.php, facebook.com/BlackstoneGrillVa, twitter.com/BlackstoneVa.
The National Association of Professional Women (NAPW) is the largest and most recognized network of female professionals. NAPW provides a forum where women can interact, exchange ideas, educate, network, and empower. NAPW Local Chapters allow members to maximize their experience through meetings, networking opportunities, and professional events.
For additional information regarding the NAPW New River Valley Local Chapter and/or NAPW, please visit http://www.napw.com.
Follow NAPW on Facebook and Twitter.
###