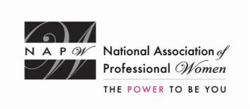 The turnout was astonishing...This was the largest audience for any meeting to date. So many members were at their first meeting and you could feel the exuberance in the room!
Garden City, NY (PRWEB) May 22, 2013
Members and guests of the NAPW New York City, NY Local Chapter gathered on May 13th for a professional networking meeting at TheLadders at 137 Varick Street in New York City.
The Chapter hosted Monica Shah, President of Revenue Breakthrough, who delivered her presentation, Creating Your Revenue Breakthrough: Four Steps to Double Your Income in 2013, to attendees.
The group of professional women also heard from Marcie Rosenstock, Event Marketing Manager at Inc. Magazine, and was invited by the American Heart Association to participate in an upcoming fundraising event.
"This meeting followed on the heels of the NAPW National Networking Conference and was a combined monthly Chapter and mentoring meeting," said New York City Local Chapter President Louise Newsome.
"The turnout was astonishing; there were more than 70 attendees. This was the largest audience for any meeting to date. So many members were at their first meeting and you could feel the exuberance in the room!"
The Chapter President opened the meeting by welcoming all members and guests. She then introduced the New York City Chapter officers and committee heads who were present at the meeting: Laura Ruben, Chapter Secretary; Karen Booker, Committee Head, Events; Laura Rivchun, Chair, and Becky Barker, Co-Chair, Mentoring Group; Shantha Kalia, Committee Head, Member Welcome and Erika Ladanyi, Head of the Fundraising Committee.
President Louise made the new members aware of the Chapter's monthly newsletter and the importance of opening their emails and reading the newsletter for announcements from the Chapter, information about upcoming meetings and any potential changes to those meetings.
She also mentioned that the Chapter has been asked by the American Heart Association (AHA) to volunteer to assist with one of their annual events.
"The American Heart Association has invited the NAPW New York City Chapter to help out at the upcoming AHA New York City Heart Ball, which will take place June 5th on the Intrepid," said Chapter President Louise Newsome.
"So far, there's been quite a turnout for volunteers and another email will go out so more can join up."
Laura Rivchun, Chapter Mentoring Group Chair, then announced that the Mentor Committee was working on a women's business workshop, slated to begin in September. There will be about six workshops for those thinking of going into business, already in business or simply looking to work on their professional business development. She told attendees more information will follow.
Laura then introduced Monica Shah, President of Revenue Breakthrough, and passed the floor over to her.
For the next hour and a half, Ms. Shah shared her personal stories. She made the group of professional women laugh, made them think and got everyone involved in on the discussion.
"So many things Ms. Shah said made so much sense. She told us that there is no shame in speaking about money and that we should be making more of it. She encouraged us to simply start talking about it," said President Louise Newsome.
"She explained that we should be clear on why or how we're making money and always keep the 'why' in the forefront of our minds."
The guest speaker encouraged members and guests to do what's powerful for them. She asked attendees to share what they believed was powerful to them, and why they want to make money.
Ricky said that independence, confidence and shoes are why she wants to make money. Jackie said she wanted to offer an amazing life for her daughters and one member said she wanted to provide a college education to her nephews, among many other things.
According to Ms. Shah, there are four steps in creating revenue: 1. What is the simplest step an individual can take to achieve what needs to be achieved? Shift one's relationship with money. 2. What are some marketing ideas to generate money? 3. How to sell products and services? 4. Analyze where it's working and where it's not.
As a final exercise, Ms. Shah asked members and guests that for the next month, they chart the money they made each day.
"Though we're not trained to make money every day, try to make it a goal for the next 90 days, she told the group. Keep an eye open for revenue-generating opportunities. Where you never saw one before, you may just see it now. When it comes to money, all you need to do is reach out and ask for it, take yourself out of your comfort zone. She encouraged members to "build your money muscle!"
Monica Shah wrapped up her presentation by inviting members and guests to join her at an upcoming seminar, Money 2.0, on June 6th to June 8th, in Atlanta, Georgia. She even offered a discount to all members attending the meeting that evening, hoping to get each woman to the event and to start thinking and talking about money.
After the guest speaker spoke, the Chapter President and Chapter Secretary Laura Ruben chose next month's member spotlight.
"Congratulations to Michele Evens, of Legal Shield. We look forward to hearing more about you in the New York City Chapter June Newsletter," said President Louise Newsome.
Louise then announced there was another guest at the meeting, Marcie Rosenstock, Event Marketing Manager at Inc. Magazine.
"Marcie informed us of an upcoming piece Inc. is working on, the top 500/5000 fastest growing privately held companies in the U.S. and said the magazine is looking to add more women-owned companies," said Chapter President Louise Newsome.
"She asked if anyone knew someone who meets their criteria, to please have them submit it to the magazine."
Ms. Rosenstock also invited members and guests to attend an upcoming summit in September in New York City (a fee-based event). At this Summit, 200 to 300 women in business will be gathering. For more about the event, members and guests were encouraged to visit the magazine's website.
Chapter Members who attended the meeting included: Louise Newsome (President), Laura Ruben (Secretary), Laura Rivchun (Chair, Mentor Committee), Becky Barker (Co-Chair, Mentor Committee), Shantha Kalia (Chair, Welcome Committee), Erika Ladanyi (Chair, Fundraising), Karen Booker (Chair, Events), Amanda Augustine, Etta Jackson, Helene Abrams, Juliette Austin, Juliet Barbour, Jane Bell, Debra Bedell, Sheila Black, Lucy Coelho, Claudia Delvalle, Jo-Ann Dilorenzo, Daphne Dominique, Lisa Dunefsky, Daniya Ellis, Denise Galon, Camille Gardner, Jennifer Gillman, Lynn Haviland, Shannon Hernandez, Rickita Hudson, Aida Khalaf-Parker, Dana Khuthaila, Beth Lockwood, Lisa McGainey, Dee Dee Mendez, Stephanie Nilva, Rebecca Novin-Cannon, MercyUzo Ojei, Wendy Padob, Helene Pangalos, Liane Pei, Larendee Roos, Francisca Ruiz, Arti Sahgal, Ewa Schmitz, Debbie Silverstein, Itza Wilson, Connie Yen, Flora Zaretskaya, Vava Buitenkant, Susan De Robertis, Michele Evans, Melina Bisciglia, Danielle Brodnax, Kate Bidinger, Mary Cannon-Screen, Lillian Moss, Elise Gan, Susan Bagyura, Malgorzata Brzakalska, Sarah Hardesty, Stacey Mathis, Amy Neiman, Hiroko Okahashi, Nicole Haushaw, Keisha Renne, Karen Theodore, Gloria Lieske, Malgorzata Brzakalska, Sabine Wieger, Amber De Vos, Ella Schmitz, Carolie Alos, Magdalena Botschev, Kate Biginger, Joy Wai, and Linda McCullough.
The National Association of Professional Women (NAPW) is the largest and most recognized network of female professionals. NAPW provides a forum where women can interact, exchange ideas, educate, network, and empower. NAPW Local Chapters allow members to maximize their experience through meetings, networking opportunities, and professional events.
For additional information regarding the NAPW New York City, NY Local Chapter and/or NAPW, please visit http://www.napw.com.