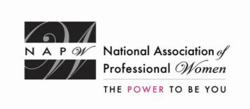 Cynthia shared that focusing completely on the most important tasks you must do is the key to success,
Garden City, NY (PRWEB) May 02, 2013
Members and guests of the NAPW Norfolk, VA Local Chapter gathered on April 18th for a professional networking meeting at Hibachi Grill & Supreme Buffet on Virginia Beach Blvd.
The group of 35 professional women shared an evening of networking and learning. Chapter Vice President Cynthia Gossman got them going with a motivational speech based on Brian Tracy's book, Eat That Frog.
Guest speaker Nikki Curry, The Brand Definer, shared her expertise about defining and branding oneself.
After a lively session of open networking among members and guests, Chapter President Ivory Morgan-Burton welcomed everyone to the meeting and introduced the Chapter Leadership Team.
As members enjoyed dinner, each woman gave a brief introduction of herself and her business.
President Ivory gave the member presentation of the night and brought a party spirit to the room by giving each person a party horn.
"I encouraged each person to "toot their own horn" while she shared some of her recent successes," said the Chapter President.
"We heard about an industry celebrity endorsement, a new branded van, a spread in a regional wedding magazine, and much more!"
Vice President Cynthia Gossman gave the motivational speech of the evening. Cynthia shared some tips from Brian Tracy's book Eat That Frog. The theme of the book is to complete your "frog," which is defined as a critical but unpleasant task that must be done. Many times business owners are bogged down with procrastination for one reason or another and the ideas shared were to help get over the hurdles of procrastination.
"Cynthia shared that focusing completely on the most important tasks you must do is the key to success," said the Chapter President.
The guest speaker for the evening was Nikki Curry, The Brand Definer. Nikki has a robust resume of accomplishments in the branding world and helps people create and claim their own star-powered brand. She told the group that you must define and brand yourself or someone else will. Nikki focused on The Brand Commandments, a Brand Profile, and a Brand Platform.
As she elaborated on each topic, she shared ideas with the group about sharing their message, having their own language, standing out from the crowd, owning their idea, and focusing on how one would like to be known.
"The group enjoyed hearing Nikki's speech and had plenty of questions to ask afterwards. Nikki offered to set up a one-on-one meeting with anyone in the group who was interested," said President Ivory.
After the speakers, members gave the group updates on upcoming events they were involved with. The Chapter President spoke about the National Networking Conference in New York City on April 26th.
The Norfolk Chapter Leadership Team and a few members will be attending the Conference and all are looking forward to this exciting event.
More open networking and fellowship followed the conclusion of the Norfolk Local Chapter meeting.
The National Association of Professional Women (NAPW) is the largest and most recognized network of female professionals. NAPW provides a forum where women can interact, exchange ideas, educate, network, and empower. NAPW Local Chapters allow members to maximize their experience through meetings, networking opportunities, and professional events.
For additional information regarding the NAPW Norfolk, VA Local Chapter and/or NAPW, please visit http://www.napw.com.
Follow NAPW on Facebook and Twitter.
###