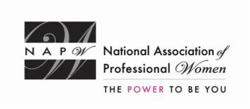 While the meeting attendees dined on delicious cupcakes from Carolina Cupcakery, company Owner Dawn Eskins gave the motivational speech of the evening, sharing her story of her struggles and successes in business.
Garden City, NY (PRWEB) June 06, 2013
Members and guests of the NAPW Norfolk, VA Local Chapter gathered on May 16th for a professional networking event at Gus & George's Steakhouse.
Pamela Chesson of Talk Fusion coordinated the live streaming of the May meeting, which will be an ongoing occurrence at monthly Norfolk Chapter power networking meetings.
A number of other sponsors of the Norfolk Chapter were announced; the group of professional women also heard from member Dawn Eskins, who discussed the struggles and ultimate success of her business, Carolina Cupcakery.
"One of the reasons this meeting was special was because it kicked off the live streaming of the Norfolk Local Chapter's meetings," said President Ivory Morgan-Burton. "All the members and guests in attendance gave an introduction first on the live streaming and then to one another, highlighting themselves and their businesses."
President Ivory Morgan-Burton then shared with the Chapter the positive experience she had at this year's National Networking Conference. She told the group that she definitely plans to attend next year's Conference in New York City.
Plans are being made to charter a bus to the city to attend the conference followed by two days of sightseeing and fun.
President Ivory Morgan-Burton and Vice President Cynthia Gossman are taking suggestions for activities to do to build the itinerary.
The Chapter President went on to introduce the Chapter sponsors who will support the group in various ways.
In addition to Candace Credle from Joiful Faith Event Planning, Cindy Strutridge from Premier Jewelry, and The Holiday Inn Airport Hotel. Pamela Chesson of Talk Fusion, will continue to provide live streaming of meetings, and Nikki Curry from The Brand Definer, will offer support and suggestions and training for members to become better speakers, along with offering speakers to be considered for Norfolk Local Chapter monthly meetings.
Candace will help make each monthly meeting an event, teaming up with and offering support to Sandra Purvis, Chapter Event and Venue Coordinator. Cindy will provide jewelry for drawings at the meetings and The Holiday Inn will be the new monthly meeting spot sponsor.
"Yet another thing that made this meeting special for the Chapter was cupcakes!" said Chapter President Ivory Morgan-Burton. "While the meeting attendees dined on delicious cupcakes from Carolina Cupcakery, company Owner Dawn Eskins gave the motivational speech of the evening, sharing her story of her struggles and successes in business."
Dawn Eskins founded Carolina Cupcakery in 2007 after finding out that her children could no longer bring cupcakes to school. She began baking in her home where friends and family soon began ordering cupcakes from her. Demand grew so much that she opened a storefront.
Despite an increasing demand, this was a challenging time for Ms. Eskins because a few years ago, cupcakes weren't accepted in the marketplace as a stand-alone treat as they are today. This made it difficult to obtain a lease, much less a business loan.
Ms. Eskins dug deep and found the courage to start, despite being told by many close to her, even her father that the business wouldn't succeed and she needed to diversify.
Ultimately, Ms. Eskins found much success in her business and has opened up a second storefront.
Carolina Cupcakery has been showcased on TV's Cupcake Wars. Her company recently set a Guinness World Record by having 1,000 cupcakes eaten in 25 minutes. Next time, she is going for 1,000 cupcakes eaten in 15 minutes!
"In the last few months, Dawn and her company have finally been given respect by her peers who did not think Carolina Cupcakery was going to survive, much less thrive the way it has," said President Morgan-Burton. "Her story was very inspirational to us all."
After Dawn's rousing speech, the attendees gave announcements of upcoming events.
On June 24th, the Norfolk Chapter will be hosting Founder and CEO Tanya Hofmann of the Public Speakers Association at The Holiday Inn Airport. This meeting is open to all businessmen and women who want to attend. There will networking, cocktails, and fun.
Vice President Cynthia announced the new "Power Partner" system Chapter President Ivory is implementing. Each member will have a "Power Partner" who will be her accountability partner, supporter and cheerleader.
At the conclusion of the meeting, Ivory and Cynthia left the group with some encouraging words.
Then drawings were held for Premier Jewelry pieces and photography sessions with Will Hawkins of Will Hawkins Photography, who also was the meeting photographer.
Three women left with new jewelry and seven left with the task of scheduling full photo sessions that were gifted for the drawings.
The entire group then took a picture together and lingered to network with one another.
Meeting minutes were submitted by Dani Feret, Norfolk Chapter Secretary.
The National Association of Professional Women (NAPW) provides a forum where women can interact, exchange ideas, educate, network and empower. NAPW Local Chapters allow members to maximize their experience through meetings, networking opportunities, and professional events.
For additional information regarding the NAPW Norfolk, VA Local Chapter and/or NAPW, please visit http://www.napw.com.
Follow NAPW on Facebook and Twitter.
###