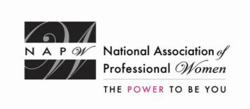 Chapter member Pat Mullin, Owner of P.L. Mullin Tax Services, addressed the changes in the 2012 tax year,
Garden City, NY (PRWEB) April 11, 2013
Members and guests of the NAPW Ocala, FL Local Chapter gathered on March 26th for a professional networking meeting at Ruby Tuesday.
Ocala Chapter member Pat Mullin, Owner of P.L. Mullin Tax Services, was the evening's guest speaker.
She told the group of professional women all they needed to know about how the changes in the 2012 tax season will affect them.
Ocala Local Chapter President Lisa Wyatt started the networking meeting by welcoming NAPW members and guests to the monthly event. The group met in the private, side room of the restaurant, where attendees had plenty of time to enjoy dinner and network.
"In the spirit of 'networking and getting to know each other,' everyone introduced themselves by name, stated their place of business, and gave a brief description of what their business is all about," she said.
"We had some new members and guests and it was delightful to hear of the contributions they can lend to the NAPW Ocala Local Chapter!"
After reminding attendees that everyone is always welcome to bring friends and colleagues to each and every NAPW meeting/event, the Chapter President introduced the guest speaker.
"Chapter member Pat Mullin, Owner of P.L. Mullin Tax Services, addressed the changes in the 2012 tax year," she said.
"Pat gave a great presentation and was diligent in answering questions from our group."
The President encouraged members and guests to ask her any tax questions they had. Pat also is a VITA (Volunteer Income Tax Assistance) member and can help them in that venue, as well.
After the presentation, Lisa announced to members and guests that if they wanted to be placed on the agenda for a presenting at a future Chapter meeting to please contact her at 352-425-3346.
"I am continuing to see a growing number of NAPW Ocala Chapter members and guests doing business with each other; women doing business with women, that's what NAPW is all about and certainly a vision I totally embrace!" she said.
The Chapter President also spoke to the group of professional women about a number of Chapter Board positions that are open.
"As we continue to grow, I would love to establish some positions to be filled to share in the success of our Ocala Local Chapter. Let's move forward with a solid team!" she said.
The following positions are open: Membership Chair- Duties to include: Keeping track of the membership roster; reaching out to current members and guests to participate in NAPW Ocala Chapter luncheons and activities; give an accurate count of women who will be attending each meeting to the President for reservation purposes; and organize fun events to expand the Chapter's efforts to foster professional and personal success.
Media Chair – Duties to include: monitor the NAPW Local Ocala Chapter Facebook Page; introduce new ways to reach out to members and potential members to enrich their professional and personal lives; and post in local newspapers our meeting dates and venues. (The President mentioned that she expects this position to soon be filled by a Chapter member.)
Secretary – Duties to include: take meeting notes at monthly meetings and prepare the meeting minutes to give to the NAPW Ocala Chapter President so that they can be posted on the NAPW website.
Due to the positive comments from the group at the March event, the Ocala Chapter will continue to hold its monthly meetings at Ruby Tuesday for the forthcoming months, in the evenings, from 6:00 to 8:00pm.
It is a place where members and guests are able to enjoy drinks, good food, networking, hearing from guest speakers on topics of interest to the community, and have fun drawing for door prizes. The Chapter President told the group that she is flexible and happy to discover what works best for all concerned.
"Ruby Tuesday has a great room for us, with room enough for around 30 people, and tables where we can encourage our members and guests to bring their wares, brochures, etc., to feel free to sell and hand out at every meeting," said the Chapter President.
"I hope to see more of you at our next meeting; I truly believe you will find it extremely worthwhile. Let's network! Let's have fun doing it!"
The President told members and guests that if they have something they would like to donate as a "door prize" to please give her a call and she will pick it up so that the Chapter will have as many prizes as possible within their NAPW budget.
There were six prizes given away during the March monthly meeting. Before adjourning the meeting, Lisa reminded the group that the next NAPW Ocala Chapter meeting will be held at Ruby Tuesday on April 23rd from 6:00 to 8:00pm. All are eager to meet more of members at the next event, so please RSVP to President Lisa at lisaawyatt(at)gmail(dot)com or 352-425-3346.
"It will be much fun and a great networking opportunity! It is very inspiring to socialize with the invigorating women in our Chapter as we all soak up each other's energy and wealth of knowledge," said the Chapter President.
Attendees at the March 26th Ocala Chapter meeting were: Dr. Barbara Brooks, Vicki Kayuk, Lizzie Lennon, Pat Mullins, Edna Turner-DeGeneste, Patti Kern, Jane Moerlie, Consuella Shaw, and Mary Ann Younger.
The National Association of Professional Women (NAPW) is the largest and most recognized network of female professionals. NAPW provides a forum where women can interact, exchange ideas, educate, network, and empower. NAPW Local Chapters allow members to maximize their experience through meetings, networking opportunities, and professional events.
For additional information regarding the NAPW Ocala, FL Local Chapter and/or NAPW, please visit http://www.napw.com.
Follow NAPW on Facebook and Twitter.
###