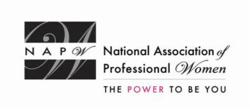 Stephanie had a display of her beautiful, handcrafted jewelry and gift items at the Chapter meeting and several pieces were sold,
Garden City, NY (PRWEB) February 26, 2013
Members and guests of the NAPW Palm Desert, CA Local Chapter gathered on January 29th for a professional networking meeting at Mimi's Restaurant, located at 71861 Highway 111 in Rancho Mirage.
Chapter member and Jewelry Designer Stephanie Eminhizer dazzled the group of professional women when she showcased her business, ANGELS & LIONS, and shared how she creates her one-of-a-kind, handcrafted line of jewelry and gift items.
Palm Desert Local Chapter President Nedra Davis started off the evening meeting by welcoming members and guests to the first Chapter event of the year. She then introduced Stephanie Eminhizer as the member whose business would be showcased during the monthly meeting.
"Stephanie is a jewelry designer and jewelry artist. She spoke to the group about how she got started in the business and explained in detail what she does. The attendees were all fascinated by her presentation and by her jewelry!" said the Chapter President.
The jewelry designer told the audience how she worked in a jewelry store on the island of Crete in Greece after studying international business at the American University in Washington, D. C. There, she worked with a jeweler to design her first piece of gold jewelry with an emerald and sapphire. Then, in 1995, she started her own business, ANGELS &LIONS, selling at first intricate handcrafted floral wreaths and ornaments.
"I then later began to study privately with a jeweler to learn the technique of wire wrapping and also studied with a glass artist on how to fuse glass," she told the crowd.
Since then, Stephanie has completed the Accredited Jewelry Professional Program at GIA (Gemological Institute of America). Stephanie fuses her own glass that she features in her jewelry and handcrafted gift items. She utilizes a specialty glass called dichroic glass, which comes in all kinds of iridescent colors and has the ability to shift shades as one moves it ever so slightly. She also works with a vast array of gemstones, pearls, and seashells.
Stephanie's specialty is wire wrapped pendants in fine silver, 14k gold, and 14k gold-filled embellished with a variety of gemstones, pearls, and Swarovski crystals. She also makes all kinds of necklaces and earrings as well as bracelets, brooches, and cufflinks. This talented artist collaborates with her boyfriend on a line of silver bezeled jewelry. In addition to her jewelry line, Stephanie has a gift line that includes letter openers, wine bottle stoppers, bookmarks, key chains, and purse hangers. Stephanie sells her work in juried arts & crafts shows as well as a gallery and gift shop.
"Stephanie had a display of her beautiful, handcrafted jewelry and gift items at the Chapter meeting and several pieces were sold," said the Chapter President.
After the business showcase, the Chapter President asked members for input on her idea that she e-mail each member to invite them to Chapter meetings so it would be more of a personal invitation. She also felt it was important to stress to NAPW members that joining the Local Chapter was free to members and there was no additional cost to their NAPW membership.
The group of professional women brainstormed on ways to encourage more members to attend the Chapter meetings. Nedra suggested that a raffle could be held in which the Chapter could get various local businesses to donate prizes, thus having an incentive for people to come to the meetings.
Michele Merritt thought that it would be a good idea to have some fun events to coincide with the meeting such as miniature golf or a game of croquet. Stephanie Eminhizer thought a good speaker would entice members to come to the Chapter meetings. Nedra requested members run any ideas for speakers by her.
The Chapter President closed the meeting with the announcement that the Palm Desert Local Chapter would meet on the last Tuesday of every month so it would become a regular scheduled meeting and members could plan ahead of time. Michele Merritt suggested that an e-mail be sent out the day before the meeting as a reminder to all Chapter members.
Members who attended the event included: Nedra Davis-Chapter President, Brandman University-Professor/Scentsy-Consultant; Stephanie Eminhizer-Chapter Secretary, ANGELS & LIONS, Owner/Jewelry Designer; and Michele Merritt.
The National Association of Professional Women (NAPW) is the largest and most recognized network of female professionals. NAPW provides a forum where women can interact, exchange ideas, educate, network, and empower. NAPW Local Chapters allow members to maximize their experience through meetings, networking opportunities, and professional events.
For additional information regarding the NAPW Palm Desert Local Chapter and/or NAPW, please visit http://www.napw.com.
Follow NAPW on Facebook and Twitter.
###