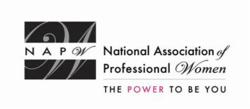 What better way to network and get to know each other than by holding a vendor showcase of each other's businesses,
Garden City, NY (PRWEB) May 22, 2013
Members and guests of the NAPW Palm Desert, CA Local Chapter gathered on April 23rd for a professional networking meeting at Mimi's Café, located at 71861 Highway 111 in Rancho Mirage.
A number of attendees held the spotlight to showcase their businesses.
The group of women enjoyed an evening of networking and getting to know more about each other's professional endeavors. Plans were also made for exciting upcoming Chapter events.
Palm Desert Local Chapter President Nedra Davis kicked off the meeting by welcoming members and guests to the April event.
She introduced herself to the group and said that she works at Brandman University as an Associate Professor. Brandman University is located on Cook Street in Palm Desert.
The Chapter President then invited new guest Cindi Unger to introduce herself to the group.
Ms. Unger, who told attendees she had found the Palm Desert Chapter through the internet, explained how she started doing interior design work in the desert, mainly in homes, about 25 years ago. She had moved up north but eventually came back to the desert to join a larger company.
A year and a half ago, Ms. Unger left the company she was with and started her own interior design business.
"Due in part to the slowdown of the economy and the fact that there are so many interior designers out there, Cindi Unger had to think kind of outside of the box about what she could do," said Chapter President Nedra Davis. "She decided to get into vacation rental setup."
Working with homeowners and real estate agents, Ms. Unger helps make a home more inviting for vacation rental. She told members and guests that when you live inside a home you want it homier, but when it's a vacation rental, you shouldn't display personal items such as photographs.
Her company, Desert Life Design & Concierge, has since taken off and she works with about 32 to 37 houses.
She'll do everything from helping a realtor check in the renters, to watching homes, to making sure the pool person shows up and there are no leaks.
Ms. Unger advertises her company's services as interior design, vacation rental setup and absentee home-watch services. She has her own website: DesertLifeDesignandConcierge.com.
Stephanie Eminhizer, Palm Desert Chapter Secretary, also introduced herself to the group.
Stephanie has her own business, ANGELS & LIONS, where she sells her handcrafted jewelry and gifts through her website: JewelsofAtlantis.phanfare.com. She does juried fine art and craft shows.
Ms. Eminhizer has her work sold at the Acorn Gallery & Gift Shop in Idyllwild, California.
She participates in the Palm Springs Open Air Market down by the Spa Casino in downtown Palm Springs. That is a new endeavor for her because she usually does fine art and craft shows, but it has proven to be a good thing.
Ms. Eminhizer has been creating jewelry since 1999. Before that she had a business pertaining to handcrafted floral wreaths and ornaments.
"What better way to network and get to know each other than by holding a vendor showcase of each other's businesses," said Nedra. "We all learned so much and we now need to support each other."
President Nedra Davis next asked the group of professional women about the kind of speakers they would like to host.
"Next month, our guest speaker will talk about marketing and marketing approaches," Chapter President Nedra said. "I think many of us will benefit from what the speaker has to say."
Stephanie Eminhizer said that at the last meeting, Linda Morgan and Anne Michie suggested having someone in to speak about marketing strategies and she herself thought it would be a good topic, too.
Cindi Unger suggested getting a speaker on how to utilize social media.
The Chapter President agreed it would be a good topic and said they should all try to find a speaker on the subject for the June meeting.
She also said she would like the Chapter to host a speaker who could talk about how to do your own taxes and answer questions such as what kind of deductions a small business owner may take.
Stephanie Eminhizer would be interested in having a speaker come to a Chapter meeting to speak about designing your own website.
Ms. Unger also suggested a speaker who would talk about the topic of medical coverage and benefits as it pertains to small business owners, and the new laws that are going to take place in 2014 that affect small businesses. Learning more about insurance for small businesses would also be of interest to her.
Nedra Davis wanted to know if the Chapter should take a hiatus during the summer or if people would like to take a break and get out of the heat and into Mimi's Café. She wonders if people are going to be on vacation.
Stephanie Eminhizer and Cindi Unger thought that perhaps people would want to come because they are less busy during the summer.
Cindi Unger talked about and showed her ad featured in a book given to new homeowners. She told members and guests that the people who place the ads meet every month for a business networking meeting.
Nedra Davis told the group of professional women about how Corporate Headquarters in New York publishes a press release based on the Chapter meeting minutes in a variety of different venues.
Stephanie Eminhizer recalled how she had found an article on the internet about when she had showcased her business, ANGELS & LIONS, at the January Palm Desert Local Chapter meeting. The more she searched the more she found out that Yahoo News picked it up.
Yahoo News dealing with Greece and news on Crete, Greece carried it because Stephanie had worked in a jewelry store on the island of Crete where she had designed jewelry.
Also, the article was in the World News Network, American Banking & Marketing, a number of jewelry product and fashion design sites, a site about Swarovski crystals-people that use products utilizing them, networking and strategy sites, golf magazines, and a golf gift ideas for men site.
In addition, all the local news sites for every state you can imagine carried the article.
Also, the Assistant Vice President of Alumni Relations of the American University in Washington, D.C. where Ms. Eminhizer had studied International Business, sent a congratulatory letter to her for showcasing her business, ANGELS & LIONS, in January to the Palm Desert Chapter. She said that people are reading it.
"Stephanie added that there is a benefit to speaking at Palm Desert Local Chapter meetings because there is a lot of national and international publicity as well as local coverage in such news sources as the Rancho Mirage Newswire," said Chapter President Nedra Davis.
At the April networking meeting, the Palm Desert Chapter held its first raffle.
Stephanie Eminhizer donated a prize of her handcrafted jewelry sold through her business, ANGELS & LIONS. The winner received a beautiful pair of faceted ruby and freshwater pearl 14K gold-filled earrings.
After the raffle, Stephanie Eminhizer and Cindi Unger spoke about their websites.
The next Palm Desert Chapter meeting is scheduled for Tuesday, May 21st at Mimi's Café in Rancho Mirage, California at 6:00 to 7:30pm.
Members who attended the event included: Nedra Davis, Palm Desert Chapter President, Brandman University, Associate Professor; Stephanie Eminhizer-, Palm Desert Chapter Secretary, ANGELS & LIONS, Owner/Jewelry Designer and Cindi Unger, Desert Life Design & Concierge, Owner.
The National Association of Professional Women (NAPW) is the largest and most recognized network of female professionals. NAPW provides a forum where women can interact, exchange ideas, educate, network, and empower. NAPW Local Chapters allow members to maximize their experience through meetings, networking opportunities, and professional events.
For additional information regarding the NAPW Palm Desert, CA Local Chapter and/or NAPW, please visit http://www.napw.com.