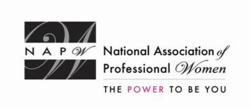 We're so excited to have such successful, goal-oriented professionals speaking at our meetings...The opportunities for new connections and education are endless!
Garden City, NY (PRWEB) June 18, 2013
Members and guests of the NAPW Palm Desert, CA Local Chapter gathered on May 21st for a professional networking event at Mimi's Café located at 71861 Highway 111 in Rancho Mirage, CA.
During the monthly meeting, the group of professional women enjoyed an evening of networking and showed support for each other's professional accomplishments and endeavors.
Plans for upcoming meetings were also discussed.
"The topic of this meeting was food, networking and raffle," Palm Desert Chapter President said of the monthly Chapter event. "Attendees enjoyed all three at the meeting as they networked and got to know one another. They dined on crab cakes, spinach salad with shrimp and quiche at Mimi's Café and anticipated the raffle drawing for a bracelet at the conclusion of the meeting."
The Chapter President distributed Booklets and Brochures to those in attendance.
Chapter Secretary Stephanie Eminhizer suggested handing out the Booklets and Brochures to people who were going to be asked to speak at future Chapter meetings.
Meetup.com was suggested to send meetings by e-mail for the Chapter group, since it helps groups of people with common interests plan and facilitate off-line meetings and events.
Chapter President Nedra Davis asked Eroca Kay to explore it for the Palm Desert Chapter, and to possibly set up an e-mail account.
The Chapter President announced that she had a number of speakers lined up for future meetings but also asked if any of the attendees would be interested in speaking.
Stephanie Eminhizer encouraged Eroca Kay and Laura Eaton to speak at a Palm Desert Chapter meeting. She talked about how they would benefit from the publicity generated by the Press Releases that highlight the Chapter meetings and its guest speakers.
The Chapter President suggested Eroca could speak on topics such as how to market yourself, how the real estate market is right now and what are the forecasts.
President Davis added that she could maybe talk a little bit about the local area and what is available.
Eroca said she has spoken before to first-time home buyers at Bank of America.
The Chapter President also talked about how her name and where she works would get into the press release and would help to get her contacts.
Stephanie also added that perhaps real estate sites would pick it up as well as perhaps also local, national and international news sites.
Eroca agreed to be the speaker at the next meeting. Laura Eaton said she may consider speaking at a future Chapter meeting.
"We're so excited to have such successful, goal-oriented professionals speaking at our meetings," said Nedra. "The opportunities for new connections and education are endless!"
It was eventually decided that Eroca would talk about a variety of real estate topics including real estate in the Coachella Valley.
Chapter President Nedra Davis told Eroca that they could also showcase her career at the meeting by having her tell a little about her past and where she is right now. She included that she knew of one member who was out of a job, and believed there might be other members as well who are currently unemployed who could benefit from hearing her story.
"We concluded our meeting with a raffle drawing and the prize was four turquoise, freshwater pearl and faceted glass bracelets that was given out by Stephanie Eminhizer, who sells these through her company ANGELS & LIONS," said President Davis. "Stephanie told us the bracelets could be worn each separately or stacked, which is a hot fashion jewelry trend right now."
The meeting adjourned and the next meeting is scheduled for Tuesday, June 25th at Mimi's Café located at 71861 Highway 111 in Rancho Mirage, California, from 6:00 to 7:30pm.
In attendance at the Chapter meeting were:
Nedra Davis: Chapter President and Associate Professor at Brandman University in the School of Education in Palm Desert, California where she maintains a teaching load of two courses per term for graduate level candidates; Stephanie Eminhizer: Chapter Secretary and Jewelry Designer/Jewelry Artist/Owner of ANGELS & LIONS, in Palm Springs.
Guests of the Chapter included:
Eroca Kay: Real Estate Broker and Business Owner; and Laura Eaton: Attorney at Laurence D. Eaton A Law Corporation, where she specializes in law pertaining to real estate.
The National Association of Professional Women (NAPW) is the largest and most recognized network of female professionals. NAPW provides a forum where women can interact, exchange ideas, educate, network, and empower. NAPW Local Chapters allow members to maximize their experience through meetings, networking opportunities, and professional events.
For additional information regarding the NAPW Palm Desert, CA Local Chapter and/or NAPW, please visit http://www.napw.com.