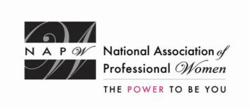 SupportWorks helped a lot of members connect after the meeting. Roz was able to find volunteers for her church event. Melinda found some ladies interested in her coffee. Yolanda found a connection to help spread the word. The connections go on!
Garden City, NY (PRWEB) February 26, 2013
Members and guests of the NAPW Philadelphia, PA Local Chapter gathered on February 6th for a professional networking meeting at the Wanamaker Building.
The group of professional women had the opportunity to network using the Chapter's SupportWorks initiative and also made headway in choosing charities to support and workshops to hold.
NAPW Philadelphia Local Chapter President Naketa Thigpen called the monthly meeting to order by inviting all to introduce themselves. She thanked Chapter Vice President Deb Vogel for hosting the meeting and reviewed the meeting agenda. Naketa pointed out to members and guests the valuable connections they have made through NAPW membership and talked about how powerful their influences on each other can be.
The President announced that the Philadelphia Chapter's networking initiative SupportWorks is back in action. Writing members' and guests' names on a white board helped make networking time more effective before and after meetings.
"SupportWorks helped a lot of members connect after the meeting," said Naketa. "Roz was able to find volunteers for her church event. Melinda found some ladies interested in her coffee. Yolanda found a connection to help spread the word about her merchant services. The connections go on!"
As part of the strategic planning focus of the meeting, the group also discussed potential events that will help educate and/or raise money for a charity, as well as themes and guest speakers for upcoming workshops.
Naketa put together a template for planning with sections for charities, events, workshop topics/speakers, and fundraisers so members and guests were able to add their input. A number of attendees offered ideas for some charities the group could support including Tyesha Love's suggestions, Breathing Room and Evoluer House; Lawanna Scales offered Druding Center as a great organization; Freda Magee mentioned the local organization, Camp Dream Catcher; Denise Coubars-Payne mentioned a powerful organization, Teen Challenge, as a possible organization to partner with as well as the Wounded Warrior Project; and Wavey Hull mentioned Dress for Success.
"Others mentioned many more. As you can see, the women have many great charities near and dear to their hearts. But voting came down to Evoluer House, Teen Challenge, Breathing Room Foundation, and Druding Center as charities the Chapter will look into further to see which one we can help out the most," said Naketa.
Another popular suggestion was made by Lawanna who spoke about how the Philadelphia Chapter can offer a career fair/workshop to young or struggling women.
"We loved this suggestion! Many, many, many of our women have talents to offer for a program like that. We could also get aspiring beauty tech students to come out for mani/pedis! And even better, it looks like we will be partnering with the Delaware County Local Chapter to be extra influential," said the Chapter President, who encouraged attendees to email any other suggestions to nthigpen(at)thigpro(dot)com.
As for upcoming workshops, Lyn Kramer will present a workshop on lead generating at the March 6th Philadelphia Chapter meeting. She will provide attendees with expert tips and ideas on how to generate more leads. Chapter Secretary Amber Minotti offered to teach a workshop on asking for referrals and Anita Trump asked for a workshop on social networking.
There were a number of announcements made about a variety of upcoming events that Philadelphia members are involved with, including:
Lawana Scales is working on a Jazz Festival May 4th and 5th in Bryn Mawr, PA. Bryn Mawr Presbyterian Church is hosting the jazz festival to support the work of Heeding God's Call, which helps to stomp out the proliferation of illegal guns in the Delaware Valley. The event features jazz greats Gerald Veasley and Bill Jolly, along with young jazz artists from Girard Academic Music Program (GAMP). For ticket information and details, visit bmpc.org. Also, the festival is offering an opportunity for nonprofit organizations and businesses to come out and display their information if they are involved with anti-violence education.
Monique Eversley is gearing up for her first Annual Philadelphia Natural Hair Show on May 4th. Monique is looking for corporate sponsors. Send all requests to Monique(at)yhdevents(dot)com. For more information, visit facebook.com.
Upcoming networking event for nonprofits and for-profits to network together on March 7th will be held at The Bleu Martini. Find out more information from new Philadelphia Chapter member Kristen Britt at 267-902-7539 or go to b2bbash.com.
Thigpen's Professionals presents their Breaking Barriers in Business Free Workshop and Networking Series on Strategic Planning, Developing and Strengthening Leadership Skills, Effective Communication and Time Management starting on February 21st at 836 N. 3rd St, Philadelphia, PA. Register at TPbreakingbarriers.eventbrite.com.
NAPW Delaware County Chapter is still gathering positive statements and affirmations for the Professionals Book they are putting together. All members who are affiliated with that Chapter are encouraged to participate by emailing your positive quotes to Deanne Lonnquist at detig2(at)yahoo(dot)com. Please send Deanne any events you'd like listed.
Kenyetta Overton, CEO and Owner of The M.O.M. Project is in pursuit of grant funding, individual donors, and sponsorships. The Project is the designated recipient for the Plant the Seed Book Sale Winter Fundraiser. With the funds, they plan to publish a tenth anniversary anthology that will be available in 2014. Also during 2013-2014, the organization intends to expand outside of the Drexel family and begin facilitating workshops in charter and private schools. In 2014, they are slated to launch their first summer writing intensive day camp. To do that, the M.O.M Project is investigating sponsorship opportunities, reaching out to businesses that have community engagement missions that match theirs, as well as individual donors. If that's you or a fellow associate, contact Ms. Overton at contactmom(at)muralsofthemind(dot)com
Before the meeting was adjourned for the evening, the Chapter Vice President announced the Philadelphia Chapter will meet March 6th on the 17th floor of the Graham Building, located at 30 S. 15th Street, from 6 to 7:30pm. Riki Redente, Esq., will be the evening's host. All interested in attending are asked to RSVP by March 4th to nthigpen(at)thigpro(dot)com
The following members were in attendance at the February Philadelphia meeting:
Naketa R. Thigpen, NAPW Philadelphia Local Chapter President and President and Co-owner of Thigpen's Professionals, LLC, which provides personal and professional development services through employee- and executive-focused in-service training, interactive workshops for trainers, empowerment seminars, and coaching services for entrepreneurs. Visit her website at thigpro.com; follow Naketa on Facebook or Twitter.
Deb Yogel, Chapter Vice President, Director of IT Quality Program at the Children's Hospital of Philadelphia. Deb specializes in process improvement and operations service management. Contact her at yogel(at)email(dot)chop(dot)edu.
DeAnne Lonnquist, NAPW Delaware County Chapter President, Social Media Guru President of Philadelphia, Recovery Counselor. She can be contacted at detig2(at)yahoo(dot)com.
Amber Minotti, Chapter Secretary and SMG Committee Member, Financial Advisor at ING Financial Partners. Amber has a background in marketing. Contact her at amber.minotti(at)temple(dot)edu.
Freda K. Magee, Chapter Treasurer, Independent Business Owner of Ignite Energy. Freda specializes in consulting, training, and business administration. Visit her website at shine4u.igniteinc.biz or contact her at fkmagee(at)aol(dot)com.
Grace Morey, Financial Analyst at Leaf Financial Capital. She can be contacted at grace.morey(at)gmail(dot)com.
Monique Eversley, Owner of Gift Basket Design and Principal at YHD Enterprises, American Association of Cancer Research. She can be contacted at Monique(at)yhdevents(dot)com.
Yolonda Ward, Owner and Manager of CASY's Gift Shoppe located in Lansdowne, PA casysgiftshoppe.com and Manager of Raven Merchant Services yward.yourmerchantplus.com; email her at ywemail(at)aol(dot)com or contact her at 215-620-6373.
Melinda Fern, Distributer of Organo Gold coffee. She can be contacted at ogwithme(at)gmail(dot)com.
Colleen Levin, CPA, Principal at St. Clair CPA Solutions. She can be contacted at clevin(at)stclaircpa(dot)com .
Katrina Brittingham, Senior Claims Analyst for the School District of Philadelphia and Owner of Venture Ready, which offers hands-on interview readiness skills including resume and interview preparation and planning. She can be contacted at Katrina(at)ventureready(dot)net or 215-400-6823.
Tyesha Love, Motivational Speaker, Consultant, Author of "I am Not My Hair.
" The book was published in July 2010. At 29, she was diagnosed with breast cancer, and the book is about her journey and triumph over breast cancer. Buy the book from her website: tyeshalove.com. Check out Tyesha, as the member of the month on Facebook to promote Breast Cancer Awareness month. She can be contacted at tyeshalove(at)live(dot)com.
Denise R. Coubars-Payne, Owner/Manager of Couba Travel, LLC can be reached at denise(at)coubatravel(dot)com or 215-740-5764.
Kelly Keefe, Director, Sales & Marketing at Captain Knolls can be reached at Kelly(at)captainkndls(dot)com or 732-581-4732.
Sharon Lewis-Gregg, President and Owner of GPAMG, an associate management firm can be reached at Sharon(at)gpamg(dot)org.
Wavey Hull, Owner of Wave Runner Errand Services can be reached at waveyhull(at)hotmail(dot)com or 267-588-2324.
Anita Trump, Owner of AT can be reached at anitatrump(at)me(dot)com.
Rosalind McKelvey, Founder and Director of Germantown Deaf Ministries and Creative Hand Calligraphy can be reached at either Rosaline.mckelvey(at)comcast(dot)net or roz.mckelvey(at)yahoo(dot)com.
Tara Williams, Sales Account Manager at OKI can be reached at tannwillisams(at)hotmail(dot)com.
Kate Joynt, Financial Advisor at Alliance Bernstein can be contacted at kate.joynt(at)berstein(dot)com.
Krista Yodes-Latortue, Registered Dietician at Family Food, LLC can be contacted at krista(at)familyfoodllc(dot)com.
The Chapter minutes were recorded by member Amber Minotti.
The National Association of Professional Women (NAPW) is the largest and most recognized network of female professionals. NAPW provides a forum where women can interact, exchange ideas, educate, network, and empower. NAPW Local Chapters allow members to maximize their experience through meetings, networking opportunities, and professional events.
For additional information regarding the NAPW Philadelphia, PA Local Chapter and/or NAPW, please visit http://www.napw.com.
Follow NAPW on Facebook and Twitter.
###