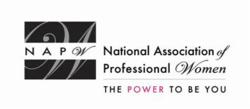 Lyn Kremer gave some great tips! In her presentation about the importance of networking, she reinforced the value of venues such as our monthly Chapter meetings, where members and guests are able to connect with each other face-to-face,
Garden City, NY (PRWEB) April 24, 2013
Members and guests of the NAPW Philadelphia, PA Local Chapter gathered on April 3rd for a professional networking meeting at the Wanamaker Building.
Lyn Kremer, Publisher of the Philadelphia Business Journal, shared with the group of professional women her expert advice and tips for networking, including the importance of connecting face-to-face.
"Lyn Kremer gave some great tips! In her presentation about the importance of networking, she reinforced the value of venues such as our monthly Chapter meetings, where members and guests are able to connect with each other face-to-face," said Philadelphia Chapter President Naketa Thigpen.
In her presentation, Ms. Kremer shared these tips about networking: "Wear something that will start a conversation. If your clothes don't keep the conversation going, she told the group of professional women, be in the know of new news. Be positive, set goals. Don't forget that firm handshake! It's a fact that it helps to remember your name if your name tag is on the right. A little shy? Act as if the event is yours. Fit right in by serving guests and introducing others to feel more comfortable. Join a group with an odd number of people because it is easier to break into conversation; let them know you don't know anyone. The least they will do is introduce you to someone else. Be polite, get their names right. "
"She also told us that it helps to repeat a name three times during conversation and to be sure to thank the host!" said Naketa.
"Lyn also advised us to always take action with the business cards we gather so we are not wasting our time, or anyone else's."
The Chapter President followed Ms. Kremer's presentation by sharing her time at the Evoluer House. The Evoluer House is an organization aimed at empowering girls with etiquette, class, professionalism, and helping them understand their inner power.
"The Philadelphia Chapter would like to dedicate time, more than financial help, to support the girls," said Naketa.
"Upcoming workshops and mentoring sessions will be set up soon to get the ball rolling."
A number of announcements were also made at the Philadelphia Chapter meeting:
Members and guests were advised that anyone with Independence Blue Cross Personal Choice or Keystone Health Plan East health insurance is entitled to six free visits with a Registered Dietitian each year. A Registered Dietitian from Family Food will meet members at their home or job to provide the 1-on-1 nutrition counseling. Sign up online and click on Book Now.
The Philadelphia Business Journal is hosting the Women's Conference, now entering its third year. This event brings women business leaders of the region together to learn, mentor, and exchange ideas. The half-day event combines a panel discussion with an expo and coffee klatches. Previous years have seen 50 exhibitors and over 400 attendees. Exhibition space is limited. This year's Women's Conference will be on July 18th at the Crystal Tea Room.
Lawana Scales' Jazz for Peace Event takes off on Saturday, May 4th at 6:00pm and Sunday, May 5th at 1:00pm. For ticket information and details visit the website.
Monique Everysly is hosting the first Philadelphia Natural Hair Show on May 4th. Monique is looking for corporate sponsors. Send all requests to her.
Thigpen's Professionals presents its Breaking Barriers in Business Free Workshop and Networking Series on Strategic Planning, Developing and Strengthening Leadership Skills: Effective Communication. Part III will occur on April 23rd at 836 N. 3rd Street, Philadelphia, PA.
Tyesha K. Love encouraged all to share the love and review her memoir, I Am Not My Hair, A Young Woman's Journey and Triumph Over Breast Cancer.
The NAPW Delaware County Chapter will be hosting a workshop on Leading a Balanced Life by NAPW Philadelphia Chapter President and Delaware County Charity Chairwoman at the April 17th Chapter meeting! Email DeAnne Lonnquist, Chapter President, for details.
The Delaware County Chapter is still gathering positive statements and affirmations for the Professionals book they are putting together.
All members who are affiliated with that Chapter are encouraged to participate by emailing your positive quotes to DeAnne Lonnquist.
Upcoming meeting dates for Philadelphia Local Chapter meetings will be May 1st, June 5th, and July 10th.
In attendance at the April meeting were: Sharon Lewis-Gregg, Lucretia Colomen, Wavey Hull, Tara Williams, Amber Minotti, Vanessa Hunter, Grace Morey, Melissa Shapiro, Krista Yoder-Latortue, Katrina Brittingham, Deb Yogel, Mindy McNeal, Freda K. Magee, Rocquel Neale, and ChrisAnne Smith.
The National Association of Professional Women (NAPW) is the largest and most recognized network of female professionals. NAPW provides a forum where women can interact, exchange ideas, educate, network, and empower. NAPW Local Chapters allow members to maximize their experience through meetings, networking opportunities, and professional events.
For additional information regarding the NAPW Philadelphia, PA Local Chapter and/or NAPW, please visit http://www.napw.com.
Follow NAPW on Facebook and Twitter.
###