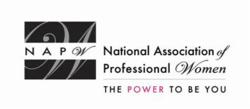 Amber Minotti provided an intense amount of robust knowledge and resources and roped us in with a thought-provoking 'Hub and Spoke' exercise!
Garden City, NY (PRWEB) May 28, 2013
Members and guests of the NAPW Philadelphia, PA Local Chapter gathered on May 1st for a professional networking meeting at the Graham Building.
The evening's guest speaker, Chapter member and Financial Advisor for ING Financial Services Amber Minotti, delivered a presentation on the power of asking and receiving.
The group of professional women also supported and celebrated each other's professional successes.
NAPW Philadelphia Local Chapter President Naketa Thigpen commenced the networking event with an introduction of the guest speaker who promptly took the floor and delivered her presentation to the group of professional women.
"Let me help those people that want help! Remind people of the value one can bring and never be afraid to simply ASK for the referral!" Amber Minotti said to the group.
There were many excellent points and quick-tip resources that Ms. Minotti shared with members and guests. The following were a few of her top tips for How to Ask for a Referral:
Tell prospective clients how and why one can help them; create an Ideal Client Profile that shares prospects and potential referral partners; include a quiz if it's relevant to the industry, one that tells them how much is needed; think of leverage points; Just ask for the referral, learn about their past experiences with the type of services before; tell them up front about what services will be and how it will benefit them; prep them (send them a meeting agenda, what they are expected to bring); when people have a lot of questions, tell them that the best way for them to be helped is to become a client; once help has been provided, ask them how they feel, what about this process was the best (make them feel comfortable); ask them about the agenda sent and have them pull it out.
"Amber Minotti provided an intense amount of robust knowledge and resources and roped us in with a thought-provoking 'Hub and Spoke' exercise!" said President Naketa Thigpen. "
After the informative presentation, the Chapter President followed by discussing potential next steps for forging a relationship with Evoluer House, a nonprofit organization that "empowers at-risk girls by nurturing positive self-expression and personal development." She noted more information would be provided to members as further due diligence is necessary before the Philadelphia Chapter moves forward with its plans to help the organization. She then spoke briefly about the recent NAPW National Networking Conference on April 26th.
"Nearly a dozen Philadelphia and Delaware County Chapter members attended the NAPW Annual Networking Conference in New York City last month," said President Thigpen.
"The consensus was overwhelmingly positive about the information provided by guest speakers, keynotes and organizational presenters."
All active members were encouraged to email special announcements to Amber Minotti and Naketa Thigpen at least 48 hours prior to the meeting so that they can assure pertinent information is captured correctly in the minutes.
"Remember that membership to NAPW is National and it comes with multiple benefits!" said Naketa Thigpen.
Thigpen's Professionals, LLC is rounding off the last installment of the four-part series of Breaking Barriers in Business Free Workshop and Networking Series on Strategic Planning, Developing and Strengthening Leadership Skills: Priority Management. Part IV will occur on May 23rd at 836 N. 3rd St., Philadelphia, PA.
Their upcoming telecourse on how to save money in business by using the B Word, will begin on June 24th and NAPW members get an additional 40% savings off full tuition. See the Philadelphia Chapter Page for coupon code details and information.
The NAPW Delaware County Chapter will be hosting a Chapter member service opportunity at their next meeting on June 18th. Please contact Chapter President DeAnne Lonnquist for details as the meeting approaches.
The next Philadelphia Chapter meeting will be held on June 5th, 17th floor of the Graham Building located at 30 S. 15th Street (between Market and Chestnut on 15th Street, corner of Ranstead Street). The meeting host will be member Riki Redente, Esq.
In attendance: Naketa Thigpen, President of Thigpen's Professionals, LLC and NAPW Philadelphia Chapter President, Judith Lewis, Founder/CEO of Right Attitude Management, LLC, Rosalind McKelvey, Founder/CEO of The Creative Hand Calligraphy, Sabrina Reines, Legal Consultant at Comcast, Ashley Reamer, Sales Consultant at Vistakon, Debbie Anderson, Owner of DBA Medical Communications, Wavey Hull, Owner of Waverunner Errand Services, Amber Minotti, Financial Advisor at ING Financial Partners, Katrina Brittingham, Readiness Consultant at Venture Ready, LLC, Riki Redente Strosser, Esq. of Brookman, Rosenberg, Brown & Sandler, Mindy McNeal, President of Hey You! Freda K. Magee, Independent Business Owner at Ignite, ChrisAnne Smith, a Health Consultant, Karen Nicols, CMO of LIFE OPENN, Dorothy Cooper, Healthcare Services at Temple Hospital, Denise R. Coubarous-Payne, Owner of Couba Travel, LLC, Lawana Scales, CEO if Scales Signature Productions, DeAnne Lonnquist, Artist, Recovery Counselor and NAPW Delaware County Chapter President, Trina Jones, Recruiter for First Pro, Rhonda AbaShalieh, CO-CEO/CFO of RMB's Business Solutions.
The National Association of Professional Women (NAPW) is the largest and most recognized network of female professionals. NAPW provides a forum where women can interact, exchange ideas, educate, network, and empower. NAPW Local Chapters allow members to maximize their experience through meetings, networking opportunities, and professional events.
For additional information regarding the NAPW Philadelphia, PA Local Chapter and/or NAPW, please visit http://www.napw.com.
Follow NAPW on Facebook and Twitter.
###