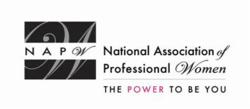 Twenty percent of the things we do will make eighty percent of the difference," he said. "How many people are calling people relevant to your business? It's not who you know. It's who knows you.
Garden City, NY (PRWEB) February 05, 2013
Members and guests of the NAPW Raleigh-Durham, NC Local Chapter gathered on January 26th for a professional networking meeting at the Renaissance Hotel. The group of professional women got expert strategies and tips for achieving their career goals from a dynamic presentation given by David Behr of Competitive Edge Seminars.
NAPW Raleigh-Durham Chapter President Louisa Ukochovwera kicked off the meeting, which was the Chapter's re-launch, by giving an enthusiastic welcome to all members and guests.
After introducing herself, Louisa asked that all the women give themselves a round of applause for attending the event despite the wintery weather.
Louisa went on to introduce the executive members of the Raleigh-Durham Local Chapter. Before enjoying a delicious meal catered by the hotel, the Chapter President invited attendees to take the floor and share a bit about themselves including why they are with NAPW and what they hope to benefit from NAPW. Louisa then introduced the guest speaker.
"He wore sneakers with a suit to stand out, implying that we need to find a way to stand out in our businesses," said the Chapter President.
David Behr began his presentation with the statement that twenty percent of the people make eighty percent of the money.
"Twenty percent of the things we do will make eighty percent of the difference," he said. "How many people are calling people relevant to your business? It's not who you know. It's who knows you."
At this point, Mr. Behr briefly stopped his presentation.
"Deciding to delay his prepared presentation momentarily, David asked us to tell him about our companies, and the members did just that," said the Chapter President.
Individuals present represented services that included: consulting, tax services, women's healthcare, real estate, quality management, providing cell phones plus the Internet, etc., supporting computers, talk show Internet radio to provide strategic tools for survival, selling to IBM, underwriting with Nationwide insurance, and educational consulting for the purpose of providing services that lead to continual educational improvement.
After each member gave a brief description of the services and products she provided, the guest speaker returned to his presentation and indicated that attendees would leave with at least one idea, telling everyone that they need to isolate one idea. He indicated that he does not believe in a summary of the speeches; he thinks that is dumb. He has fun and he will do it with or without the audience. Mr. Behr talked to the audience about Weldon Long, a now successful entrepreneur millionaire who once was a dropout, homeless, and imprisoned. The speaker cautioned the audience that a person has to be careful about what you THINK about.
"Mr. Behr told us that Welden Long is coming to Raleigh on March 19th at the Marriott. Mr. Behr will be present at the conference with Mr. Long and we were invited to join the group," said the Chapter President.
The next question posed by David Behr was the following: Why is it that less than three percent have their goals in writing? One response was that people do not want to be accountable. You must have your goals written down, declared the speaker. He indicated that the same reason they don't write them down is the same reason they do write them. Accountability! If you don't know the why, you do not know the how. The group of professional women was advised to decide what to shoot for. What's important to you? Why is someone on track to make 25 grand? That's what they deserve.
"Get up every day and go meet more people. You should know what you are going to make at the end of the year. You get paid in the proportion of your contacts. Remember that!" he told them.
Sales are hard. That's what people say. Mr. Behr advised the women to make it easier by joining other groups.
"'How can I get more people to know me?' You might be a Salesperson of one, if this is the case he suggests you need to get out there. 'Opportunity meeting preparedness' is what Mr. Behr told us," said the Chapter President.
Mr. Behr's continued his dynamic presentation with the questions, What if you cannot talk to three people? Have a lot of people helping you, he advised. He said that relationships make you a fortune and sales help you make a living. If a person comes to you who is referred, it improves your chances. The guest speaker broke it down this way:
"If you are not getting better, you are getting worse. Go grab one idea for the next five years, four ideas a year, learn ways to close a sale," he said.
Mr. Behr told the audience, it takes five attempts to close a sale. If you take 'C' off of closing...you have losing. Don't just sell stuff; you must be a resource for people. Don't say you don't have the time, you do, you just choose not to.
Talk to three people and follow up every day, advised Mr. Behr. That insurance guy is on the corner every day…. every day was exactly the same and he decided to change one thing. If you change, everything can change for you. Rejection is what most people fear. Don't look at 'no' because your clients do not know, knowledge and wisdom is lacking so you must provide it. Simply put, you are expected to continuously keep surrounding them with wealth and knowledge. 'No' is a perfectly acceptable answer. Unfortunately, they break when they hear 'no' repeatedly. You try to target certain people. Ten things to make a great client for you: You are in control of the product. What's the solution? Words paint a picture, Mr. Behr told the group.
"He told us all to change one thing, apply at least one idea, and share it with someone who was not here at the meeting," said the Chapter President.
After Mr. Behr concluded the presentation, individuals were given an opportunity to recapitulate one thing that they could take away from the presentation. He reminded members and guests that he and Mr. Long would be speaking on March 19th.
The Raleigh-Durham Local Chapter meeting also included a raffle drawing organized by Lynne Carper, Director of Social and Events and various prizes were won by participants. It was agreed that future Chapter meetings should be held either the third or last Saturday each month to accommodate as many members as possible. The women in attendance suggested "Dress for Success" as the Chapter's charitable endeavor. The Chapter President reminded members that they could become more involved in the Chapter by taking on committee positions. The following voluntary committee positions are still open: Speaker Selection Committee, Membership Committee, and Treasurer.
Louisa reiterated her gratitude at being the Raleigh-Durham Chapter President. She thanked attendees for the privilege and informed them passionately why she joined NAPW. The Chapter President also acknowledged that the re-launch was a grand success due to assistance from a number of members especially the master of ceremony, Lynne Carper, who did an awesome job in seeing to the total success of the event.
"The group of professional women ended the meeting by networking, passing around business cards and literature, mingling, and enjoying refreshments, all while pictures were taken randomly." said the Chapter President. "Women, you are all awesome!"
Raleigh-Durham's Local Chapter's next meeting is slated for February 23rd at 2:00pm promptly at Mimi's Café in Cary. Details can be found on the Chapter Page at napw.com.
Members in attendance at the re-launch meeting were: Louisa Ukoch , Michelle Rogers, Dr. Ethel Hasty, Lynne Carper, MaryAnn Wood, Nellie Scott, Cindy Goulding, Pamela Crowe, Cassandra Hargrove, Anita Trinka, Kim Sharpe, Donise Benton, Staci L. Harris, Lesley Marson, Ursula G. Nokonoko, and Mary Ann Lordstrom.
Photographs taken by Louisa and Michelle Rogers. The minutes were compiled by Louisa Ukoch, MHSA, MBA, B.Sc, and prepared by Dr. Ethel J. Hasty, Executive Secretary.
The National Association of Professional Women (NAPW) is the largest and most recognized network of female professionals. NAPW provides a forum where women can interact, exchange ideas, educate, network, and empower. NAPW Local Chapters allow members to maximize their experience through meetings, networking opportunities, and professional events.
For additional information regarding the NAPW Raleigh-Durham, NC Local Chapter and/or NAPW, please visit http://www.napw.com.
Follow NAPW on Facebook and Twitter.
###