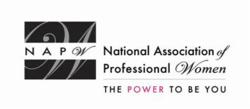 Everyone was given an opportunity to introduce themselves to other attendees...All were embraced and warmly welcomed to our meeting.
Garden City, NY (PRWEB) April 16, 2013
Members and guests of the NAPW Raleigh-Durham, NC Local Chapter gathered on March 23rd for a professional networking luncheon at Lucky 32 on Tryon Road in Cary, NC.
The group of professional women had the opportunity to network with one another.
They also picked up valuable tips for effectively using social media and marketing outlets to grow their businesses from guest speaker Patrick McMichael, Co-Founder and Vice President of Business Development at Online Marketing Co-op.
NAPW Raleigh Durham Local Chapter President Louisa Ukoch kicked off the monthly meeting by welcoming new members, current members, and guests.
"Everyone was given an opportunity to introduce themselves to other attendees," said the Chapter President.
"All were embraced and warmly welcomed to our meeting."
Next, President Louisa introduced the afternoon's keynote speaker Patrick McMichael of Online Marketing Co-op. Mr. McMichael received a hearty round of applause from members and guests.
In his presentation, Mr. McMichael advised the group of professional women to create landing pages for their businesses. He said it was an efficient way to capture information of potential candidates. He also asked the questions: So how does one capture the information of potential clients?
"Patrick advised that it takes eight contacts to bring action after you have tried to sell your product or service. He said that we need to continue marketing and to continue to introduce ourselves," said Louisa.
"Patrick assured us that the goal is to get a high ranking in today's search engine environment."
The guest speaker went on to present the next important piece of information to the group which was to create an authority website. He explained this is a website that publishes quality content frequently and consistently.
"He referred us to the platitudinous cliché that 'a rising tide lifts all ships,'" said the Chapter President.
Patrick remarked that when one member publishes content, then all the members benefit. He also said that try as hard as you may; the truth is that creating content on a consistent basis is hard, but necessary. Clearly, more content is better."
The marketing expert indicated that one must honestly assess just how big her market is and how competitive it is.
"Content is king! Write on an eighth grade level. Hire professional writers," he told the group.
Mr. McMichael invited members and guests to name the five things they can do to get customers every day. He advised everyone to establish trust, encourage engagement, create viral connectivity, capture contact info, make calls, and capture numbers. He assured the women that web pages are built on an adaptive part, which means their presence would always maintain the latest technologies.
He advised the group that they needed to work to produce more traffic links to their websites and they will rank higher and will also provide analytics.
He posed the question to the group: What if you all joined and exchanged email contacts? Tweeted and liked others articles? Questions were asked intermittently and answered.
After the presentation, members networked with each other," said the Chapter President.
"All agreed it was another productive and successful meeting of the Raleigh-Durham Local Chapter."
Upcoming Chapter meeting dates: April 20th, May 25th, June 22nd, July 20th , August 31st, September 28th, October 26th, November 23rd, and December 21st.
Attendees: Louisa Ukoch, Michelle Rogers, Dr. Hasty, Karen Sullivan, Mary Markovich, Ursula Nokonoko, Roberta McDonald , Anita Trnka, Cindy Goulding, Kim Sharpe, Nellie Scott, Tanya Hill, and Laura Davion (Guest).
The National Association of Professional Women (NAPW) is the largest and most recognized network of female professionals. NAPW provides a forum where women can interact, exchange ideas, educate, network, and empower. NAPW Local Chapters allow members to maximize their experience through meetings, networking opportunities, and professional events.
For additional information regarding the NAPW Raleigh Durham, NC Local Chapter and/or NAPW, please visit http://www.napw.com.