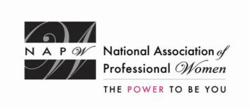 At the end of the speaker's presentation, members had an opportunity to take pictures with him and to network with one another... It is obvious that the objectives of the monthly meeting were indeed accomplished.
Garden City, NY (PRWEB) May 01, 2013
Members and guests of the NAPW Raleigh- Durham, NC Local Chapter gathered on April 20th for a professional networking meeting at Manchester's Grill on Leesville Road in Raleigh.
The group of professional women learned a number tips about successfully marketing and growing their business from marketing expert Steve Black.
NAPW Raleigh-Durham, NC Local Chapter President Louisa Ukoch opened the meeting by expressing her gratitude to the members in attendance.
She announced that due to the tremendous growth of the Chapter, an additional meeting time has been created.
"We invite members and guests to attend the weekday meetings that have been added to our monthly events as a way to continue networking," said the Chapter President.
"The first weekday meeting will be held at Buku in downtown Raleigh on April 29th at 6:00pm."
Before the guest speaker began his presentation, new members introduced themselves. Terrie James lives in Knightdale and is an HR manager. Terrie's guest was also an HR Director.
The group of professional women learned that Pamela Taylor does evaluations for state government.
Helen Adewunmi has a school in Raleigh where she ensures that nurses, doctors are appropriately trained. Tiffany Kea, Anita Trina and MaryAnn Wood introduced themselves.
Chapter Executive Secretary Nellie Scott, works with Mary Ann. Guest Pauline Anyaette works for Hewlett Packard and is in sales.
Once attendees had the chance to introduce themselves, members Nellie Scott and Dr. Ethel Hasty introduced the evening's guest speaker, Steve Black. Nellie indicated the need for members and guests to hyper grow their business and told the crowd that Steve Black would help that do just that.
"Nellie effectively focused the audience on the purpose of Mr. Black's presentation and did an outstanding job of preparing us for what to expect," said Louisa.
Mr. Black greeted members and guests and asked them to briefly state what they did for a living. Specifically, he was interested in the businesses they govern so that he could ensure his speech addressed those areas.
Afterwards, Mr. Black advised the group that they needed to improve their closing ratio. He stated that no one is going to buy from you if they don't like you. Therefore, he advised everyone to develop rapport with your clients.
"If you get good, your productivity will go through the roof," he asserted.
Goals should be in writing, Mr. Black said. He declared that the number one goal is to be happy.
Women understand more than men and they are generally smarter said Mr. Black. He reported that only two percent put their goals in writing. He said that goal setting works; it is impossible without them.
In order to get members and guests to reflect, the speaker asked all to determine where they were going, stating that if they did not know, any road would get them there. Mr. Black said most people spend more time planning their vacations than they do their businesses. He said only 10 to 20 percent of people put their goals in writing.
"A few people make it happen, but many are fruiting around," Mr. Black told members and guests.
The guest speaker said that when looking at Allstate, only a few go the extra mile. He advised the group of professional women that we should be those individuals whose work or products are so stellar that when layoffs are imminent that they cannot let you go. He said if you keep doing what you are doing you get what you get. Mr. Black recalled that he had a friend and they paid her to count coins. She was the best at what she did.
"Mr. Black asked us to write down the words 'pain' and 'pleasure.' He emphasized 'what motivates us are comfort and discomfort.' He asked us to accept responsibility, not to blame anyone, but to understand that 'if it is to be, it is up to me,'" said the Chapter President.
The speaker then noted that women are genetically programmed to be organized and are better at multitasking. He suggested we read the book Eat That Frog. He asked the group, "How long to make a habit?" He said 21 times. Mr. Black warned that if you haven't talked to a potential client for a while, you should be linked to him or her.
Mr. Black then directed his comments towards prospecting and following up.
"You got to get referrals and there is a problem if people are having difficulty finding you," he said.
He again noted that there is the issue of trust and credibility. He gave members and guests the word FORM to write down. Then he explained that form stands for Family, Occupation, Rapport Recreation, and Message. Testimonials should be there on your site, he cautioned. Another piece of strong advice that he relayed to members and guests was to always investigate people's needs.
"Further advice for the audience was that they should become better listeners. To this end, Mr. Black advised the group to use their ears and mouth in proportion. Ask questions of clients and talk less, he advised," said the Chapter President.
Presentation skills addressed by Mr. Black were emotions, values, and momentum. Closing the sale was the focus of the last part of his presentation. Handling people's objections is important, he noted. When someone says "I would love to but..." know they are making excuses, but agree with the person. The speaker advised responding: "I appreciate your being upfront; you're right." He also offered the following advice: empathize and question it. Move toward commitment. Present a positive mental attitude.
"Mr. Black ended his presentation by asking us to assess what we are grateful for, and to focus on growth. He advised us to ask, 'what did you do to grow today?'' said Louise. "His final advice was 444, which is to read four books, listen to four cd's, and to attend at least four seminars a year.
"End by asking the closing question," he advised.
"At the end of the speaker's presentation, members had an opportunity to take pictures with him and to network with one another," said the Chapter President. "Given the content of the speaker's message, and the opportunity to network, it is obvious that the objectives of the monthly meeting were indeed accomplished."
Upcoming Meeting Dates: May 29th , June 22nd , July 20th , August 31st , September 28th , October 26th , November 23rd, and December 21st.
The Chapter minutes were compiled by Raleigh-Durham Local Chapter Executive Secretary Dr. Ethel J. Hasty, and submitted by Chapter President Louisa Ukoch.
Members in attendance at the April Local Chapter meeting were: Louisa Ukoch, Helen Adewunmi, Terri James, Nellie Scott, Anita Trnka , Pamela Taylor, Nkonoko Ursula, Mary Ann Wood, Tiffany Kea, Jen Lawrence, Karen Sullivan, Michelle Rogers, Cassandra Hargrove, and Dr. Ethel Hasty.
Guests were: Angela Sidberry, Pauline Anyaette, and Steve Black.
The National Association of Professional Women (NAPW) is the largest and most recognized network of female professionals. NAPW provides a forum where women can interact, exchange ideas, educate, network, and empower. NAPW Local Chapters allow members to maximize their experience through meetings, networking opportunities, and professional events.
For additional information regarding the NAPW Raleigh-Durham, NC Local Chapter and/or NAPW, please visit http://www.napw.com.
Follow NAPW on Facebook and Twitter.
###