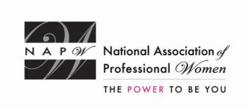 The evening was filled with such positive energy and enthusiasm from all of our members and guests.
Garden City, NY (PRWEB) June 05, 2013
Members and guests of the NAPW Santa Clarita, CA Local Chapter gathered on March 27th for a professional networking meeting at Salt Creek Grille in Valencia.
Chapter President Nicky "Dare" Eddy discussed the importance of team building with the group of professional women, and facilitated the first of two sessions she will present over the next two meetings: Communication & Trust.
Members and guests also discussed a number of upcoming fundraisers the Chapter has planned to benefit the Arthritis Foundation.
Santa Clarita's Chapter President Nicky "Dare" Eddy, an outdoor enthusiast and mentor of survival strategist, welcomed members and guests to the March networking meeting.
She discussed the Chapter's upcoming Arthritis Foundation fundraisers including a kick-off event at Planet Yogurt on April 5th and 'Cocktails for a Cause' Silent Auction on April 28th at Robinson Ranch Golf Course.
At each Chapter event, the Santa Clarita President asks one of the members to read the Mission Statement and Brand Promise at the beginning of each meeting.
Traditionally, she will ask a new member to read but this time, Nicky Dare invited one of the guests to read to the group of professional women.
She then introduced the representative from the Arthritis Foundation.
"Debbie Martin, Director of Development of the Pacific Region of the Arthritis Foundation was on hand to talk about the Chapter's fundraising efforts," said President Eddy. "The evening was filled with such positive energy and enthusiasm from all of our members and guests."
The Santa Clarita Chapter is fundraising for the Arthritis Foundation (AF) Walk's annual event on Sunday, May 19th at Magic Mountain Six Flags.
There are two upcoming events the Chapter is involved in: Planet Yogurt, 20% of the profits will go to AF, kick off is Friday, April 5th at 6:00pm. Santa Clarita's Committee team and members will be there to support the event;
And the Chapter is also hosting "Cocktails for a Cause" Silent Auction Sunday, April 28th, 1:30 to 4:00pm at Robinson Golf Ranch.
The Chapter President said the Committee Team Captain and Team members will give members updates on all activities, including any help they may need.
President Dare also suggested the team has an action plan and checklist items, so that everyone involved will stay organized and on the same page.
Nicky Dare informed members and guests that the Santa Clarita Chapter has signed up for the organization's Charity Award Program and that registration for the program has been completed.
"Everyone should get to work and get busy this year so the Santa Clarita Chapter could win the award!" said President Dare Eddy.
The Chapter President next introduced the evening's presentation topic of "Team Building: Communication & Trust."
She asked everyone in the room to be involved for this team-building session.
While one of the team members read the instructions, the others gathered as a team to perform one of the two team-building sessions that were completed that evening: 1. Origami and 2. Team Work and Values.
President Dare Eddy shared her "hands-on" experiences in corporate team building in multicultural companies and as a Management Consultant, where at an early age, she traveled around the globe.
She told the group of professional women that different clients have different purposes and their needs must be tailored accordingly.
"What I truly enjoyed about being a Management Consultant is that I traveled around the globe. Different clients have different purposes and needs. So with that, I would like to share with you all some of the team-building activities that we can apply to this group also," said Chapter President Dare Eddy. "Team-building activities can be used by any business, large or small, to promote better teamwork in the workplace, and as most of you business owners and managers know, great teamwork is one of the key factors associated with a company's success."
The Chapter President said that traditionally, team-building sessions are used for improving communication, boosting morale, motivation, to help get to know each other better, learning effective strategies, improving productivity, learning about one's strengths and weaknesses and many others.
There are four common types of team-building activities: communication exercises; problem solving and/or decision-making exercises; adaptability and/or planning exercises and building trust exercises
"Members and guests had so much fun interacting with other team members in a collaborative and team environment," said President Eddy. "We all appreciated the first team-building session, and are looking forward to the second part of the presentation at our next meeting."
At the networking event, the group of professional women also discussed other business and social topics.
There was a follow up to the 72-hour "Survival Bins" that members and guests have started preparing at home. The month's items: tools and equipments (i.e., flashlights, screwdriver, etc.).
The President also reminded members and guests about the Santa Clarita Annual Business Expo that will be held on Sunday, October 19th, from noon until 9:00pm at Main Street Old Town in Newhall.
It was announced the Santa Clarita Chamber of Commerce membership dues are $199 and a booth at the expo would cost $250 for members and $600 for non-members.
Dare discussed with the group if the Chapter would like to consider becoming a Chamber member; if yes, they need to select a member to attend monthly breakfast meetings (second Wednesday each month), or Mixer (third Wednesday).
No decision has been made final yet. Nicky Dare also told members that to fulfill order requirements for Santa Clarita Local Chapter t-shirts, more members must sign up.
The Chapter President talked to the group about the Santa Clarita Chapter helping other Chapter(s).
She shared an event flyer of "Spark & Hustle" 2013 Tour, April 8 and 9, in an effort to promote Rancho Cucamonga Chapter President Kristine Dutra. Ms. Dutra is the Host Committee for Tory Johnson's "Spark & Hustle." Discount ticket of $10 off will be given for early bird registration.
Dare Eddy concluded the meeting by asking members for any suggestions for future projects or ideas. She also suggested to everyone that they RSVP early and arrive 15 minutes earlier to the next meetings.
A group picture was taken.
"Let's share, grow, inspire and motivate. Let's keep going, Santa Clarita!" said President Nicky Dare. "And don't forget, we will be presenting our Team Building Session Part 2, at our next Chapter meeting in April."
Everyone exchanged business cards and the meeting was adjourned.
The next Chapter meeting will be Wednesday, April 17th at WoodRanch BBQ Grille in Stevenson Ranch.
Attendees at the March Santa Clarita Chapter meeting were: Nicky Dare: Founder, iDARE®, Inc. and GMMC Global Meta Management Consultants, Ltd.; Terese Anthony: Director Marketing of Hero's Pride; Nina Baca: Owner of Altha Private Security Services, Inc.; Daphne Vandegrift Elizalde: Owner of Daphne Chocolatier.; Diane Fuqua: Controller of DRF Incorporated; Cynthia Kirby: Director of Safety Health of West Region, Vulcan Materials Company; Sharon Nunn: Home Stylist and Owner of Details and Style; Cynthia Stearns: Owner, Kwik-Tab; Ada Villanueva: AIM Star Network Business Owner and business associate to Nerium AD products; Patricia Williams: Patricia Williams B.A., ARRT, Procurement in Health Care; Debbie Martin: Director of Development, Pacific Region, Arthritis Foundation; Beth McLaughlin: Director of Safeway Corp., Committee Chair, The Arthritis Foundation; And Beth's guest: Tracey Lynn Grimes, Vice President of motion pictures.
The National Association of Professional Women (NAPW) provides a forum where women can interact, exchange ideas, educate, network and empower. NAPW Local Chapters allow members to maximize their experience through meetings, networking opportunities, and professional events.
For additional information regarding the NAPW Santa Clarita, CA Local Chapter and/or NAPW, please visit http://www.napw.com.
Follow NAPW on Facebook and Twitter.
###